Coronavirus
NY's shutdown will cause domestic abuse to rise
However, resources are still available to victims of abuse.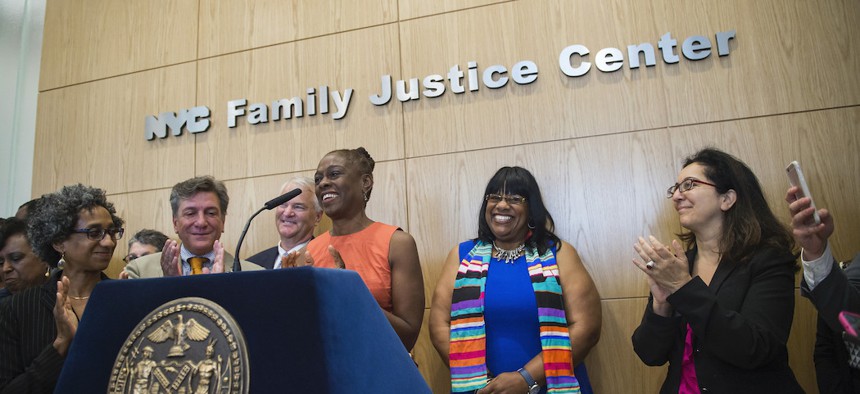 With many New Yorkers confined to their homes due to the COVID-19 crisis, it's probable that instances of domestic abuse will go up. 
When victims of domestic abuse are isolated with their abusers, the risk of abuse increases significantly. "Typically in times like these, either of a national emergency or times when people are forced to remain at home more often, even around the holidays, domestic violence incidents do tend to spike," Christopher Bromson, executive director of the Crime Victims Treatment Center, told Gotham Gazette.
In China, the number of domestic abuse cases tripled in February – during the peak of its COVID-19 outbreak – compared to the previous year. And there have already been reports of domestic abuse in the U.S. since the COVID-19 outbreak began forcing people to isolate themselves at home. 
Many who are sequestered at home with their abusers will no longer have access to their usual support systems or social networks that help them through tough times. And there are growing concerns that victims of domestic abuse will feel that they have no recourse, as victims tend to reach out for help when they're alone. "A lot of the time, survivors will contact us when the abuser isn't in the home, when they are at work," Gwyn Kaitis, policy coordinator for the New Mexico Coalition Against Domestic Violence, told ProPublica. "There isn't an opportunity to do that now."
The COVID-19 crisis also provides abusers with new opportunities to exercise power over their victims. "Their partners are telling them they can't see their friends or family because of potential exposure," Katie Ray-Jones, chief executive officer of the National Domestic Violence Hotline, told USA Today. "Other partners are threatening to kick victims out and expose them to COVID-19."
In many cases those looking to escape from abusive situations may seek refuge elsewhere, such as a parent or friend's home, or a shelter. Unfortunately, fears of potentially spreading or contracting COVID-19 could prevent many from leaving dangerous situations. Victims of abuse experiencing serious violence who may be in need of medical attention are also less likely to venture out to hospitals now due to fears of contracting COVID-19. 
Shelters, which are deemed "essential," are still operating throughout New York City – but they're more crowded than ever. "There are never enough beds for domestic violence survivors, especially single survivors who don't have children," Bromson said. "That is in and outside of this crisis."
The New York City Mayor's Office to End Domestic and Gender-Based Violence closed five of its Family Justice Centers last week, but it's still offering its service over the phone. Many nonprofits that aid victims of domestic abuse have also moved their services online and onto hotlines. However, it's unclear if those suffering from domestic abuse are aware that these resources remain available to them. 
New York City Councilwoman Helen Rosenthal feels that the city should be doing more to alert domestic abuse victims to the services still available to them. "I do think that the city should be putting out public service announcements getting that message across," Rosenthal told Gotham Gazette. "I think that would be important."