Coronavirus
Should NYC cancel the St. Patrick's Day parade?
The rapid spread of the coronavirus has caused other parades to be called off.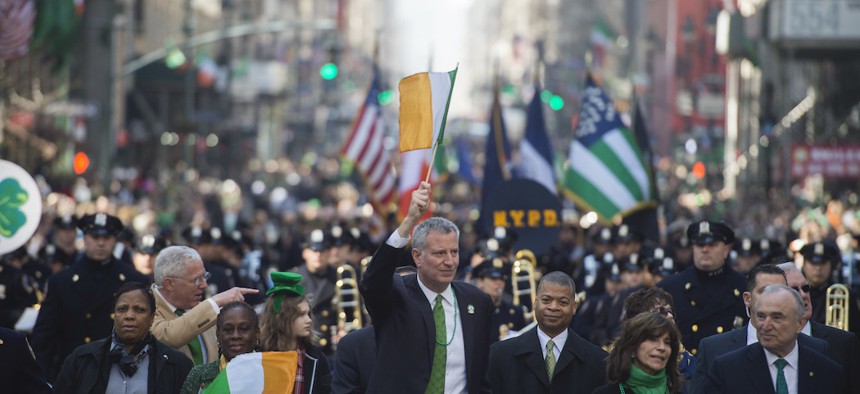 The St. Patrick's Day parade is one of New York City's oldest and most popular traditions. After parades in Boston and throughout Ireland were canceled amid growing concerns over the new coronavirus, there were questions about whether New York would follow suit. But, it seems that, for now, the city's 258-year-old parade is still on.
New York City Mayor Bill de Blasio explained the city's current thinking at a press conference about the coronavirus on Monday. "It comes back to transmissibility," he said. "We see transmission in the home as the leading element, and transmission from people who had close physical proximity. It needs that direct connection. It doesn't entirely fit to cancel big events. Now, we're going to watch that day to day, hour to hour. At a certain point we might say, 'The numbers are telling us something different.'"
New York state is one of the country's most active coronavirus centers, with 173 confirmed cases. The virus has readily spread in Westchester County, where there are 108 cases in what Gov. Andrew Cuomo called "probably the largest cluster of these cases in the United States." In response, the governor announced an emergency 1-mile radius "containment zone" in New Rochelle and deployed the National Guard. In New York City, there were 36 confirmed coronavirus cases, as of Tuesday.
While the city hasn't yet instructed people to avoid large gatherings, major area universities like Columbia, Hofstra, and New York University have either canceled in-person classes or plan to do so shortly, and some will shift students to online classes in order to contain the spread of the virus.
One epidemiologist advised alertness and vigilance, but was ultimately supportive of the city's decision to not cancel the St. Patrick's Day parade.
"I don't think that they should cancel it," said Robyn Gershon, a professor of epidemiology at NYU's College of Global Public Health. "I think that people who are elderly, people who have chronic diseases or people who are sick are probably not going to go. If you don't get stuck in a crowded noisy bar where you're smacked up against everyone, it will probably be fine. The people who go to those places are not really at risk. We need to try and be as normal as possible."
De Blasio has the final say on whether the parade is held, and other city officials have remained cautious on the issue. On Monday, Council Speaker Corey Johnson wrote in a statement to City & State: "The City is monitoring new information, and decisions like this one will be guided by what public health officials have to say. We will follow our health experts' advice and will do what is best to keep New Yorkers healthy and safe." On Tuesday, Johnson canceled his State of the City address, which had been scheduled for Thursday, "out of an abundance of caution."
The St. Patrick's Day parade, which first took place in 1762, attracts around 2.1 million people annually. It is one of the biggest parades in the world, featuring marchers, bagpipes, high school bands and, of course, local politicians. The parade is especially important in New York state, where 11.5% of people said they have Irish ancestry, which was second only behind Italian heritage, according to census data.
Despite the public health concerns, Gershon said there are many reasons to hold these types of events.
"There's something about being in a community where we're all cheering and clapping where people are excited," she said. "It's good to take ourselves away from something that's stressing us out a lot. If city officials are intent on hosting it, I think that people should not be afraid to go."
To prevent spreading diseases, she advised attendees to cover their coughs, use tissues and regularly apply hand sanitizer.