'The Grapes of Wrath,' coronavirus edition
New Yorkers are facing new travel restrictions from other states.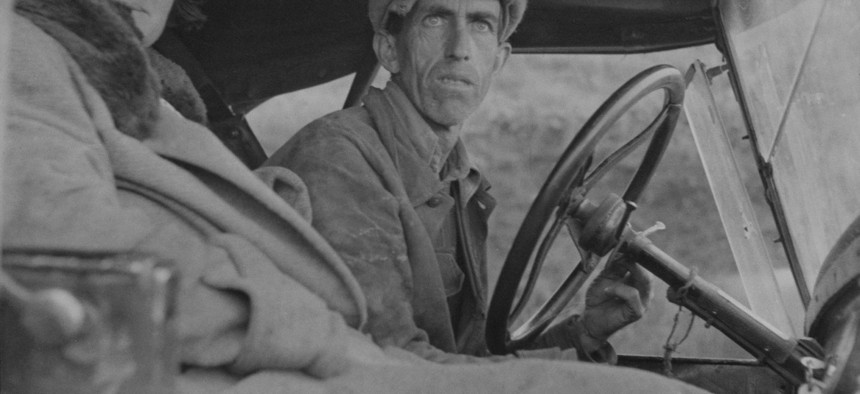 The coronavirus epidemic has taken a new turn in recent days as officials from upstate counties and other states attempt to keep outsiders away. While Gov. Andrew Cuomo can overrule local officials in New York, his options are limited beyond state boundaries. 
The governor has promoted a multi-state approach to battling the coronavirus in recent weeks, but his efforts have faced a new test in recent days as governors in Florida and Rhode Island – with the blessing of President Donald Trump – begin implementing restrictions on New Yorkers entering their states. 
"I have not heard that," Cuomo, who is chair of the National Governors Association, said of quarantine restrictions put in place by Democratic Gov. Gina Marie Raimondo of Rhode Island. "I don't know any details about that." The governor will "reach out" to Raimondo later today, said Secretary to the Governor Melissa DeRosa.
Trump also suggested on Saturday morning that he would impose a quarantine on New York, New Jersey and parts of Connecticut. "I didn't speak to him about any quarantine," Cuomo said of his Saturday morning conversation with the president. "I don't know how that could be legally enforced, and from a medical point of view I don't even know if that would be effective. I don't like the sound of it."
State troopers have set up checkpoints on the Rhode Island at entry points into the state where they are checking for New York license plates and demanding that any person coming from the state abide by a 14-day quarantine. Door-to-door searches by police and the state National Guard are also part of efforts to isolate anyone who has been in New York during the past two weeks. 
While state governments have significant powers in an emergency, that does not mean the state can override the U.S. Constitution, according to the Rhode Island chapter of the American Civil Liberties. "Under the Fourth Amendment, having a New York state license plate simply does not, and cannot, constitute 'probable cause' to allow police to stop a car and interrogate the driver, no matter how laudable the goal of the stop may be," reads a Thursday statement from the organization. 
Raimondo began implementing the new restrictions on Friday. Similar measures have also been rolled out in Florida in the past week, with Republican Gov. Ron DeSantis now requiring all people coming from New York to self-quarantine for two weeks. He also called on the National Guard to keep tabs on passengers arriving on flights from New York and then turning that information to local officials, according to Politico. 
Rensselaer County Executive Steve McLaughlin, a Republican who has taken controversial stands before on issues like driver's licenses for undocumented immigrants, is pursuing measures that would require people coming to the county from New York City and Westchester County to report to county health officials and quarantine for 14 days. "Pandering to fear and prejudice, whether against a racial and ethnic minority or a minority coming in from elsewhere, is not helpful," said Donna Lieberman, executive director of the New York Civil Liberties Union.
The U.S. Supreme Court leaned on the Interstate Commerce Clause in the U.S. Constitution in striking down a California law in 1941, and similar laws in other states, that restricted the movement of people. The legality of similar moves during the pandemic could likewise be challenged in court, though it remains to be seen what Cuomo or civil liberties groups can do about the situation in the short term. New Yorkers are not the only target of restrictions by communities across the country. Some island communities in Maine and North Carolina are barring all visitors. What happens next is unclear considering the fast-moving pace of the epidemic. 
An economic downturn, state border checkpoints and increasing desperation among people across the country suggest that as time goes by the story of coronavirus will only become more like a John Steinbeck novel whose ending no one can yet know. "The 'bum blockade' garnered attention, and criticism, throughout the state and nation," reads one history of the Great Depression in California. "After the American Civil Liberties Union filed suit in federal court, (law enforcement) backed down, and the 'bum blockade' ended. But the 'anti-Okie' sentiment continued." Now, it is New Yorkers who are facing the wrath of their fellow Americans.