NYPD
George Floyd protesters, NYPD clash in Brooklyn
New York City Mayor Bill de Blasio announced there will be an independent review into the protests.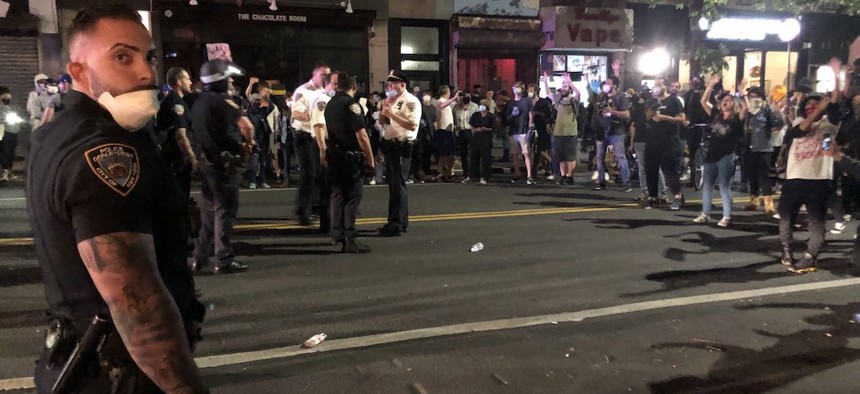 The fight against the coronavirus pandemic took a momentary back seat after a hectic night of protests in New York City over the killing of George Floyd in Minneapolis.
At a demonstration attended by thousands at the Barclays Center in Brooklyn on Friday, protests against the killing of Floyd – and against racial violence in general – the New York City Police Department got into several intense altercations with protesters. Peaceful demonstrations escalated to standoffs between protesters and police, which escalated to violence as the night wore on.
But on Saturday morning, in the clear light of day, a press conference with local elected officials turned attention to the people they said were responsible for that escalation, including New York City Mayor Bill de Blasio. "They escalated," state Sen. John Liu said of the NYPD officers on the scene. "And you know who is accountable for that? The mayor himself. De Blasio needs to apologize for what happened here last night."
New York City Public Advocate Jumaane Williams also criticized the NYPD's reaction to the planned protest at the outset, saying that "rows and rows" of police officers positioned outside the Barclays Center before the demonstration even began was unnecessary. "You are setting a fault line," Williams said.
If de Blasio expected a boost in his public approval rating after his joint announcement with Gov. Andrew Cuomo on Friday afternoon that New York City was finally on track to start reopening from coronavirus-related closures on June 8, those expectations were quickly deflated. Throughout the night, as protesters and reporters tweeted videos of police pushing, tackling and pepper-spraying protesters, elected officials called de Blasio out. "What the hell is going on, @NYCMayor?" New York City Comptroller Scott Stringer tweeted. "You can't criticize the Minneapolis Police in the morning and not hold your own accountable in the evening. Live up to your words."
At his own briefing on Saturday morning, de Blasio repeated some of the sentiments he shared on Friday about the burden of racism and discrimination – witnessed not only in racial violence, but also through the pandemic. "Every day is perverted by racism," de Blasio said on Saturday. "The coronavirus crisis has created a depth of pain that has still not been accounted for," he added, noting that the loss has been felt even more deeply in communities of color, which have been disproportionately impacted by the pandemic.
Addressing the escalation to violence, de Blasio criticized both the NYPD and protesters, who he said came out only to initiate violence against cops. "Some protesters last night came with an agenda of violence and incitement," de Blasio said. "They meant to harm police officers and they did harm police officers." De Blasio said that protesters who came with the intention to incite violence represented just a small fraction of all protesters.
NYPD Commissioner Dermot Shea, who joined de Blasio on Saturday, echoed the mayor's remarks. Shea said that multiple officers were injured, more than 200 arrests were made – including one for attempted murder when a Molotov cocktail was thrown at an occupied, marked police van. "We practice de-escalation, but it is very difficult to practice de-escalation when you're having a brick thrown at your head," Shea said, adding that the total number of injured officers is still being tallied. "It is by the grace of God that we don't have dead officers today."
De Blasio said Saturday that he will immediately initiate an independent review to determine what went wrong on Friday night and "hold people accountable."
"We were told PD was given orders to de-escalate & respect peaceful protest," New York City Councilman Justin Brannan tweeted. "Instead we got an army of cops in riot gear, protestors assaulted, legislators maced, and cop cars torched. This is not the city anybody wants."
Though de Blasio said that there will be accountability for both NYPD officers who acted inappropriately and protesters who initiated violence, some were less confident about that prospect. "I am confident that protesters who do violence to officers will be held accountable," New York City Councilman Ritchie Torres said. "I am not so confident that officers who do violence to protesters will face the same accountability.  That is the problem."