New York City
New York City is looking at these areas for budget cuts
Education is the big one, but the economic fallout from the coronavirus will impact the budget in many other ways.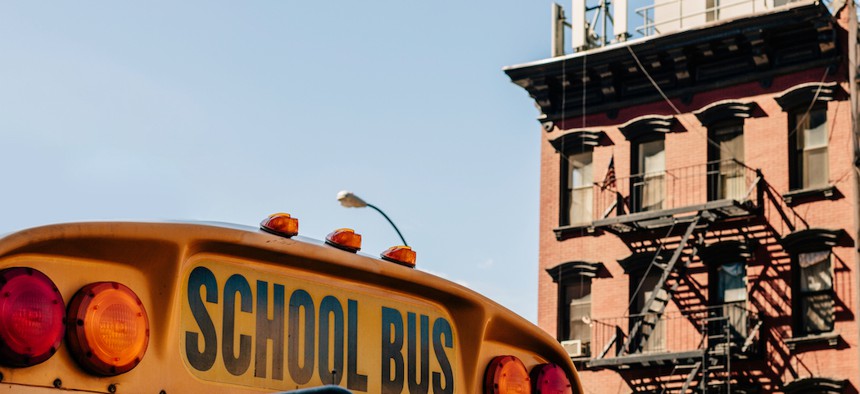 New York City Mayor Bill de Blasio is feeling the heat, as he and his team work to craft a city budget that, thanks to the coronavirus pandemic, will be substantially smaller than the previous year. But the question of exactly how much smaller, there doesn't seem to be an answer yet. City Hall is eagerly awaiting the state government's first round of budget cuts, which is expected around May 15. And while the city's budget has already been bolstered by some $5.3 billion in coronavirus relief funds from the federal government, de Blasio is hoping for much more to come. 
When de Blasio released his executive budget on April 16, he proposed an $89.3 billion spending plan. That was $8 billion less than the $97.4 billion the city expects to spend through the end of the current fiscal year on June 30, and it was $6 billion less than what de Blasio was planning to spend for fiscal year 2021 when he released a $95.3 billion preliminary budget in January, before most of us had heard of the coronavirus. 
The size of the budget is all but guaranteed to change in the coming weeks, but one thing is certain: The city is going to need to close a massive budget gap. The number crunchers at City Hall plan to do that in a few ways. They'll pull billions from the city's reserves and plead for more federal aid. They'll put off debt service payments on long-term building projects. De Blasio may even ask Albany to let the city borrow money to pay for expenses – something the city has been allowed to do in the past, such as during the fiscal crisis of the 1970s and following the 9/11 terrorist attacks. And of course, there's the simplest way to close a budget gap: cuts. Here is where the city is looking. 
Service cuts
Two words: no pools. The relatively miniscule $12 million the city would save by keeping city pools closed all summer got outsized attention, because who wants to imagine a summer in New York with fewer ways to cool off? But also because it was one of the few truly tangible budget cuts that de Blasio proposed in April. The city identified $2.7 billion in savings for this fiscal year and next year, but critics say he'll need to find far more. For now, proposed cuts include a $6.7 million reduction in tree pruning and stump removal, $21 million from suspending the city's curbside compost service and $5.5 million saved by reducing overnight service on the Staten Island Ferry. The city will save $124 million by eliminating the Summer Youth Employment Program, which provides summer jobs to people ages 14 to 24 and another $55 million by cutting various summer programming for children. The Department of Education, the biggest spending agency, is also planning to cut the most, with more than $640 million in savings overall, including a $67 million cut to professional development for staff and a $100 million cut in direct aid to schools. But the city might end up needing to make much more drastic cuts to education. Doug Turetsky of the city Independent Budget Office told City & State a revised state budget could mean a cut of more than $2 billion in education aid to New York City.
Delaying programs
A less controversial way to save money is by cutting programs that don't exist yet, and de Blasio's budget proposal had a lot of that. The city could save $43 million by postponing the expansion of free preschool for 3-year-olds. Classrooms without air conditioners still won't have them, as the city plans to save $10 million by delaying those installations. And while buses and bike lanes could get better eventually, that won't be happening in the next year, if the city delays its Better Bus Initiative and Green Wave bike lane expansion plan for a collective savings of $10.2 million. Work on the mayor's much-maligned Brooklyn-Queens Connector streetcar, needless to say, will also be delayed once again.
Worker furloughs
Might the city lose some workers? De Blasio's government has been notable for its constant expansion, but that's likely to come to an end. The mayor didn't mention furloughs in his April executive budget, but at a May 6 press conference he raised the possibility of furloughing or laying off some of the city's more than 330,000 employees if more federal aid doesn't come soon.
"We need to get that stimulus done so that people don't have to experience furloughs and layoffs," de Blasio said. "If it doesn't happen, and we're missing $7.4 billion in revenue, then all options are on the table. But it's not time to talk about specifics yet"
Now with seven weeks left before the city budget is due, the clock is ticking on specifics.