New York City
Scott Stringer's roadmap to a balanced budget
Comptroller said the city is avoiding cuts 'out of laziness' and borrowing is a last resort.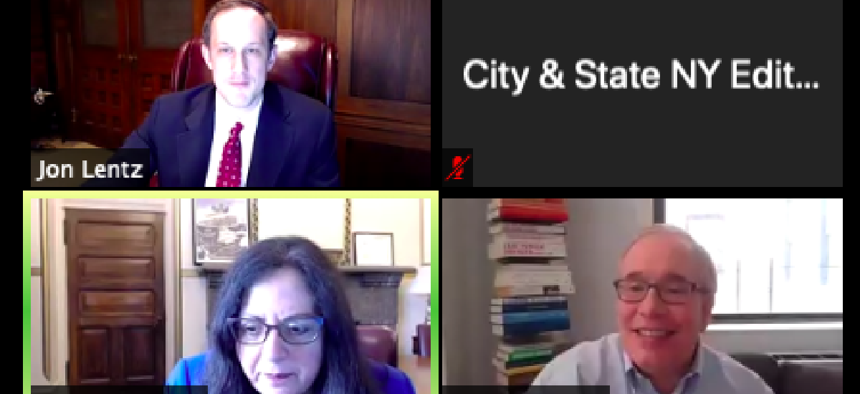 New York City still has a $1.6 billion budget gap, but city Comptroller Scott Stringer has a plan to help close it – though it means making budget cuts that city agencies "have not yet performed out of laziness."
Stringer laid out his roadmap to a balanced budget on Thursday during a City & State webinar on the coronavirus pandemic's financial and economic impact on New York. He focused on the city, while Department of Financial Services Superintendent Linda Lacewell discussed the state government's response.
New York City Mayor Bill de Blasio submitted an executive budget in April that assumed a $7.4 billion reduction in revenue as a result of the coronavirus pandemic. That proposed budget was balanced with the help of service cuts and pulling from the city's reserves. But the mayor announced a revised projection on Wednesday, expecting the city will suffer a $9 billion loss. The final budget is due in a month, on June 30, and Stringer thinks he knows how City Hall can make up the $1.6 billion difference, without resorting to borrowing.
First: find more savings. "We have enough efficiencies that agencies have not yet performed out of laziness," Stringer said, which could save the city another $300 to $400 million. He's not the first to find fault with de Blasio's $3.9 billion savings plan, which has been criticized by watchdogs as not nearly aggressive enough and not spread out across agencies fairly. Stringer said his office was able to reduce its own budget by 4%, and urged all elected officials and agencies to do the same and "take the 4% pledge."
Stringer, a leading mayoral candidate in 2021, also said the city could make more cuts, particularly by reducing the $5.4 billion spent annually on outside consultants and professional service contracts. He also named the street homelessness outreach program as something that is not working and could be cut. And while first lady Chirlane McCray's ThriveNYC mental health program was already the target of budget cuts, Stringer said it could cut even more.
"There are programs within Thrive," he said. "The mental health first aid program – I don't know if that's working. School mental health – I don't know if that's working. The public education campaign – I know that's not working."
The comptroller said the city could pull another $600 million out of its already depleted savings. And to fully close the $1.6 billion budget gap, he would do his part as the city's chief fiscal officer to refinance the city's debt and take advantage of the lower interest rates. "I'm prepared today to put up $400 million for refinancing," he said. The Office of Management and Budget "should call me later today, or the mayor, if he wants to, and we will get to work on that."
Asked for comment, the mayor's office defended its ability to save, with or without Stringer's help.
"Since June we achieved almost $4 billion in savings over this year and the next," de Blasio's deputy press secretary Laura Feyer said in a statement provided to City & State. "And over the past six-plus years, we've worked with the Comptroller's office to refinance billions of dollars in bonds and will continue to look at any opportunity to find savings in the future together."
Of course, the city's fiscal picture could change entirely if the federal government delivers more aid to local governments. De Blasio and Gov. Andrew Cuomo have been pleading with Washington to send more financial help for months, but U.S. Senate Majority Leader Mitch McConnell said Thursday he doesn't expect Congress to pass another relief bill for a month. As de Blasio seeks to shore up his budget without more service cuts and savings, he has asked the state for the authority to borrow against the budget. Gov. Andrew Cuomo dismissed the idea, and New York City Council Speaker Corey Johnson, who negotiates with de Blasio on the city budget, said Thursday he opposed the idea of borrowing. Stringer, who views Johnson as a rival for the 2021 mayoralty, also reiterated his skepticism of the plan to borrow up to $7 billion. 
"Borrowing should be the last resort," Stringer said during the webinar. "I'm not against borrowing, but I'm against doing something before its time."
Click play on the video below to watch the webinar.
Powered By
NEXT STORY: Gianaris rival criticized for taking accused harassers' donations