New York City
Subways to shut down overnight and Cuomo lays out reopening guidelines
Rounding up the week's political news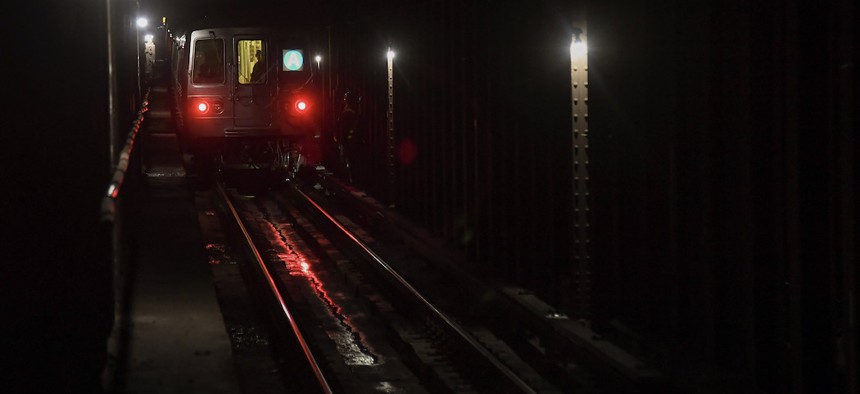 New York's favorite #luvguv is single, and he's ready to mingle. A recent survey by matchmaker Maureen Tara Nelson found that women considered Gov. Andrew Cuomo and his CNN anchor brother Chris Cuomo were tied as the most handsome men in New York. When asked about being one of the most desired men in the state, Cuomo pointed out that his brother may be married, but "I am eligible." Seems like perfect timing for New York City's new Project Cupid, which allows New Yorkers to get marriage licenses online. If Cuomo and some lucky woman – maybe 1010 WINS anchor Susan Richard – do find love, NY1 morning anchor Pat Kiernan can marry them on live TV via Zoom. Keep reading for the rest of this week's less romantic news.
The city that sometimes sleeps
In an unprecedented move, Gov. Andrew Cuomo announced that the New York City subway system will shut down between 1 a.m. and 5 a.m. every night, beginning May 6, so that workers can clean and disinfect the trains and stations. The governor and Metropolitan Transportation Authority officials made the decision after New York City Mayor Bill de Blasio called for 10 terminal stations to be closed between midnight and 5 a.m. as a way to help get homeless New Yorkers off the trains just days earlier. At the time, MTA officials had resisted de Blasio's proposal. Although overnight train service will be suspended, buses will still run, with plans to run more if necessary. The MTA also said it would provide free, alternative transportation to essential workers who need to travel while the subways aren't running.
A roadmap to reopening
Cuomo provided the clearest set of guidelines to date for when different regions of New York state may be able to begin reopening. Parts of upstate could see the reopening of some low-risk businesses as soon as May 15, the current date the governor's stay-at-home order is set to end. Among the requirements is 14 consecutive declining days of new coronavirus hospitalizations. Officials will also monitor hospitals to ensure they remain below 70% capacity, with at least 30% of intensive care beds available. This way, there is at least some hospital capacity if there is a resurgence of the virus. And if more than 70% of hospital beds do become filled, it could provide a warning sign that a second wave of the virus is emerging, and an area might have to be shut down again. Another indicator is the rate of transmission. If that number is 1.1 or above – in layman's terms, if one sick person is transmitting COVID-19 to more than one other person – then the area cannot reopen. Cuomo said that regional cooperation between neighboring counties will be critical, adding that local leaders will set up "regional control rooms" that have an "emergency switch that we can throw" if any of the indicators signal trouble. However, this doesn't mean schools will reopen. Cuomo announced that schools will remain closed statewide for the remainder of the academic year and continue with remote learning.
State cancels Dems' presidential primary
Several weeks after U.S. Sen. Bernie Sanders suspended his presidential campaign, leaving former Vice President Joe Biden as the presumptive Democratic nominee, the state Board of Elections has removed Sanders and every other candidate that ended their campaign from the ballot. With just Biden left, the primary was canceled. The decision will keep polling places in 20 counties closed, saving the state and localities money and protecting poll workers in affected areas. The cancellation will also likely reduce the stress on local boards of elections at a time when they may receive a surge of absentee ballot applications. The move was met with anger by the Sanders campaign and his supporters since Sanders had intended to stay on the ballot in order to amass enough delegates to influence the Democratic Party's platform at the Democratic National Convention. Former presidential candidate Andrew Yang also sued the state Board of Elections over the decision to cancel the primary. Every other state and congressional primary scheduled for June 23 in New York is still happening. The state will mail an absentee ballot application to every registered voter so people can avoid going to the polls, which will be open, amid the pandemic.
NYC streets set to close
After initially resisting the idea, de Blasio announced he and the New York City Council had reached an agreement to close 40 miles of city streets to vehicular traffic in order to give pedestrians more space to walk while social distancing. The plan is to eventually close up to 100 miles of streets across the five boroughs. Originally, de Blasio had, under pressure, closed portions of one street a piece in Queens, Manhattan, Brooklyn and the Bronx. But after just two weeks, the mayor declared the initiative a failure, saying that police didn't have the manpower to enforce it. New York City Council Speaker Corey Johnson then introduced legislation to close up to 75 miles of streets, and even called on Cuomo to close them. Not long after that, de Blasio changed his tune.
Powered By
NEXT STORY: New York's plan to reopen