Coronavirus
Upstate's role in reopening New York City
What happens in urban areas of central and western New York could have big implications for downstate.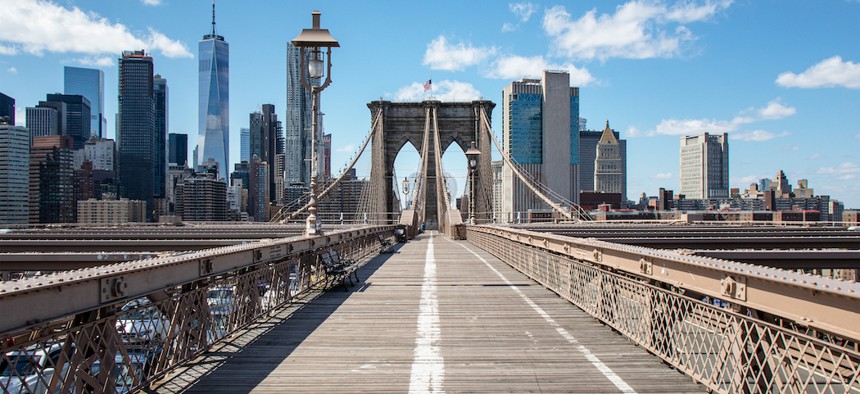 Upstate New York has been spared the worst of the pandemic, but the coronavirus still presents a formidable challenge in pockets of western and central New York. A record number of cases have recently been reported in Syracuse. The limited availability of diagnostic tests could delay the economic reopening of Erie County, the hardest-hit area upstate. An outbreak at a nursing home in Rochester has underscored how easily COVID-19 can strike vulnerable populations.
While challenges remain in central and western New York, it will be a testing ground for eventually reopening downstate. The economic reopening of upstate will begin with construction and manufacturing after May 15. Industries like real estate, retail and finance will follow in a second phase, with restaurants and hotels happening later on, Cuomo told reporters at a Monday press conference in Rochester, his third daily briefing in a row outside the state Capitol.
"If upstate has to wait on downstate to be ready, they're going to be waiting a long time," Cuomo said. "We need businesses to reimagine how they're going to do business and get ready to protect their workforces."
Ongoing efforts to contain the coronavirus underscore how reopening the economy has complications in some areas of upstate where the pandemic remains a concern in the biggest cities. A decrease in cases in Buffalo, Rochester and Syracuse could test the effectiveness of the governor's regional approach to reopening the state.
Areas of the state must have less than 15 total cases or five new deaths to reopen, Cuomo said Monday, as well as a 14-day decline in total hospitalizations and deaths. There is even a literal formula for determining which areas of the state are ready to reopen. If the rate of infection exceeds 1.1 per person in the upcoming weeks, that area's reopening will be stopped. "You reopen unintelligently and you can then have an immediate backlash," Cuomo said. "That's not speculation, that is looking at other countries."
Lt. Gov. Kathy Hochul has become a visible surrogate on local media upstate in recent weeks as the administration seeks buy-in on its strategy to reopen parts of the economy. "Places like the Finger Lakes in western New York and the North Country, the Southern Tier, they will be able to open sooner than downstate at this point," Hochul said in a recent interview on local media in western New York.
As the governor's appointed czar for reopening western New York, Hochul (who previously represented the area in Congress) also adds a regional touch to an administration that has struggled at times with overcoming the upstate-downstate divide during the pandemic. Her predecessor, former Lt. Gov. Bob Duffy, who now serves as the president and CEO of the Greater Rochester Chamber of Commerce, is serving as a Cuomo adviser on reopening the Finger Lakes.
A lot remains unknown about how the pandemic has affected the western parts of the state, where age and health could make the population at-large more vulnerable to infection. "There are so many people that haven't been infected yet that it's a bit like catching fish in a barrel for this virus," Dr. Thomas Russo, chief of the Division of Infectious Diseases in the University at Buffalo Jacobs School of Medicine and Biomedical Sciences, told The Buffalo News.
Fewer people have been tested in the area compared to downstate, which has injected additional uncertainty into how best to handle the reopening of the economy. A key concept in the governor's thinking has been preventing people in areas that are still closed from going to areas that are allowing businesses to reopen. Cases are dropping in Erie County and in the Rochester area, but rising in Syracuse. That could complicate how much economic activity can resume both in those cities but also the rural areas that surround them.
A big test for the state will come when hospitalizations and other key public health metrics improve enough for businesses to begin reopening downstate, the center of the state's economic activity. Allowing areas like the North Country (where infection rates and population density are low) to reopen is one thing. Cities like Buffalo, Syracuse and Rochester, however, present complications that are much more comparable to New York City and its suburbs.
The danger of a second wave of infections (which has happened in Taiwan, Singapore and Hong Kong) could be worsened if the state adopts the wrong approach to reopening, Cuomo said Monday. While it could take a long time to fully curb the pandemic in upstate cities, chances are those cities will reopen before New York City and its suburbs, which will reopen in consultation with neighboring states like New Jersey and Connecticut.
That suggests that as efforts continue to contain the coronavirus downstate – where more than 200 people are still dying every day – its future reopening could hinge on the lessons learned in areas of central and western New York. While the pandemic did not ravage those areas to the same extent as New York City, the economic pain is similar – and that is at least half the problem with figuring out how to get the state through the challenging times ahead.
"People are all talking about reopening," Cuomo said Monday. "But reopening is harder than the close down … now, knowing what we know, it's more nuanced."