New York City
Vulnerable New Yorkers hit hardest by COVID-19 – and heat waves
New York City needs to make plans now to protect older and chronically ill residents during the heat of summer.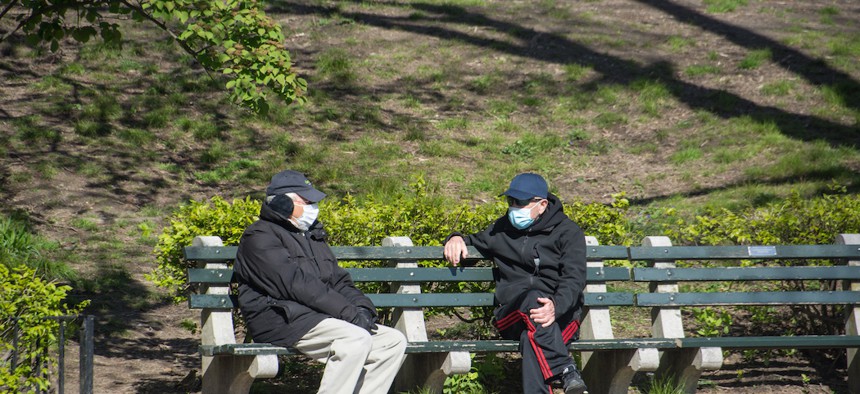 The populations most at risk of dying from the coronavirus are also among the most vulnerable to heat strokes in the summer. With hotter weather creeping in and shelter-in-place orders still in place, elderly New Yorkers and residents with chronic medical conditions could face new challenges trying to stay cool.
Recommendations that people stay at least 6 feet away from one another makes New York City's usual cooling initiatives difficult to organize. Seniors, the chronically ill and others trying to beat the heat can normally access so-called cooling centers, which are publicly accessible buildings like senior centers and community centers that have air conditioning. But encouraging people who are more likely to die from COVID-19 to congregate in one location would be a risky suggestion. And even if cooling centers were operational, it would likely have to be at a much lower capacity.
"We're looking at how do we modify our existing cooling center strategy, but also how do we use nontraditional cooling possibilities," Deanne Criswell, commissioner of the New York City Emergency Management Department, said during a City & State webinar in early May. "Can we do noncongregate cooling capability, maybe through isolation hotels, maybe through other means? How do we provide or increase in-home cooling for those of our vulnerable?"
More than 80% of heat stroke deaths in New York City have involved people who don't have air conditioning in their homes. And though nearly 90% of New Yorkers had air conditioning at home in 2007, that still leaves about 1 million residents – particularly low-income people and public housing residents – stuck in the heat.
An average of 13 New York City residents died per year from heat-related illnesses between 2000 and 2011, according to the Centers for Disease Control and Prevention. The deaths disproportionately were among people from poorer neighborhoods and those with heart disease and other medical conditions. But some studies indicate the number of heat-related deaths in the city may be much higher than that because it depends on how one defines a "hot day" and the different methods used to link deaths to heat waves. Estimates vary from nearly 200 deaths a year to more than 600, according to a report from the New York City Environmental Justice Alliance. Rising temperatures as a result of climate change make the risk of extreme heat waves more acute each summer as well.
Mayor Bill de Blasio has also indicated an interest in keeping cooling centers open this year. City Councilwoman Margaret Chin agreed that the possibility of bringing back spaces where older adults can gather – albeit with precautions to maintain social distancing – may be helpful.
"I think going forward, one thing is to see what is a new way of bringing seniors together in a safe situation," she said. "It won't be like the past, where you cram 100 or more seniors or one space."
Gregory Morris, president and executive director at the Stanley M. Isaacs Neighborhood Center, a nonprofit that operates within a public housing development, also supported bringing back cooling centers.
"The reality is some people are going to have difficulty paying for air conditioners, even if there are reductions in cost," he said, adding that nonprofits operating cooling centers could also conduct wellness checks at the sites.
But supporting strategies that reduce possible crowding have also had some support. New York City Comptroller Scott Stringer called on city officials in late April to stockpile fans and air conditioners in anticipation of a hot summer. To distribute cooling units to those most in need, Stringer has encouraged the city to pitch in funding to a federally funded cooling assistance benefits program administered by the city's social services agency. The Low Income Home Energy Assistance Program allows low-income applicants to get up to $800 to install an air conditioner or fan in their home if they can prove they have a medical condition that is worsened by heat.
"The city has to strategize (and) the mayor has to backstop the program so in the case of heightened demand, in case of COVID, every New Yorker – including undocumented residents – could qualify for an air conditioner," Stringer told City & State. The program currently isn't available to undocumented immigrants, but the comptroller said if the city put in its own funding, the eligibility requirements could be expanded.
Katelyn Andrews, director of public policy at LiveOn NY, which represents organizations that help seniors, said the program could also theoretically waive requirements that applicants must prove that they have a particular medical condition in order to qualify.
"All older adults will be in a more precarious position and should have access to this," she said.
In crafting a strategy for how to cool vulnerable New Yorkers, she said the city could also use attendance records at cooling centers from previous years to figure out which communities are likely to be in the greatest need. Individual senior centers and nonprofits may also play a key role identifying individuals and families in need of support.
"We have a pretty good sense of which residents have the most extraordinary heat, cooling center-type needs," Morris said. "By virtue of interacting with the community, we may know who has air conditioners and who doesn't."
Powered By
NEXT STORY: Bipartisan effort for federal funding approaches expiration date