New York State
Will the state Legislature meet in May?
Waiting on federal aid could limit state lawmakers' sway on budget.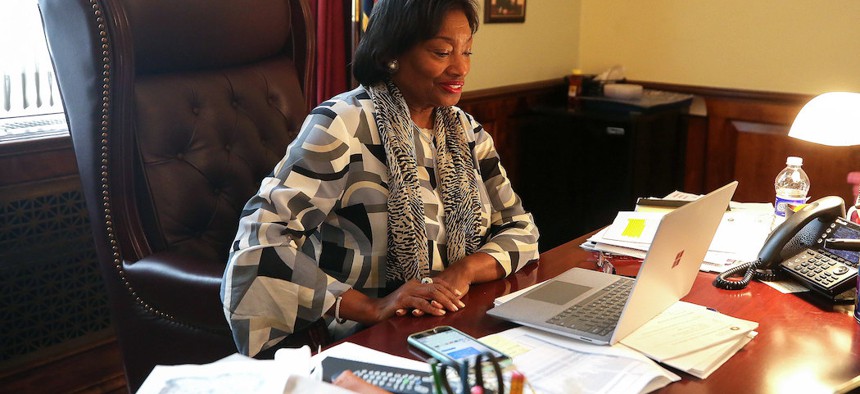 Assembly Speaker Carl Heastie says that legislating of all types is on hold until state lawmakers get clarity on whether the federal government will provide funding to help the state avoid deep budget cuts to education, health care and local governments.
"It's kind of like we're circling the airport till they tell us it's safe to land," Heastie said in an interview with Spectrum News. "We're looking at the bills, but again, it's very dependent on what the federal government is going to do for us." 
State lawmakers, however, might have to act before negotiations conclude on a possible federal stimulus bill. State Comptroller Thomas DiNapoli will report on May 15 just how bad the state's fiscal position really is, after which the Cuomo administration is expected to present a detailed budget. Lawmakers would then have 10 days to offer fiscal plans of their own, which now include newly proposed legislation toprotect education funding by raising income taxes on the wealthy. 
Both Heastie and state Senate Majority Leader Andrea Stewart-Cousins have said they expect their respective chambers to meet later in the year to chime in on the fiscal situation. Representatives for both leaders, however, did not respond to requests to clarify whether state lawmakers would reconvene later in the month even if the fate of federal funding remains in limbo. 
State lawmakers could theoretically delay action on the budget until later in the year, though it is unclear what the consequences of that would be. Heastie, however, is saying lawmakers are willing to act more quickly than that to counter any big moves by the governor, budgetary or otherwise.
"Yes, we gave him the ability to give directives," Heastie told Spectrum News. "But at any moment that the governor gives an executive order, the Legislature can pass a concurrent resolution to undo that executive order."
Clarity on a federal stimulus bill might not happen for weeks – if ever. But state lawmakers will have to get together in the next two weeks or so if they want to maximize their say over the state budget. Time is running out for legislative leaders to detail just how they would take a leading role in the state response to the pandemic.