Michael Blake
Cory Booker, Jesse Jackson back Michael Blake for Congress
Assemblyman Michael Blake's congressional campaign has been endorsed by a trio of national black leaders – U.S. Sen. Cory Booker of New Jersey, the Rev. Jesse Jackson and Atlanta Mayor Keisha Lance Bottoms.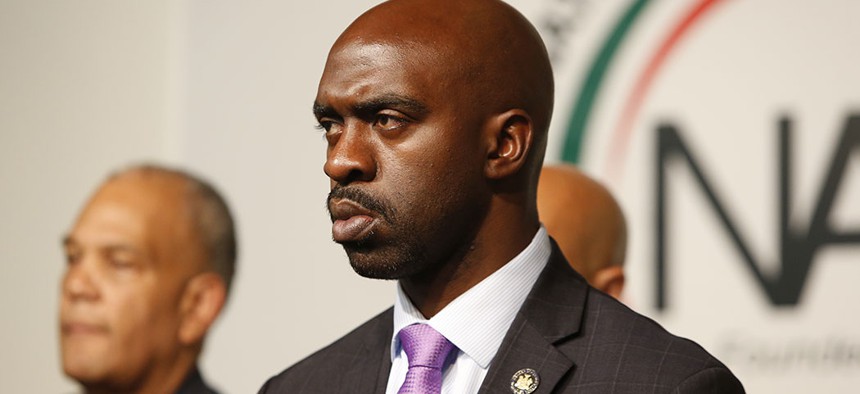 The Democratic primary for the South Bronx congressional seat is on, with residents already casting ballots through early voting and vote-by-mail ahead of the June 23 election. And progressive and even moderate Democrats are just as worried now as they were a year ago that New York City Councilman Rubén Díaz Sr., a conservative Democrat known for his inflammatory statements and anti-gay voting record, might actually win in the most Democratic district in the country. But Democrats opposed to the Pentecostal minister have failed to line up behind a single challenger in the 12-candidate race, as each of the more liberal candidates seem to be arguing that he or she is the best positioned to beat Díaz. 
The latest example: Assemblyman Michael Blake has been endorsed by a trio of national black leaders – U.S. Sen. Cory Booker of neighboring New Jersey, the Rev. Jesse Jackson and Atlanta Mayor Keisha Lance Bottoms. The endorsements, reported exclusively by City & State, don't come as a huge surprise. Blake, who was born in the Bronx to Jamaican parents, is the leading black, non-Latino candidate in the race. He received the backing of the Congressional Black Caucus back in September and got the endorsement of Martin Luther King III last month. But it's still a major boost for Blake in a district where 28% of residents are non-Hispanic black. 
Blake "has made it his mission to bring opportunity and hope to every black and brown child in the Bronx and across America," Jackson said in a statement. "That is why we need to send Michael Blake to Congress. We desperately need people like him in the places where laws are made and policies are crafted."
Another contender, New York City Councilman Ritchie Torres, has been working hard to push the argument that every vote that isn't for Torres may as well be a vote for Díaz. "I have a fighting chance of defeating him," Torres said in an interview on the digital network Cheddar Thursday. "But if the rest of the field siphons votes away from me, then Díaz Sr. can eke out a narrow win at the margins."
Torres' main evidence: The one publicly-released poll of the race, released two weeks ago by progressive think tank Data for Progress, showed Díaz leading the field with 22% of the vote and Torres in second with 20%. Blake, former New York City Council Speaker Melissa Mark-Viverito and New York City Councilman Ydanis Rodriguez were all tied for third at 6% and supportive housing professional Samelys López was in fourth with 2%.
Everyone in the race except Díaz and Torres seem to have written off the poll. Camille Rivera, a consultant for Mark-Viverito, even called it "trash." And Torres' case as the clear leader isn't airtight. He's dominating the field in fundraising, and his $502,000 cash on hand as of June 3 is more than the other 11 candidates combined. But the other candidates are hardly being ignored. Mark-Viverito got the backing of four major teachers' unions, including the United Federation of Teachers. López has the support of the Working Families Party, Rep. Alexandria Ocasio-Cortez and U.S. Sen. Bernie Sanders. 
When Sanders' progressive presidential campaign seemed to be challenging the more moderate Joe Biden's path to victory in this year's the Democratic presidential primary, many former opponents coalesced around Biden. Pete Buttigeig, Amy Klobuchar, Kamala Harris and then Cory Booker. Booker is now getting involved in the race for New York's 15th Congressional District – the New Jersey senator said that Blake "has proven himself to be a fighter for the most vulnerable members of our society and will lift up and empower people who have been left out and left behind in both his home state and across the country." 
But with the clock ticking down to primary day, all the candidates are charging ahead with no signs of consolidating.