New York State
The coronavirus crisis is pushing government into the 21st century
Why were we still waiting in lines at the DMV?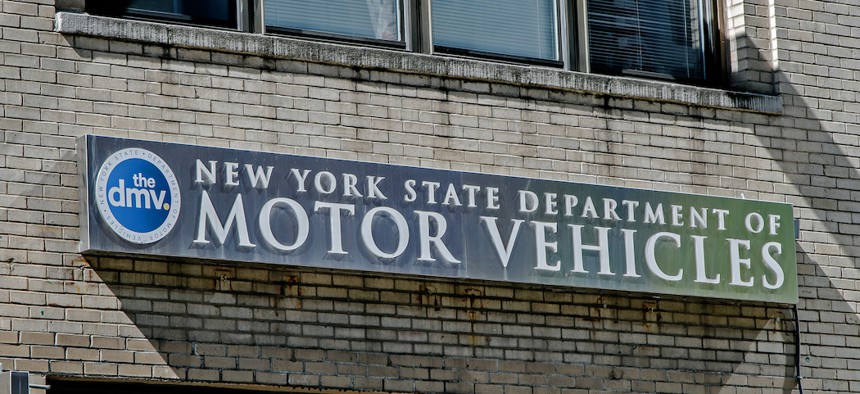 As hundreds of thousands of New Yorkers filed for unemployment benefits in late March and early April, the state Department of Labor's website was melting down. Many users experienced website crashes or other errors that prevented them from completing their applications. The state's unemployment website was optimized for a version of Internet Explorer that was released in 1999, putting a spotlight on the outdated technology used by government agencies. The sudden influx of new applicants overwhelmed the old system.
With New Yorkers stuck at home during the coronavirus crisis, technology has become more prominent than ever in daily life. The same is true for government, which is attempting to adapt to social distancing rules that prevent traditional in-person services. In some instances, those transitions have been relatively smooth and could have lasting benefits after the pandemic ends. But by and large, it may take a while for the government to be fully pushed into the 21st century.
In response to the problems with the Department of Labor's website, the state added new servers to accommodate the increased traffic and partnered with Google to redesign the website and application portal to make them more user-friendly. But the Department of Labor is far from the only government agency running on decades-old technology, if they have web options at all.
Some government functions have migrated online in ways they never have before. Notably, an executive order from Gov. Andrew Cuomo now permits couples to apply for marriage licenses online and get married remotely. Previously, someone had to apply in person and needed a clerk or other person capable of performing weddings to be physically present at the ceremony. One lucky couple even got remotely married by NY1 anchor Pat Kiernan on live TV.
The change may seem like a simple one, but similar government functions have not made the digital shift. Theresa Pardo, director of the Center for Technology in Government at the University at Albany, said the problem lies in part with the fact that so many government documents require a physical signature as verification of identity, rather than allowing for electronic signatures and digital copies to be the official documents of record. And for that to happen, governments would need new levels of encryption to ensure that any digital official documents remain secure. "It's possible to change them, but those are decisions that have to be made from a policy perspective first and then executed by technology professionals," Pardo said. "All it takes is political will and the investments in public service technology."
But given the state's financial crisis, those investments are not guaranteed. As Pardo pointed out, digitizing government processes is not just a matter of thinking something is a good idea – the technology must be in place to make it feasible. When New York City began offering digital applications for marriage licenses, the City Clerk's Office partnered with the Department of Information Technology and Telecommunications to create an online portal. It relied on third-party video conferencing technology to replicate the in-person meeting between couples and allowed them to upload identifying documentation rather than presenting it in person. Even this relatively minor update necessitated coordination to make it possible, although the relative simplicity made it possible to complete in a short time.
Another part of the problem is the procurement process for new technologies and services that are required to bring systems into the 21st century. Emil Skandul, founder of the tech firm Capitol Foundry, said that while he doesn't expect the immediate budgetary problems to be reflected in tech projects, he pointed out that those projects generally take years to complete, at which point a new technology could be outdated. "We have a procurement model where specs are drawn up a year before the project initiates," Skandul said. "And then it takes one year to determine who's going to get that contract, and then it takes another two years to complete the contract."
Smaller improvements are still possible though, as in the case of marriage licenses, where there was a political will to allow weddings to continue during the pandemic. The change did not require a lengthy procurement process or a complete redesign of available technologies.
In certain cases, going remote was something of a necessity, as it has been with court appearances and public meetings like town halls and community board meetings. Those were carried out with minimal hiccups. In those cases, the switch was relatively simple. Government did not need to adopt new or updated systems. It just had to use existing video conferencing technology. "Sometimes there are positive unexpected consequences of bad situations," Pardo said. "And the transition – or the acceptance – of virtual meetings for citizen engagement and the most formal sense of the word public meetings might be one of those unexpected positive consequences of a very bad public health situation."
Still, the state has a long way to go for anyone hoping that the coronavirus crisis would lead to a reimagining of complicated government bureaucracy. Skandul said that while the current public health crisis may help propel tech advancements as remote work has increasingly become normalized through necessity, it doesn't mean even seemingly simple processes will move online quickly. 
Skandul used the state Department of Motor Vehicles as an example. The DMV is the quintessential example of bureaucratic tedium that eats up entire days of waiting in long lines for simple matters. And its offices had been closed since the state shut down in late March. Certain services returned June 1 through mail or secure drop box locations. Right now, the DMV says more than 60 simple transactions can be done online, including license renewal and paying fines. Skandul said it's evidence that services that people traditionally believed could only be done in person can be done online. "Truthfully I see a future where the DMV barely exists," Skandul said. "That portal needs to be redesigned to think of, what does a digital DMV look like?"
Ideally, Skandul said the state could one day look like Estonia, a country that Pardo mentioned as well. "I can be a citizen of Estonia and never go to Estonia," Pardo said. The country has a single integrated governmental web portal that saves a person's information and shares it across every agency so someone can access all services easily in one spot. "It allows them to do everything from voting to their taxes," Skandul said.
But right now, that's not happening in New York. For the foreseeable future, as the pandemic has forced many to rethink remote work, New Yorkers will likely still have to rely on snail mail or in-person appearances to access a wide array of government services. But that doesn't mean that small advancements like online marriage licenses and adopting virtual public meetings don't offer a glimmer of hope for a more tech-friendly bureaucracy in the future.
Powered By
NEXT STORY: Social distancing enforcement is softer in white neighborhoods