New York State
What is Juneteenth?
Cuomo's executive order gives state employees the day off in honor of the holiday. What is it all about?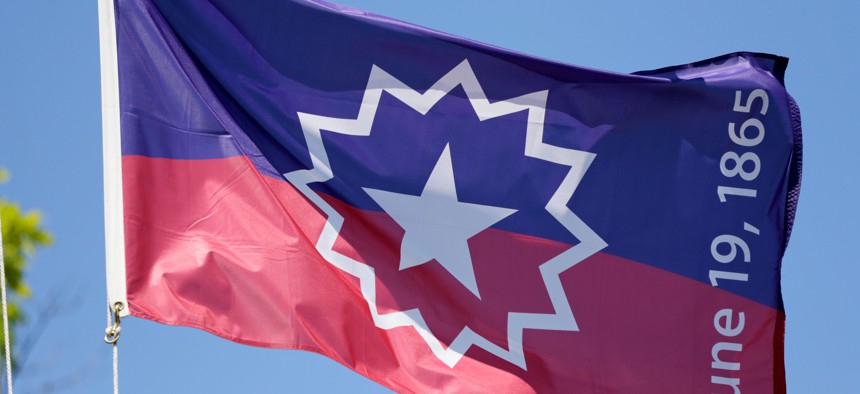 Gov. Andrew Cuomo signed an executive order on Wednesday that makes Juneteenth, a holiday that celebrates the end of slavery in the U.S. on June 19, a paid day off for state employees.
"Whereas, it is fitting that all New Yorkers join to commemorate such an important day in our nation's history, as we take this opportunity to reflect upon and rejoice in the freedom and civil rights that we all share as Americans," states the order.
Cuomo also said he is working toward making Juneteenth a statewide holiday by next year. Assemblywoman Alicia Hyndman introduced a bill last week to do just this. State lawmakers have been calling for the day, which is currently only a "day of commemoration" in the state, to become a full-fledged holiday.
Renewed interest in Juneteenth followed an announcement that President Donald Trump would be holding a rally in Tulsa, Oklahoma – the site of the deadly 1921 Tulsa massacre, one of the worst occurrences of racist violence in U.S. history – on the holiday, which received immediate backlash. Trump eventually agreed to move his rally to another date, following the heat he received for a decision that struck many as insensitive, if not a show of solidarity with white supremacists.
Juneteenth is a combination of the word June and 19, marking the June 19 date in 1865 when the Union Major General Gordon Granger arrived in Galveston, Texas, to inform enslaved African-Americans that the Civil War had ended and that they were free. The announcement came two and a half years after President Abraham Lincoln's Emancipation Proclamation was made on Jan. 1, 1863.
The holiday, which has also been referred to as "Emancipation Day," "Juneteenth Independence Day" and "Freedom Day," was first celebrated in Texas, in 1866, with celebrations that included parades, cookouts, prayer circles, musical celebrations and historical and cultural readings. Many Juneteenth celebrations today happen in backyards where friends and family come together to dine on traditional African-American cuisine. However, in cities such as Atlanta, Washington and, of course, Galveston, there are often much larger festivals and parades to mark the day's significance. 
Texas was the first state to recognize Juneteenth as a holiday in 1980. Since then 45 states and the District of Columbia have also recognized the day as either a holiday or a day of observance, though it has yet to become a federal holiday. While Juneteenth is not a state holiday in New York, it has been celebrated throughout New York Cityin the past. And this year there are a large number of Juneteenth events scheduled to take place around the city. Among the events scheduled is a protest at City Hall that is in support of police reforms and a virtual town hall featuring New York City Council Majority Leader Laurie Cumbo.
"The stakes are a little different," Mark Anthony Neal, an African-American studies scholar at Duke University, told The New York Times regarding the holiday this year. "Many African-Africans, black Americans, feels as though this is the first time in a long time that they have been heard in a way across the culture."
"I think Juneteenth feels a little different now," he continued. "It's an opportunity for folks to kind catch their breath about what has been this incredible pace of change and shifting that we've seen over the last couple of weeks."