New York City
What's with all the fireworks?
New Yorkers have made a record number of complaints about the nightly barrage of fireworks.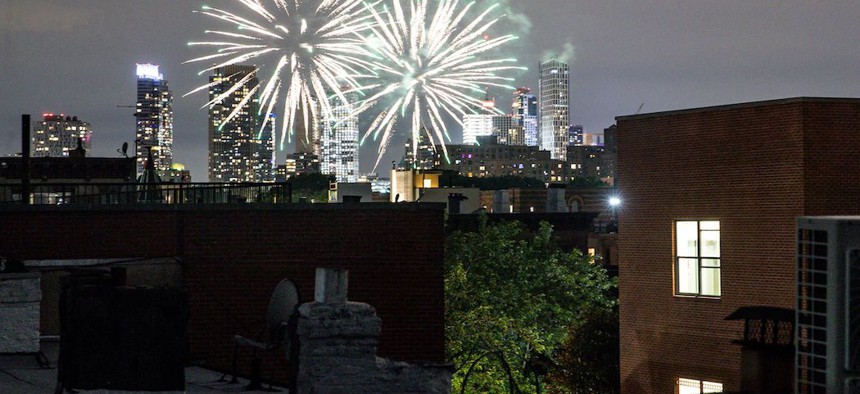 As fears of the coronavirus die down, New Yorkers have a new problem to contend with: nonstop fireworks.
On Tuesday, New York City Mayor Bill de Blasio announced that the city would be cracking down on the use of fireworks, as it is illegal to buy, sell or ignite them in the state. The city will be investigating where fireworks are being sold locally, in addition to sales occurring outside of the state. During a press conference, de Blasio also said that city authorities would create a sting operation "to go and get these illegal fireworks at the base."
"The Sheriff's Office, the FDNY, the NYPD have come together in an illegal fireworks task force," the mayor said. "We will have over 40 officers from each of those three organizations, including 12 FDNY fire marshals. The NYPD Intelligence Bureau will be a part of this effort to help us track down where the fireworks are coming from to begin with."
More than 12,500 calls were made to New York City's 911 system this month to complain about fireworks. In Brooklyn, there were 4,500 complaints made to the city's 311 line. Numerous videos of fireworks being ignited in the city have also been circulating online, with many wondering why there has been such an enormous uptick in fireworks being set off.
On Monday evening, City Council Member Chaim Deutsch, whose district is in Brooklyn, drove to Gracie Mansion along with several others in cars and honked loudly to protest the mayor's lack of action regarding fireworks.
Protesters are chanting, "we don't sleep! you don't sleep!" At the Gracie Mansion protest. pic.twitter.com/TnUEsXxA58

— Yaakov Pollak (@Yanky_Pollak) June 23, 2020
While the sale and use of fireworks is prohibited, it's not unusual to hear fireworks going off in the city during the summer, but the magnitude of fireworks being heard now is unusual. However, New York City isn't the only place experiencing an unusual amount of fireworks: Boston and Washington, D.C., have also noted a higher number of fireworks. There are several theories as to why New Yorkers and other city dwellers may be hearing more fireworks this year, but the exact cause is still unknown.
Powered By
NEXT STORY: Chaos reigns in the pandemic primary