Alexandria Ocasio-Cortez
AOC vs. Andrew Cuomo
The de facto leaders of the progressive and centrist Democrats clashed again and again.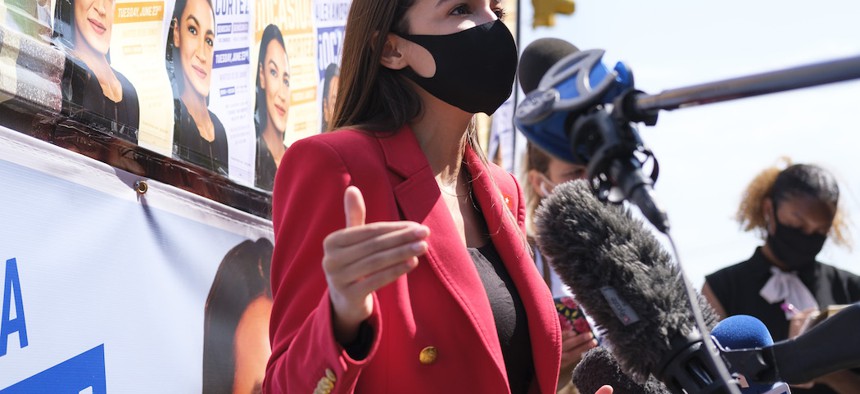 There are few elected officials that can mobilize people online like Rep. Alexandria Ocasio-Cortez, whose social media following has given her a big platform to promote progressive issues. This includes a new video in which the Bronx-born lawmaker argues that the time has come for Gov. Andrew Cuomo to support higher taxes on the ultra-wealthy.
Big budget cuts to public schools, health care and local government services are looming. The governor is holding out hope that Congress will approve billions in new aid for the state later this month. Elected officials and activists to his political left, however, say that the state should approve a new tax on capital gains no matter what happens at the federal level. 
This would allow the state to help undocumented people, who were ineligible for past federal aid like stimulus checks and expanded unemployment benefits. Cuomo, however, has argued that it makes sense to wait for clarity at the federal level before revealing just how much money the state could raise to fill the multibillion-dollar budget hole caused by the pandemic.
The state Legislature is reconvening later this month and taxes on the wealthy is likely to be a contentious issue between progressive lawmakers and moderate Democrats. It is also just the latest showdown between AOC – who is arguably the most high-profile elected official in the country on the political left – and a three-term governor who has his own ideas about what "progressive" really means. 
Whether it's taxing the billionaires, the Green New Deal, or figuring out the best way to manage the pandemic, here are the top issues where Cuomo and Ocasio-Cortez have clashed in the past two years. 
Taxing billionaires
Liberal lawmakers and activists have been pushing the state for years to raise taxes on the wealthy. While Cuomo has been open to raising some taxes in the past, he was more adamatent this year that raising taxes was not something to do. Instead, he wants the federal government to provide billions in unrestricted aid for the state. That may or may not happen, so AOC is saying a new tax on capital gains is the way to go in order to shore up the state's fiscal situation. "I think it's huge," said Charles Khan, organizing director for the Strong Economy For All Coalition, an umbrella group favoring tax increases, on AOC's backing of the effort.
Policing
The governor and AOC have also been at odds over policing. This includes Cuomo's successful effort to increase the number of police officers patrolling the New York City subway system. Cuomo has also pushed back at Ocasio-Cortez's suggestions that a recent spike in shootings in the city was caused by New Yorkers struggling with their rent. "It is factually impossible that somebody committed a crime so they could pay their rent," said Cuomo, who has imposed a moratorium on evictions during the pandemic that largely remains in effect.
Rent relief
Ocasio-Cortez is also among the elected officials calling for the state to cancel rent and offer a relief fund for landlords. The governor has opposed that idea and has favored a less radical approach to helping tenants cover their losses during the pandemic. The freshman lawmaker, however, has cultivated a reputation for challenging the political positions of more moderate lawmakers and was not about to back down just because Cuomo was enjoying a surge in his national popularity. "As we know here in New York, we have to fight with Democrats to make sure things get accomplished," Ocasio-Cortez said in April. 
Green New Deal
The governor loves to say that he is the one who made a Green New Deal happen in New York state. AOC, however, arguably put the issue on the national agenda as soon as she got to Washington, D.C. Whose approach really represents what a Green New Deal should be? You be the judge … 
Cynthia Nixon
Cuomo did not take kindly to the actress' 2018 primary challenge. It is safe to say that by endorsing her, AOC got off to a rough start with the governor, even before she got elected to Congress later that year. If you think Cuomo has forgotten about that whole endorsement thing,just keep in mind that Cuomo was still taking swings at Nixon as recently as March 2020.
Correction: An earlier version of this article misspelled the name of Charles Khan.