New York City
Police decry reforms and the coronavirus spreads among young people
Rounding up the week's political news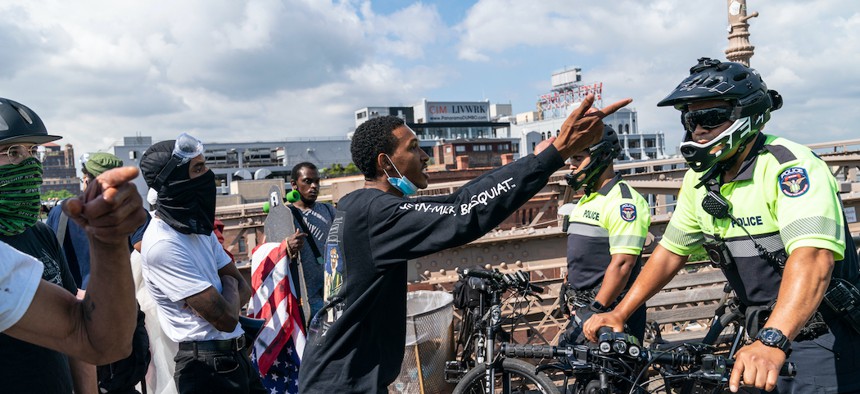 If you're the kind of person who loves the high-stakes tension of election nights but hates the concept of instant gratification, might we recommend the pandemic primary? The process of counting absentee ballots dragged on this week, with a number of closely watched races still too tight to call. A few winners were actually declared this week – including Mondaire Jones in New York's 17th Congressional District and insurgent Democratic Socialist Marcela Mitaynes over longtime Brooklyn Assembly Member Félix Ortiz.
While some candidates eagerly anticipate the results of last month's primary, others are rolling right ahead to 2021, as the latest fundraising data in New York City races showed mayoral candidate Shaun Donovan and state Sen. Brian Benjamin, a contender for city comptroller, raised the most in their respective races over the past six months. Here's hoping that by 2021, New York City has gotten the hang of this whole mail-in voting thing. Keep reading for the rest of this week's news.
Police tensions mount amid spike in shootings
Over the past few weeks, New York City has seen a troubling spike in shootings, with more than 630 shootings so far in 2020, compared with roughly 400 in the same period last year. While the exact causes of the rise in gun violence are unclear, that hasn't stopped interested parties from raising their own theories. New York City Police Department Commissioner Dermot Shea, for one, attributed the increase in shootings to recent police reforms like the criminalization of police chokeholds that Mayor Bill de Blasio signed into law last week, bail reforms that went into effect earlier this year as well as moves to release inmates from city jails in an attempt to curb the spread of the coronavirus.
De Blasio pushed back on the idea that the current spike in shootings can be attributed to recent law enforcement reforms, instead pointing to high unemployment from the pandemic as one possible cause.
Meanwhile, in an attempt to curb gun violence, de Blasio unveiled a plan last week to deploy more police in Brooklyn – where there has been a spike in shootings – as well as local anti-violence groups, clergy and mobile mental health units.
But Shea and the NYPD aren't the only ones who continue to raise alarms about recent police reforms. New York State Troopers Police Benevolent Association President Thomas Mungeer has called for state troopers to be pulled from New York City, saying recent reforms in the city places "an undue burden upon our troopers."
School reopening guidance released
The state Education Department released its long-awaited guidance on how schools should plan to reopen in the fall, as New York confronts the possibility that another wave of the coronavirus pandemic is not far off. Both those guidelines, and separate ones released by the state Health Department, call for face masks for students and teachers, and social distancing, among other measures.
Gov. Andrew Cuomo also detailed a formula for reopening, with schools allowed to reopen if they are in regions that have reached the fourth phase of reopening and have a daily infection rate below 5% over a 14-day average. Individual school districts have until the end of July to submit plans for reopening to the state, and Cuomo will announce decisions on where the regions stand in early August.
But even with these details shedding a little more light on what school will look like in September, many students, families and teachers are still concerned. Michael Mulgrew, head of the United Federation of Teachers, said that the teachers union will do everything in its power to make sure schools don't reopen if they think it's unsafe.
Young people threaten COVID-19 curve
A surge in cases of the coronavirus among 20-to-29-year-olds in New York City is prompting concerns – and reminders from leaders like Cuomo and de Blasio for young people to take necessary precautions like wearing masks and socially distancing. "Let's face it, it's harder in many ways on younger people," de Blasio said at a press conference last week.
But notably, it's not just younger people who are making up a greater share of new coronavirus cases. As The Wall Street Journal reported, cases of the coronavirus among young people are showing up in parts of Manhattan like the Financial District and Greenwich Village – striking a contrast with the early days of the pandemic, when minority and low-income New Yorkers made up the largest share of coronavirus infections.
Meanwhile, Cuomo moved to curb the kinds of in-person socializing that officials fear may be contributing to a rise in cases among young people. New rules from the state will prevent bars and restaurants from serving alcohol on the premises unless they're serving it with food – a move aimed at reducing crowds outside bars. The additional restrictions provoked criticism from groups like the New York City Hospitality Alliance, which said constant policy changes burden already struggling establishments.