Police Brutality
Trump threatens to send federal agents to NYC
The city and state have already threatened legal action should agents be deployed to the city.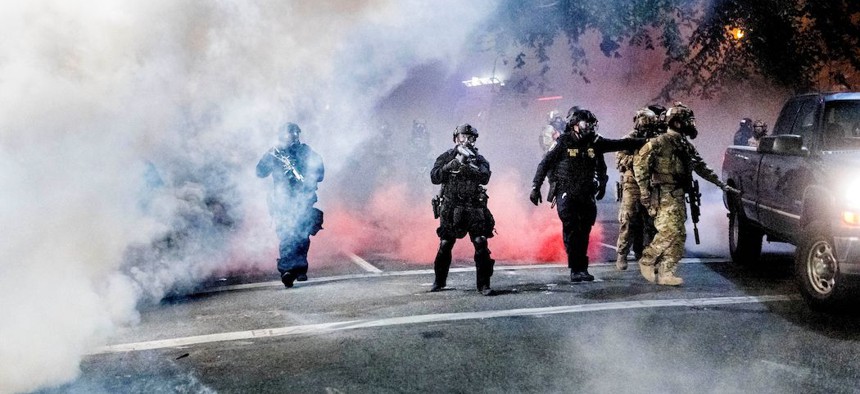 On Monday evening, President Donald Trump threatened to send federal agents to several cities including New York City, Chicago, Philadelphia and Detroit, following the deployment of federal agents in Portland, Oregon. "I know New York very well. I know the police very well. New York's finest. The fact is they're restricted from doing anything, they can't do anything. I'm going to do something, that I can tell you," Trump said during a press conference. The president did not specify what problem he was attempting to solve, or how, only that "We're going to have more federal law enforcement, that I can tell you."
Federal agents were sent to Portland at the president's behest in early July, to protect federal buildings that had allegedly been vandalized by protestors against police brutality since the death of George Flloyd in May. The agents have been heavily criticized for pulling protestors into unmarked vehicles, without informing them why they have been detained or arrested and amplifying tensions at peaceful protests with the use of tear gas and projectiles. 
Federal police strike protester with baton, use pepper spray and tear gas outside courthouse in Portland pic.twitter.com/VX2xTVaaYq

— Zane Sparling (@PDXzane) July 19, 2020
Someone here is still holding out hope on that recount. pic.twitter.com/0gj7VscBMi

— Mike Baker (@ByMikeBaker) July 21, 2020
New York City Mayor Bill de Blasio has already stated that he's opposed to the agents being sent to the city and that the city would take legal action if they were. "It would backfire, it wouldn't make us safer, and we would immediately take action in court to stop it," de Blasio said during a press conference on Tuesday. "From my point of view, this would be yet another example of illegal and unconstitutional actions by the President. And we have often had to confront him in court and we usually win. So, hopefully, it doesn't come to that, but, if needed, we will do that."
Attorney General Letitia James' office has also stated that it will take immediate legal action should Trump deploy agents to the state. While the state might have a good chance of prevailing in court, especially if Trump lacks the excuse of federal property to assert federal jurisdiction, the feds could harass, attack or detain New Yorkers in the time it takes for the case to make its way through the courts.
The New York City Police Department has not yet commented on whether or not it supports the use of agents. Sergeant Benevolent Association President Ed Mullins, however, has said he would be supportive of agents coming to the city and claimed that the state's new bail reform laws and legislation against chokeholds has kept the police from sufficiently doing their jobs. Trump echoed some of those claims, and similar ones made by NYPD Commissioner Dermot Shea. 
Oregon's elected officials have argued that the use of U.S. Customs and Border Protection officers to round up pedestrians suspected of participating in protests – but not necessarily of breaking any laws – is illegal and unconstitutional. On Friday, the American Civil Liberties Union Foundation of Oregon sued the Department of Homeland Security and the U.S. Marshals Service over the agents' use of "tear gas, rubber bullets and acoustic weapons" on protestors. "It's of course the prerogative of the federal government to enforce federal law and protect federal property," Stephen I. Vladeck, a professor of law at the University of Texas at Austin, told The New York Times. "It is not the job of the federal government to be a general police force for all crimes."
Oregon's congressional delegation sent a letter to the U.S. attorney general, on July 17, that the arrests of protestors in Portland "are more reflective of tactics of a government led by a dictator, not from the government of our constitutional democratic republic." Oregon Sen. Jeff Merkley has also introducednew legislation as an amendment of the National Defense Authorization Act that the Senate is currently considering, which would require all federal agents' identities to be clearly visible while making arrests. He also stipulated that the use of unmarked vehicles will be prohibited during arrests. However, with a Republican majority in the Senate it's doubtful that the amendment will get the support it would need to pass.
"In Portland, they've done a fantastic job," Trump said on Monday, regarding the federal agents. "These people are anarchists. These are people who hate our country and we're not going to let it go forward."
On Monday, the Chicago Tribune reported that the Department of Homeland Security is planning on sending 150 federal agents to Chicago this week, to assist the city's police with fighting crime. Chicago has seen a steep uptick in homicides and shootings over the past few weeks. Chicago Mayor Lori Lightfoot has been fiercely opposed to the involvement of the agents in any of the city's crime fighting efforts.During an appearance on MSNBC's "The ReidOut," Lightfoot said that she would use any tool at her disposal to keep the "troops" out of the city, including filing a lawsuit. "Our democracy is at stake and I'll be darned if I'm going to let anybody, even if their name is Mr. President, bring those kind of troops to our city and try to take off our residents," Lightfoot said.
Philadelphia's District Attorney Larry Krasner has also threatened to criminally charge any federal agents should they "assault" or "kidnap" the city's residents.
Powered By
NEXT STORY: Andrew Cuomo, the ambassador