Campaigns & Elections
When to expect the Board of Elections to count absentee ballots
Assembly districts are among the first to get counted.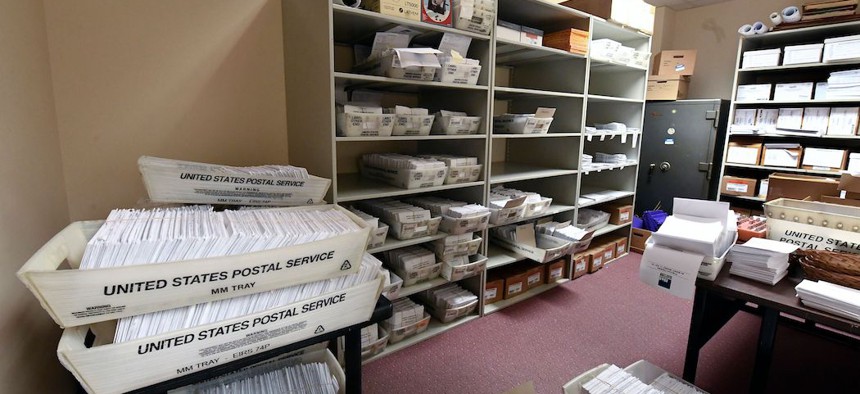 After pushing off the start date for counting absentee ballots from the June 23 state legislative and congressional primary – which was legally supposed to begin last week, but was delayed because of the record number of ballots coming in – the New York City Board of Elections started the count citywide on Wednesday, after Staten Island got a headstart on Monday. While boards of elections in other parts of the state, such as Erie County and Monroe County, did manage to start on time, they are similarly facing a glut of ballots to sort through that will slow the process.
The New York City BOE is set to count mailed-in votes for 17 Assembly primary races on Wednesday, but it's not clear when results will be certified.Those districts are in upper Manhattan, northern portions of the Bronx, all of Staten Island and southern and eastern parts of both Queens and Brooklyn. 
Most of the districts being counted this Wednesday feature only one candidate in the running, but a couple of races could be swayed by the remaining absentee ballots. In Queens,Democratic Assembly Member David Weprin is 785 votes ahead of the current second-place candidate Mahfuzul Islam, while 4,940 absentee ballots sent in for that race are set to be counted. Other races being counted include races in districts currently being led by Assembly Members Alfred Taylor, Jeffrey Dinowitz and Michael Benedetto, who are currently leading among in-person votes. 
The Board of Elections will update at the end of the day Wednesday which districts' ballots will be counted on Thursday.
The overall process of garnering results will take longer than usual, because of the volume of ballots that have come in. Democratic voters in New York City returned 379,614 ballots this year, according to the city's most recent tally. In comparison, just 157,885 of all voters statewide requested a ballot in the 2016 presidential primary. 
Not all the submitted absentee ballots will be counted, however. They may be thrown out because voters failed to sign their envelope or chose to vote in-person, as happens every year. One issue that is likely to be particularly pertinent this year is missing postmarks. 
In order to be counted, absentee ballots must have been postmarked by primary day and be received by June 30. But because New York approved the use of prepaid postage for absentee ballots this year as a result of the pandemic, workers with the United States Postal Service may omit the postmarks needed to get a ballot approved. This may legally invalidate votes from people who otherwise filled out their ballots correctly. 
How long exactly the counting will take is unclear, but one election expert previously said that it would require at least two to three weeks for all results to be finalized. 
The process may also be drawn out depending on the results of litigation over which ballots are counted. Given that candidates only had until July 6 to file a lawsuit, several have done so preemptively in advance of any possible issues, including Bronx-Westchester Rep. Eliot Engel, who is losing to Jamaal Bowman in results from in-person voting and Brooklyn Rep. Yvette Clarke, both Democrats, and several state-level candidates. 
Several political organizations, elected officials and candidates – including a few in competitive primaries, such as Jessica González-Rojas, who is running in the 34th Assembly district in Queens – have called on Gov. Andrew Cuomo to loosen rules for counting ballots to allow postmarkless ballots to be counted. Votes with missing or illegible postmarks should be counted if they arrived on or before June 30, they said in a letter, unless they were clearly postmarked after June 23. No one is calling for counting ballots that were postmarked after June 23, although there would be a good case for doing so, since so many voters didn't receive their absentee ballots until that day, or even later, if they received it at all. (Presumably, most voters in that situation never sent in an absentee ballot anyway.)
"I called upon the governor to accept all the absentee ballots that were not postmarked," Assembly Member Rodneyse Bichotte, chairwoman of the Kings County Democratic Committee, said in a separate statement. "Sadly, experts have informed me that there is no way to determine which ballots met the statutory postmark deadline date."