Andrew Cuomo
Cuomo rewrites the first draft of history
A new book and DNC speech suggest an accelerating effort to downplay the governor's early pandemic failings.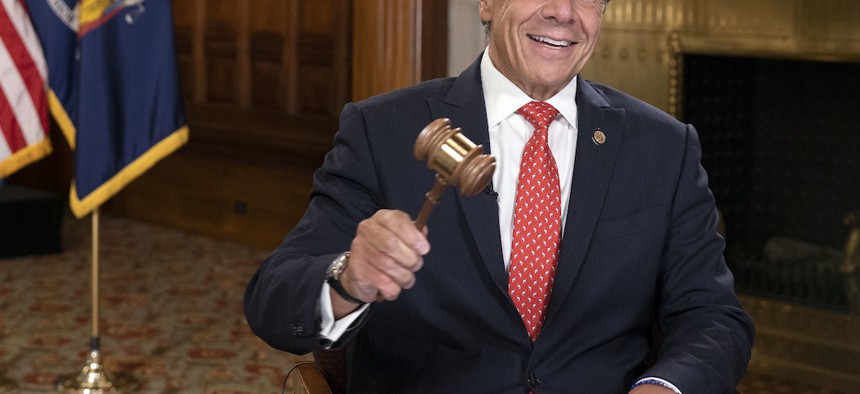 Gov. Andrew Cuomo may not have electrified the nation during his Monday night speech at the Democratic National Convention, but the five-minute address arguably achieved something more important to the governor by helping him spin the coronavirus pandemic as a great personal success despite evidence to the contrary.
These efforts began as soon as the first confirmed cases emerged in New York more than five months ago. They accelerated during his more than 100 straight days of news conferences, and now include a model mountain, a panned political poster and a new book on crisis leadership slated for an October release.
"For all the pain and all the tears, our way worked and it was beautiful," Cuomo said in his prerecorded DNC address. "We saw the failure of a government that tried to deny the virus, and tried to ignore it, and then tried to politicize it – the failed federal government that watched New York get ambushed by their negligence."
While the governor has presented himself since the beginning of the crisis as a can-do master of disaster, his version of history leaves out critical details about why the pandemic was so much deadlier in New York than anywhere else in the country. This was due to some extent because of the governor's crucial missteps. Thousands of deaths could have been avoided had the governor heeded the warnings of impending disaster from public health experts in February and early March.
His handling of the crisis also highlights personal qualities that Cuomo is not likely to brag about in his new book. This includes an inability to admit mistakes, as best evidenced by his ongoing denial of responsibility for thousands of nursing home deaths. His refusal to say how many nursing home residents later died in hospitals also harms his commitment to transparency. Then there were all the times he overruled policy announcements from New York City Mayor Bill de Blasio – and then adopted the mayor's ideas soon after.
A Cuomo spokesman disagreed with ongoing criticism in the media that the governor did not act fast enough at the outset of the crisis. "Those theories were disproven," Cuomo spokesman Rich Azzopardi wrote in an email to City & State. "Now even the (Centers for Disease Control and Prevention) admits that the virus was likely in New York in early February – brought in by flights from Europe that the federal government allowed to go unabated for weeks after they grounded air travel from China." Azzopardi added that criticisms about the administration's handling of nursing home deaths were "conspiracies that ignore basic facts and somehow ignore issues in virtually every other state that shows infections spread by asymptomatic staffers."
The governor deserves credit for the current low levels of infection in New York, especially for how he used his daily briefings and the scientific expertise around him to get the coronavirus under control when it was rapidly spreading in many other states. A willingness to humor President Donald Trump by saying nice things about him also secured vital federal aid as hundreds of New Yorkers were dying every day in March and April. His daily press briefings did play a big part in calming public anxieties about the crisis.
Yet, the governor is seeking more credit than he may deserve. Vice President Joe Biden and other leading Democrats appear to be OK with that judging by the way they let Cuomo present his version of history on Monday night. His latest appearance on the national stage has inspired renewed chatter about a future presidential run. One recent poll even showed him leading the Democratic field in 2024.
The governor has repeatedly denied that he has any interest in a future White House run. Maybe we should take him at his word and believe that he is just trying to be the best governor he can be – or at least present himself as such. Either way, his handling of the pandemic is now a key part of his legacy, and the governor is doing everything he can to make sure that the first draft of history gets rewritten to his liking.
Update: This article has been updated with a comment from Cuomo spokesman Rich Azzopardi that was provided after publication.