New York City
Zucker in the hot seat and reopening resistance
Rounding up the week's political news.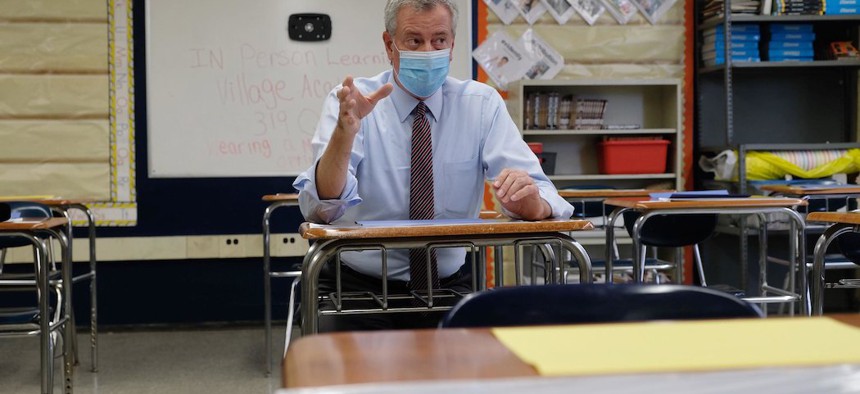 Top election officials in the state warned this week that they will need more money to run the November general election, and it will likely take weeks to tabulate the results, much like in the June primary. The state Board of Elections is taking what steps it can to help things run smoothly, as is the state Legislature. But President Donald Trump said this week that he doesn't plan to provide the U.S. Postal Service with funding explicitly because he doesn't want mail-in voting to flourish. And the decisions of Trump's new postmaster general are already delaying mail service in the five boroughs. Keep reading for the rest of this week's news.
New York City school reopening faces resistance
New York City Mayor Bill de Blasio announced that based on a survey sent to public school parents, about 75% want to send their kids back to school in September. The other 25% explicitly backed remote learning only. Some parents and teachers disputed the meaning behind those numbers. De Blasio also announced that every school will have a certified nurse on-site. However, the reopening plan still faces opposition by unions representing both teachers and administrators, who are asking to delay the start of in-person school – which is currently Sept. 10 – until at least the end of September. Union leaders say school staff don't have enough time to prepare under the current timeline and still lack guidance on the details of reopening. The New York State Nurses Association joined the call, saying that schools statewide should postpone any return to classrooms. But their concerns are not stopping de Blasio, who said he is still moving ahead with reopening on Sept. 10, while schools Chancellor Richard Carranza continues to say the city isn't moving too quickly.
Courts weigh in on evictions
About a week ago, Gov. Andrew Cuomo didn't explicitly extend the moratorium on evictions earlier this month, but he did give the courts the authority to continue the pause. That left in limbo about 14,000 New Yorkers who had eviction warrants against them before the start of the pandemic and therefore were not covered by a state law that protects tenants from eviction if they faced financial hardship during the pandemic. The state's chief administrative judge issued a memo providing new guidance, protecting those who were facing eviction before the pandemic until at least Oct. 1. The memo states that no one can be kicked out of their homes until then, although the approximately 200,000 pending eviction cases from before March 17 will be allowed to proceed in the meantime.
Zucker in the hot seat
The state Legislature held a hearing on the impact of the coronavirus pandemic on hospitals as part of a series of hearings on the pandemic's effects throughout the state. Like recent hearings on coronavirus deaths in nursing homes, state Health Commissioner Dr. Howard Zucker once again found himself on the receiving end of lawmakers' questions. He was asked about numerous reports that, during the height of the crisis, hospitals ran low on personal protective equipment, nurses had to wear garbage bags when they ran out of gowns and doctors had to wear the same N95 and/or surgical mask for days. The New York State Nurses Association sued the state Health Department in April over insufficient personal protective equipment. But Zucker refuted all those reports, saying hospitals had an adequate supply of protective equipment the entire time. He said that in every conversation the state had with hospital staff, none ever complained about a shortage. When asked about what's being done to prepare hospitals for a second wave of the virus, Zucker said hospitals must have a 90-day stockpile of equipment by Sept. 30.
De Blasio dials up threats of layoffs
After weeks of floating the possibility due to New York's City's dire financial straits, de Blasio has doubled down on the prospect of laying off 22,000 public employees on Oct. 1 unless the city gets some form of new aid to close its budget shortfall. He was hoping for money as part of a federal aid package, but that seems increasingly unlikely now that talks in Congress have stalled, and lawmakers have gone on recess until September. De Blasio has also pleaded with the state Legislature to allow the city to borrow money and take on short-term debt, but state lawmakers have remained reticent. Prior to the mayor's announcement about the layoffs, he had already reached out to a number of city agencies to let them know how much their budgets would be slashed through layoffs and to determine who would be fired to hit that number.
Powered By
NEXT STORY: Could ConEd and PSEG Long Island be replaced?