New York City
Corey Johnson drops mayoral bid and protests erupt for Breonna Taylor
Rounding up the week's political news.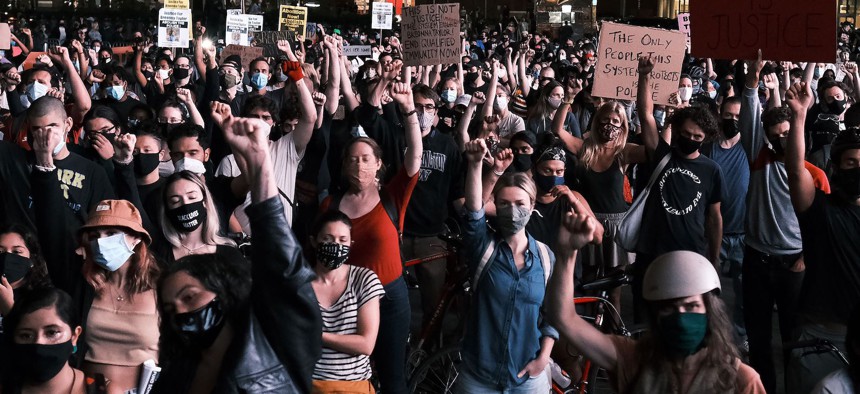 As many daily commuters continue to work from home, three Metro-North employees decided to bring a part of home to work. They built a secret "man cave" under the tracks at Grand Central that included a television, wireless streaming device, refrigerator and futon. It may not be quite as nice as supervillain (and billionaire) Lex Luthor's Grand Central lair in 1978's "Superman," but as MTA Inspector General Carolyn Pokorny said in a report on the unauthorized lounge, it still took some "chutzpah" to take over the room. It's just too bad for the workers that their alleged drunken partying led to complaints. Keep reading for the rest of this week's news.
Corey drops out 
After weeks of speculation about the future of his 2021 mayoral campaign, New York City Council Speaker Corey Johnson ended his bid before it officially began. Johnson cited recent struggles with depression as one of the reasons why he decided not to run. Johnson's exit shook up the election landscape with a little less than a year before the election. A year ago, he seemed like the man to beat, an apparent front-runner who acted as shadow mayor and a loud cheerleader for the city. But 2020 has been tough for the speaker, and June's budget fight over police funding alienated many progressives. While City Comptroller Scott Stringer now seems like the candidate most likely to benefit from the decision, a lot can change between now and the election.
Protests erupt over Breonna Taylor grand jury decision
Protests broke out across New York in the wake of the Kentucky attorney general's announcement that no police officers were indicted for the killing of Breonna Taylor. A grand jury indicted one of the three officers on charges of wanton endangerment for shooting in a way that endangered neighbors, while none will go to trial for shooting and killing Taylor. Thousands of people took to the streets in Manhattan and Brooklyn to demand justice for Taylor on the night of the grand jury decision. No arrests were reported from those protests, a sharp contrast from the prior weekend when the New York City Police Department violently cracked down on small demonstrations against U.S. Immigration and Customs Enforcement. Protesters were out in force in other parts of the state as well, including in Rochester, a city still reeling from the high-profile police killing of Daniel Prude. In Buffalo, the driver of a pickup truck struck a protester on a bicycle and left her with a fractured shoulder.
Industry City rezoning collapses
The developers behind a contentious rezoning in Brooklyn that was already on shaky legs after extensive community backlash decided to scrap the proposal. Industry City CEO Andrew Kimball made the announcement about a week after a marathon City Council hearing on the application included hundreds of people speaking for and against the rezoning, which would have expanded the Sunset Park commercial and industrial complex. Developers promised 20,000 new jobs would result from the project, which they and their supporters argued the city desperately needed. Opponents, including local Council Member Carlos Menchaca, said that the rezoning would lead to gentrification in the largely working-class neighborhood and decried what they considered to be empty promises about jobs and community benefits. Kimball, in a statement, cited a lack of political leadership as a key reason for pulling the application. While a major victory for city progressives, many in the business and pro-development community considered this a significant loss for the city akin to losing Amazon's headquarters in Queens last year, saying it would have a negative impact on the future of the city's growth.
More NYC furloughs
In a bid to avoid permanent layoffs and address New York City's looming budget deficit, Mayor Bill de Blasio announced the city would furlough 9,000 managerial and nonunion public employees for a week. The mayor said the move would save the city about $21 million and came a week after he announced that he and his senior City Hall staff would also take weeklong furloughs that would save $1 million. Included in this new round of furloughs were school superintendents and nonunion management employees in the Department of Education, despite public schools being in the midst of reopening.
NYC is now an "anarchist jurisdiction" 
U.S. Attorney General William Barr officially designated New York City as an "anarchist jurisdiction," along with Seattle and Portland, Oregon. The decision came after President Donald Trump tasked Barr's Justice Department to identify cities that have "permitted violence and destruction of property to persist and have refused to undertake reasonable measures to counteract criminal activities." Trump threatened to withhold federal funding from such localities. For weeks, the president has been criticizing cities for allowing "lawless" protests and criticized his hometown for a recent spike in crime, painting Gotham as some sort of crime-ridden hellscape. New Yorkers, for their part, received the new anarchist label with a healthy dose of sarcasm, while Gov. Andrew Cuomo said the state would sue over a loss of federal funding.
COVID cluster in Brooklyn
New York City health officials identified six neighborhoods in Queens and Brooklyn, including what they called the "Ocean Parkway cluster" in mostly Hasidic Jewish communities of South Brooklyn. The rate of positive cases in those neighborhoods doubled, and in some cases tripled, in the past few weeks and now represent 20% of the city's COVID-19 cases. The development led New York City Health + Hospitals President and CEO Mitchell Katz to warn of new lockdowns if the situation in South Brooklyn was not contained.