New York City
Critics slam NYC City Hall furloughs
Some call the move an empty gesture, indicative of Mayor Bill de Blasio's lazy leadership.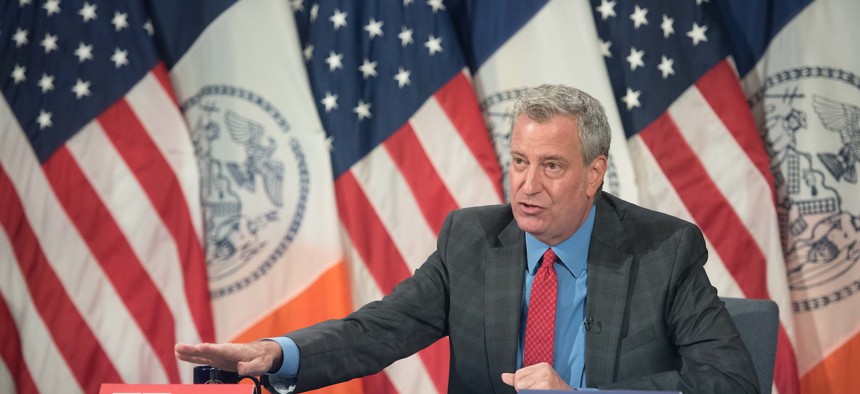 On Wednesday, New York City Mayor Bill de Blasio announced that 495 City Hall employees, including him, will be furloughed for five days as of Oct. 1.
Hizzoner announced that the furloughs were intended to show people that even the city's higher-ups will share in the pain of imminent budget cuts. "This is a step you never want to see for good, hard working people," de Blasio said. "So it is with pain that I say they and their families will lose a week's pay, but it's something we have to do."
The amount of money saved from the furlough is estimated to be $860,000, which won't count for much as the city faces a $9 billion deficit. While the mayor still plans to work without pay during the furlough, he is expected to lose a little under $5,000.
The New York Times reported that the city was told by financial experts to look at trimming its budget before attempting to borrow cash and that the mayor hoped the furloughs would prove to the state that it's amenable to cuts. The mayor has previously warned that he may need to lay off 22,000 city employees, if the city does not get state approval to increase its borrowing abilities, obtain federal funding or get unions to accept reduced wages..
De Blasio's announcement – like most of his announcements – was met with heavy criticism, as some found the mostly symbolic gesture to be empty and indicative of his indolent leadership. 
The New York Post's editorial board argued that the mayor's furlough is hardly a "meaningful shared sacrifice" when thousands of city employees are likely to lose their jobs and hundreds of thousands of individuals in the city are jobless. "De Blasio is, as the Empire Center's Bill Hammond puts it, trying to play the damsel in distress by tying himself to the tracks ahead of the on-rushing train – except that it's New Yorkers who'll be run over by the speeding locomotive," wrote the Post.
The Daily News' editorial board also found fault with the furloughs, in particular the miniscule amount of money that the city would be saving juxtaposed with the enormous deficit it faces. It suggested that if de Blasio wanted to make a real impact, he should have made more severe budget cuts instead of asking Albany for more money. "The fact chronic big-spender de Blasio just found more than $500 million in new savings — after weeks of handwringing that unless Albany permitted him to borrow billions, he'd be forced to layoff 22,000 city employees — should only heighten skepticism," stated the editorial board. "Surely, more sensible cuts that don't devastate core city services can be found."
New York City Comptroller Scott Stringer, who is currently running in the 2021 mayoral election to replace de Blasio, lambasted the mayor for imposing a furlough that will hardly make a difference to the city's finances."This is no time for empty gestures. As the Mayor well knows, cutting 1/100th of a percent of the City budget is meaningless in the context of a $4.2 billion budget deficit," Stringer said in a statement. "Furloughing City workers with little payoff instead of scrubbing the budget for real waste and inefficiency is emblematic of the Mayor's approach to budgeting: a lazy substitute for real work."
In true de Blasian manner, the mayor has yet to acknowledge the recent criticisms, probably because he's tangled up with another ongoing issue: the repeatedly delayed reopening of city schools. 
Powered By
NEXT STORY: De Blasio's about-face on reopening schools