New York City
How do you shut down a neighborhood?
Can closing nonessential businesses in certain NYC neighborhoods contain coronavirus clusters?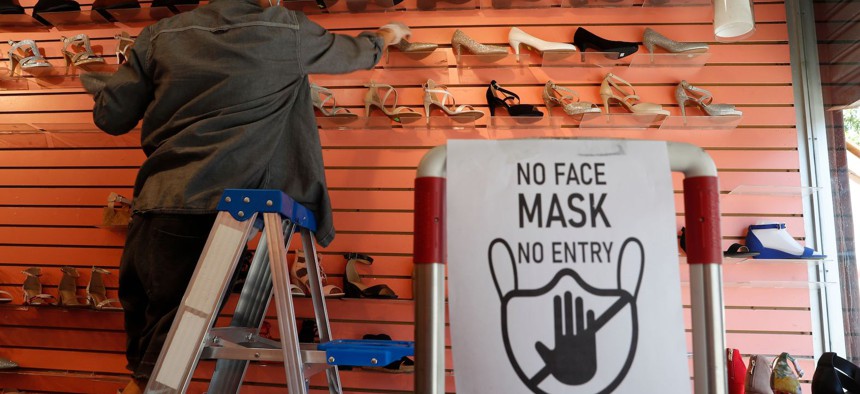 New York City's coronavirus cases have begun to steadily increase over the past two weeks.
On Monday, New York City Mayor Bill de Blasio announced that the city's positive infection rate has jumped from 1.5% to 1.93% in the past week. The city had maintained a 1.1% positivity rate or lower from the beginning of June to the start of August, defying the expectations of numerous public health experts.
Last week, it was reported that coronavirus clusters had been detected in the city's Borough Park, Midwood, Bensonhurst, Williamsburg, Far Rockaway-Edgemere and Kew Gardens neighborhoods in Brooklyn and Queens. About 2,414 new coronavirus cases were detected in these areas in the first week of August, accounting for 20% of the city's new infections.
Some of the areas seeing spikes in infections were home to large contingents of the city's Orthodox Jewish community, where about one-fourth of new coronavirus infections have been identified. These communities were also ravaged by the virus at the peak of the outbreak in March and April. The increase in positive cases among these communities have been tied to people gathering indoors for school and for religious celebrations.
On Monday, Gov. Andrew Cuomo announced plans to send 200 rapid testing machines to areas seeing an uptick in the number of cases, in an attempt to contain the clusters. On Friday, de Blasio began threatening to shut down nonessential businesses and schools, in addition to cracking down on large gatherings and issuing fines, in neighborhoods showing the high infection rates. However, it's unclear how effective those actions would be in slowing the spread of the virus.
The city's proposal to shut down several neighborhoods harkens back to the initial onset of the outbreak in March, when a cluster of cases was detected in New Rochelle, prompting the creation of a "containment area" in Westchester County. Nonessential businesses, schools, community centers and houses of worship were all forced to close within the one-mile area for two weeks. While the containment area did help slow the spread of the coronavirus in New Rochelle, it did not prevent a widescale outbreak in the state.
That situation also differs quite a bit from the current one, as individuals from the Orthodox Jewish communities have been resistant to wearing masks and social distancing, whereas New Rochelle residents were quick to adhere to the state-imposed guidelines.
Danielle Ompad, an associate professor of epidemiology at the New York University School of Global Public Health, told City & State that shutting down any neighborhood would be an arduous task that would rely heavily on individual and community compliance. "I think that shutting down neighborhoods is going to be very fraught. I think that people are going to feel targeted, depending on what those neighborhoods are and their relationship with the city in a wider circumstance," Ompad said. "And so I'm hoping that that is a solution of last resort and that communities and the authorities can come together to find a solution that will reduce transmission (rates)."
De Blasio already said that the city will be working with Orthodox Jewish community leaders and is in the midst of a community outreach effort. However, the mayor has been falling out of favor with the city's Orthodox Jewish community, which has become increasingly more influenced by President Donald Trump, who has made light of the coronavirus pandemic.
Unfortunately, without community support, the city will have a difficult time getting individuals to adhere to its health and safety precautions, according to Ompad.
Powered By
NEXT STORY: The problem with New York's vaccine task force