New York City
Industry City rezoning collapse lets Corey Johnson off the hook
The City Council speaker avoided taking a stance on the controversial plan that could have harmed his mayoral prospects.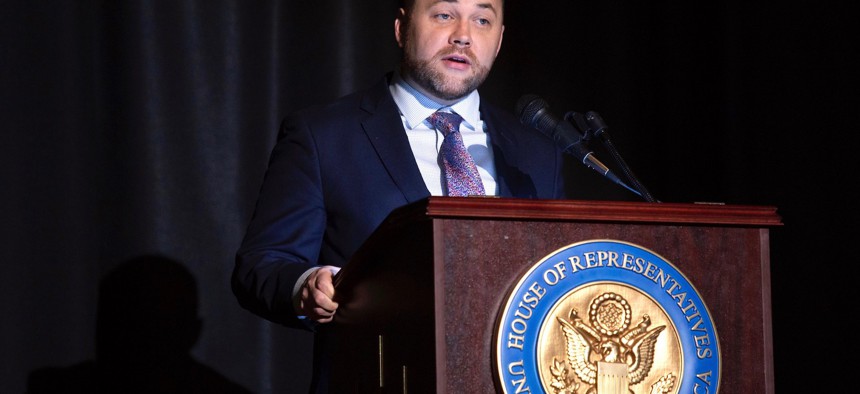 As lawmakers from across Brooklyn and New York City weighed in on the controversial Industry City rezoning in Sunset Park, which promised to create 20,000 new jobs at a time when the city is struggling financially, one voice was notably absent: City Council Speaker Corey Johnson. Even after the application made its way to the City Council, he remained on the fence and never took an official position.
And now, Johnson will never have to.
The Industry City owners pulled their application on Tuesday and decided to scrap the rezoning. Regardless of the potential impacts the decision will have on the city and Sunset Park, it was likely good news for Johnson's 2021 mayoral bid. Or at least, it was neutral news, which at this point could almost be the best outcome for the speaker as he tries to avoid getting embroiled in another controversial issue so soon after a bruising budget fight.
"If you're Corey, you feel like you dodged a bullet here," progressive Democratic strategist Trip Yang told City & State. If he runs, Johnson would likely court the increasingly critical progressive vote, and the wrong move on the Industry City rezoning risked turning the fight into a flashpoint that would alienate members of progressive left who fought strongly against the proposal. He was under pressure from progressives to side with Council Member Carlos Menchaca, the local member involved in the rezoning, and use his influence as council speaker to help kill the project. And if he had no other considerations beyond the political, openly siding with progressives likely would have been the smart play for his mayoral considerations, according to Yang.
But as speaker, Johnson also had to weigh the interests of those who wanted the rezoning approved and argued that the rezoning would help Sunset Park and the city as a whole, including business leaders, other high-profile council members and even the politically powerful union, 32BJ SEIU. Those business and union interests also represented potential supporters he would not have wanted to alienate before potentially running for mayor. Johnson found himself in a tough spot, and while he had avoided taking a stance, the further the application made it in the land use process, the worse it looked not to stake a position.
Even after the owners scrapped the rezoning, Johnson still did not give his opinion on the proposal, and didn't say whether its collapse was ultimately good or bad for Sunset Park and the city. "I'm proud of the process that the council had on this," Johnson said at a press conference Wednesday. "Numerous elected officials, who I respect a great deal, led by Council Member Menchaca – but he wasn't by himself – were against this, so I think that tells you how we got to where we got today." When asked about the role he could have played in getting some version of the rezoning approved, he once again deferred to local opinions and largely abdicated any responsibility he had as speaker. "I don't think it is appropriate to think that I'm going to jump and say that I know better than every local elected official," Johnson said, referring to the long tradition of member deference in the council.
Johnson added that he thought it would have been unlikely that the City Council would have overridden Menchaca. But even if that were true, the rezoning coming up for a vote at all might have hurt Johnson with progressives for letting the process get that far. "Nothing he could have done would have really been enough, unless he stood with Carlos (Menchaca) from the very beginning and said 'I'm never going to do this,' which he was never going to do," said one Democratic consultant, who was granted anonymity to speak freely about the rezoning. The consultant added that Johnson should be allowed to say that it would be prudent to let the full council weigh the pros and cons of such a complicated matter with citywide implications and allow each member to cast a vote, but "he would have been killed by the left for that."
At this point, the Industry City owners gave Johnson the best exit from a tricky situation. He may not get to join in the win that progressives are celebrating now, but the shadow of Industry City is unlikely to follow him into 2021.
When the Industry City fight was heating up over the summer, Johnson was already hurting from a budget fight over police funding that left few people happy. Ostensibly, the budget he helped negotiate cut $1 billion from the New York City Police Department to satisfy demands from police reform activists after a month of protests against police brutality. But those advocates argued that the city simply shifted money around and that the actual amount slashed was nowhere close to $1 billion. Still, Johnson needed to balance those demands with priorities from more moderate members and the mayor to pass the budget. "That's one of the downsides of being speaker," Yang said. "He certainly took a hit." Well after the budget passed, the Daily News reported that members who voted "no" on the budget – including those who did so on the grounds that the police cuts didn't go far enough – received substantially less discretionary funding than those who voted "yes." The move led to more criticisms that the speaker had punished progressives who stepped out of line.
And unfortunately for Johnson, he had a degree of control over the Industry City rezoning, so he could not simply take the most progressive position on the proposal, like he did with Amazon a year and a half ago. At the time, Johnson was an early and vocal opponent of the company's controversial decision to build a campus in Queens, despite the promise of at least 25,000 new jobs. Johnson lamented the lack of community input and the fact that the City Council was not involved in the decision and lambasted the plan a month later. When Amazon decided to scrap its deal with the city and state, it allowed Johnson to rack up a major progressive victory.
Many have drawn comparisons between the two massive projects. However, the City Council had no say over what happened with Amazon, unlike with Industry City, and that very fact freed Johnson up to take whatever position he wanted without the risk associated with being a key city decision-maker. He did not have such freedom with the Industry City and ultimately played it close to the chest. "I think it was a smart decision to wait and see if a deal could be made," the anonymous consultant said. "You can very easily say he should have been more involved from the get-go … but I don't think it was dumb of him not to."
Still, waiting could have ultimately blown up in Johnson's face as the chances of a compromise between Menchaca and Industry City dimmed. He seemed only to have things to lose from the rezoning proposal moving forward. "I do sense that having the application pulled is more politically beneficial for Corey than if it had gone for a vote," Yang said. "I would say this is probably the best-case scenario for him if he's still looking at a run for mayor."
A mayoral run, at this point, is also not even guaranteed. Johnson did not address rumors that he may have decided against running when asked during the Wednesday press conference. But at least as he makes that final decision, the Industry City rezoning collapse likely means he'll have one less piece of potential baggage to carry into the race and perhaps a better shot at getting back into the good graces of progressives.
Powered By
NEXT STORY: New furloughs empower New York City unions