Coronavirus
Is NYC on the cusp of a second wave?
As new clusters of COVID-19 cases begin to emerge across New York City, should citizens be concerned about another outbreak?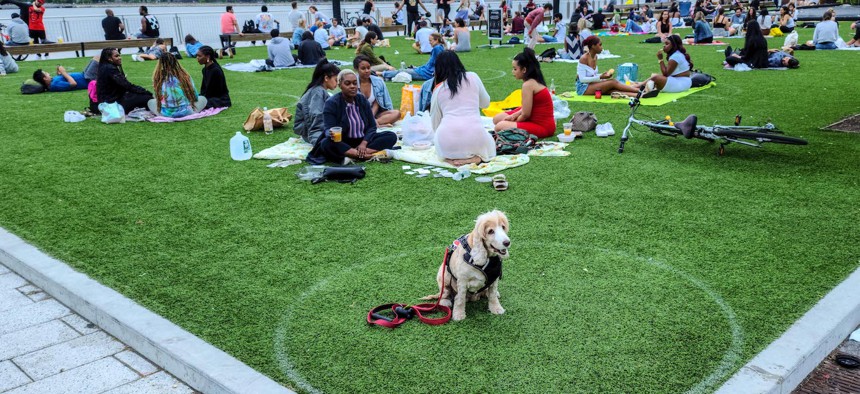 Health experts have been warning of a second wave since March. Now, a resurgence of COVID-19 cases may actually be approaching.
New York City's former health commissioner Oxiris Barbot – who left her position due to ongoing issues with Mayor Bill de Blasio – told The Wall Street Journal this week that a resurgence of the virus over the next few months is imminent. 
While some have questioned whether New York may have avoided a second wave, flareups of the virus around the city could be the precursors to another outbreak. Additionally, scores of new cases have emerged at New York City's public schools. And the approaching winter season is expected to bring an increase in infections.
The city's Department of Health and Mental Hygiene did not respond to a request for comment.
COVID-19 clusters
New clusters of COVID-19 cases have been identified in New York City's Borough Park, Midwood, Bensonhurst, Williamsburg, Far Rockaway-Edgemere and Kew Gardens neighborhoods. In the first week of August, 2,414 new cases of the virus were found in these areas, which account for 20% of the city's new positive cases.
City officials well aware of the threat that these new cases pose to the overall health of the city and have said they are dedicated to containing the clusters. "A number of community leaders are themselves sounding the alarm, because this uptick has come on very intensely," de Blasio said at a press conference on Wednesday. "If there's a place that violates the state rules and the city rules, of course that has to be addressed. And if some place has to be shut down, it will be."
Many of these areas are home to the city's Orthodox Jewish community, where individuals have been gathering indoors for school and religious celebrations. Two yeshivas have already been shut down due to the detection of multiple new COVID-19 infections. Individuals from the area have also been travelling between the U.S. and Israel, which is currently seeing a considerable rise in coronavirus cases.
While some floated the idea that the neighborhood may have developed herd immunity due to a high rate of infections in the spring and positive antibody test results, health experts are discouraging such ideas, which could dissuade people from taking proper health precautions.
Schools reopening
Aside from the growing number of positive cases in Brooklyn and Queens neighborhoods, 100 public schools and day care centers in the city have already seen at least one positive coronavirus case. The majority of those who tested positive were school staff members, though a few students also tested positive. Public health experts have said that frequent positive cases can be expected as students begin in-person learning, at least until more testing becomes available or there's a vaccine. 
While New York City students are gradually returning to in-person classes, beginning with younger students first, some are still concerned that the city is not doing enough to ensure that school buildings are safe. In-person teaching, in particular, poses a serious risk when it comes to older children who are more likely to contract and transmit the disease, according to Barbot. 
It's unlikely that the city will be able to avoid outbreaks at schools, according to public health experts, unless a vaccine becomes available or tests are performed on students and staff multiple times a week.
Winter weather
As the temperature begins to drop, experts worry that the flu season, gravitation toward the indoors and holiday travel will cause a spike in coronavirus infections, though not at the same magnitude as in April.
The virus travels more easily through the air during the winter, making transmission easier. And such viruses typically reach their peak during winter, when most individuals' immune systems become less responsive. However, it's still unclear how much of an impact the overlapping infections will affect COVID-19 transmission rates. 
The likelihood of more people staying inside as it gets colder and gathering for the holidays may pose an even bigger risk than flu season, however, as socializing indoors remains a high-risk activity. "It's not [primarily] about summer or winter," Ashish Jha, director of the Harvard Global Health Institute, told The Atlantic last month. "It's about outdoors versus indoors … Arizona in June is like Boston in December."