Rory Lancman
Lancman set to resign from City Council, sources say
New York City Council Member Rory Lancman, who is term limited in 2021, is considering resigning from the legislative body to take a job in Gov. Andrew Cuomo's administration, sources say.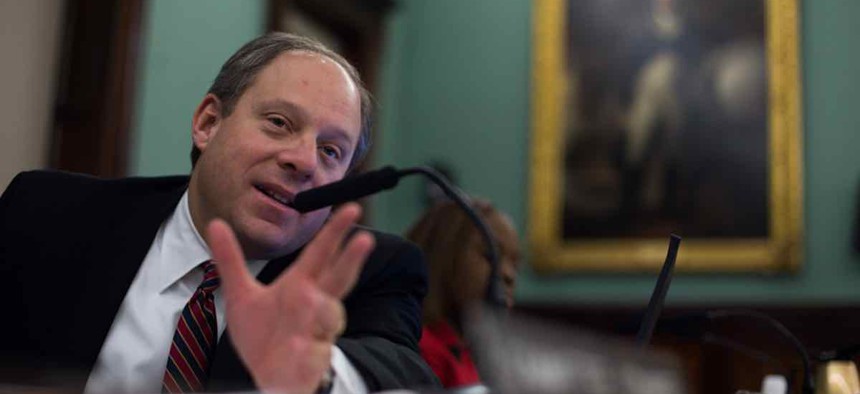 With dozens of New York City Council members unable to run for re-election because of term limits, some lawmakers are looking to leave City Hall early – with the latest being City Council Member Rory Lancman.
Multiple sources have told City & State that Lancman is considering resigning from the City Council to take a job in Gov. Andrew Cuomo's administration. Exactly which position wasn't immediately clear, however. The Cuomo administration did not respond to a request for comment, and Sam Goldsmith, a spokesperson for Lancman, declined to comment. 
Lancman is an attorney who began his career as a litigator and has chaired both the Committee on Courts & Legal Services and the Committee on the Justice System in the City Council. He was the lead sponsor of a bill that made it a crime for police officers to use a chokehold during an arrest and, despite pushback from police unions among others, has resisted any attempts to soften the bill's language.
The Democrat represents the 24th Council District, covering eastern Queens neighborhoods such as Kew Gardens Hills and Fresh Meadows. He took office in 2014, and previously served in the state Assembly. He mounted an unsuccessful bid for Congress in 2012, coming in second place in the Democratic primary to the eventual winner, Grace Meng, and ran for Queens district attorney in 2019 before dropping out just days before the primary and endorsing the eventual winner, Melinda Katz. 
Lancman's endorsement of Katz may have been the decisive factor in the extremely close race, decided by less than 100 votes. At the time, political observers speculated that Lancman would get something from the deal, such as a judgeship. Lancman's wife, Mojgan Lancman, is a state supreme court judge. 
Lancman's resignation from the council would trigger a nonpartisan special election to fill his seat, but the timing of it would depend on when he officially vacated the position. According to Chapter 2 of the New York City Charter §25.6, New York City Mayor Bill de Blasio has to call an election sometime between 80 and 90 days after a vacancy occurs. But if Lancman were to resign anytime before Tuesday, Oct. 13, that window would fall sometime near the Christmas and New Year's holiday season, when the city would likely want to avoid an election since it would depress turnout. Lancman is likely to stick around longer than that, meaning a special election to replace him would take place in 2021, potentially making it the first election to utilize ranked choice voting – a system that is set to be implemented for city elections starting in the new year. 
Other City Council members are expected to be leaving office in the coming months as well. City Council Members Donovan Richards, Ritchie Torres and Andrew Cohen are all expected to win other seats in the November general election, likely triggering a spate of special elections sometime in March. City Council Member Andy King may also not be able to serve out the rest of his term, as City Council Speaker Corey Johnson said on Wednesday that he expected the Standards and Ethics Committee to "come to some kind of conclusion soon" on its ongoing investigation into King's alleged misconduct.
Seven candidates have already filed to run for Lancman's seat, including multiple candidates of South Asian descent, who are part of the growing Queens South Asian political movement. There has never been a South Asian member of the New York City Council. Former City Council Member James Gennaro, who is white, is also running. Gennaro joined the Cuomo administration after getting term-limited out of the City Council in 2014. Now Gennaro could return to City Hall, while Lancman joins Cuomo.