New York City
Andy King's expulsion a sign of stricter enforcement
The expulsion of Andy King demonstrates the New York City Council ethics committee's more assertive approach in recent years.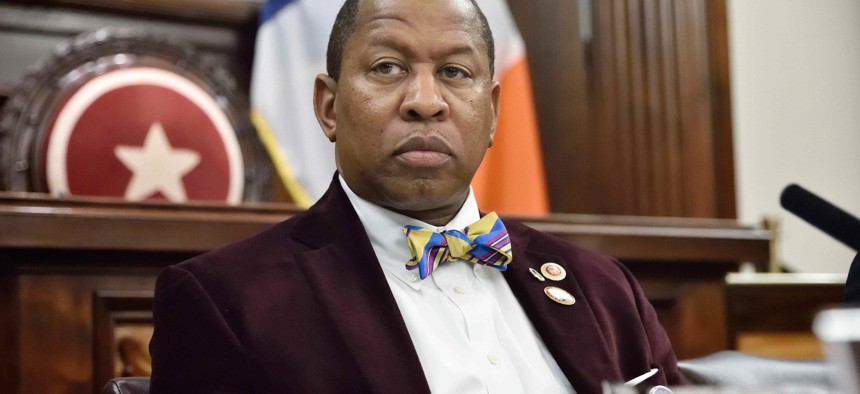 The New York City Council expelled Council Member Andy King from the legislative body on Monday afternoon, following accusations that harassed staff, took a $2,000 kickback from an aide and ignored punishments doled out by the council after previous ethics violations. And while it's the first time in memory that the City Council has decided to expel a member, it's just the latest assertive action taken by its Committee on Standards and Ethics, which has been more active than since Council Speaker Corey Johnson appointed Council Minority Leader Steve Matteo as committee chair in 2018.  Over the last eight months, the committee investigated the most recent claims against King, and last week it substantiated the complaints and recommended King be expelled. 
Other members had been automatically expelled from the City Council due to a criminal conviction, most recently in 2017 with Ruben Wills. And the ethics committee recommended removing then-City Council Member Eugene Mastropieri back in 1979 for conflicts of interest, but Mastropieri's colleagues didn't follow through. This City Council on Monday did, with many members praising the ethics committee's investigation. The City Council had already followed the ethics committee into uncharted territory a year ago, when members voted to suspend King for 30 days, among other punishments, for his violations of the body's code of ethics.
King noted that the committee seemed to be doling out historically harsh punishment. As he sought to defend himself at Monday's meeting, King said that then-Council Member Allen Jennings had only been fined $5,000 after being credibly accused of sexually harassing five individual legislative staffers in 2005. Jennings was also stripped of committee assignments and ordered to take sensitivity training, but King had a point. The ethics committee has been recommending harsher punishments lately. It has also been meeting more frequently and reviewing more cases. In the two years and nine months that Matteo has led the committee, it has reported meeting 40 times. In the previous four-year session, while Council Member Alan Maisel served as chair, the committee met just nine times. In the four-year session before that, from 2010 to 2013, the Committee on Standards and Ethics reported meeting just 18 times. And from 2006 to 2009, the committee reported meeting just eight times.
While many of the committee's meetings in the current session had to do with just King, who has now been sanctioned three times, the committee investigated other issues, including Council Member Rubén Díaz Sr.'s misuse of government email for political purposes and a sexual harassment complaint against Council Member Barry Grodenchik. 
It's unlikely that the latest crop of legislators are violating ethics rules at a rate significantly higher than previous classes. More likely is that the committee is more proactive. At one point in early 2019, the committee was reportedly juggling five open investigations at one time.
A council source who has worked closely with the committee credited Matteo, one of just three Republicans in the 51-member body. While Democrats may have to worry about upsetting political allies who could play a role in future races, Matteo "has less of a political motivation not to go after people," the source said. "He doesn't have to worry about whether or not Andy King is going to deal him political damage."
Ken Fisher, lobbyist with Cozen O'Connor and a former council member who chaired the Committee on Standards and Ethics in the early 1990s, agreed, telling City & State that Matteo's appointment was a signal that Johnson "intended to play it straight."
Of course, the other four members of the committee are Democrats, with one representative from each borough. Council Members Margaret Chin, Vanessa Gibson, Stephen Levin and Karen Koslowitz sit on the committee this session. 
Johnson last year took some responsibility for the ethics committee's increased workload, saying he was quick to refer any issues brought to his desk straight to the committee. And while the committee is run by a Republican, that doesn't mean it's fully independent. Members take the responsibility seriously, but there's a perception that it doesn't go beyond the speaker's wishers. "Generally speaking, where leadership has wanted a specific outcome, the membership has gone along with it," Fisher told City & State last year. "And there's been good staff support for whatever that conclusion is."
The decision to expel King was widely praised. Harassment Free NYCC, a group formed to speak out about workplace harassment in the City Council, called it an opportunity to "establish a standard that worker abuse and witness intimidation and retaliation will not be tolerated, that repeat abusers are unfit to serve and will be removed from office."
The committee's increased workload has brought increased scrutiny. King's 30-day suspension last year was unprecedented, but many anti-harassment advocates thought the council was going too easy on him, and that his behavior warranted expulsion at the time. A year later, Monday's vote to expel King, along with the accusation that his ethics violations continued after the initial investigation, did little to dispel those advocates of the notion they were right.
At other times, the City Council under Johnson has  been accused of being overzealous when it comes to punishment. When Díaz and Council Member Kalman Yeger were sanctioned for making comments that most of their colleagues found offensive, both defended their right to free speech. Díaz called discipline through the Committee on Standards and Ethics "a weapon for the speaker to control everything." On Monday, Díaz was the only member to join King in voting against expulsion.
Johnson himself seemed wary of overstepping the City Council's mandate by expelling King, saying that he did not to "overturn the will of the voters" who elected King three times "unless all reasonable alternatives had been exhausted." Expulsion would be "drastic," Johnson said,  but given the charges, "drastic action is now our only option."
Johnson and Matteo now may have to defend that drastic action in court. The same day King was expelled, he sued the city and the City Council in federal court, alleging that the committee "failed to follow basic evidentiary principles and administrative safeguards" while noting that the council has never suspended or expelled "a non-African-American legislator."
Before his colleagues, King made another closing argument. "If nobody's ever been expelled for not committing a crime," King said. "I ask us not to be the council that does that."
Correction: An earlier version of this post incorrectly said that New York City Council Member Kalman Yeger was sanctioned by the Committee on Standards and Ethics.
Powered By
NEXT STORY: Two familiar names battle for state Senate seat