New York City
COVID-19 hot spots cool down as NYC mayoral hopefuls square off
Rounding up the week's political news.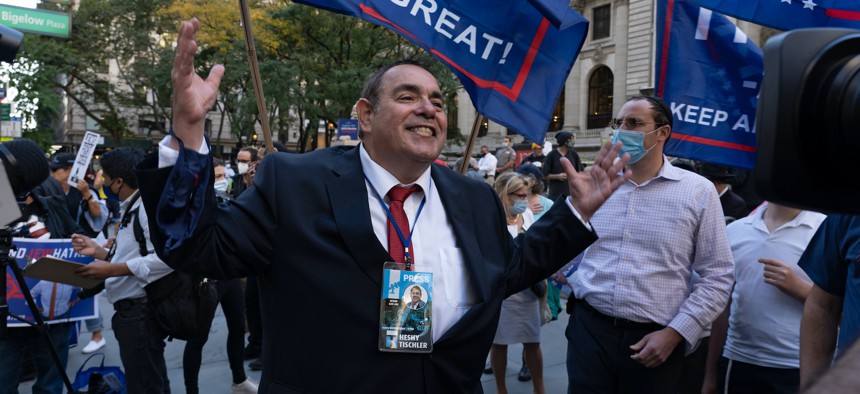 After the first – and at this point perhaps only – presidential debate devolved into an unruly mess, some in New York half-jokingly suggested that NY1 anchor and seasoned moderator Errol Louis should take over. Louis' no-nonsense moderating was on full display this week in the congressional debate between Rep. Max Rose and Assembly Member Nicole Malliotakis. At one point in the discussion, Malliotakis spoke beyond the time limit and over Louis, so he decided to simply cut her microphone when she kept talking. Rose has since created a gif of the moment that Louis signaled with his hand to his producers to mute her. Such a move would have been welcomed during the presidential debate. Keeping read for the rest of this week's news.
COVID-19 hot spots cool down
Several days after new restrictions were approved for the areas of Brooklyn and Queens experiencing spikes in coronavirus cases, New York City Mayor Bill de Blasio said the rate of new cases has begun leveling off. This also comes after a weekend of enforcement of those restrictions resulted in more than $150,000 in fines being issued to noncompliant businesses, places of worship and individuals. The state shut down schools and nonessential businesses in the most restrictive areas to help curb the spike. At the same time, Gov. Andrew Cuomo pointed to a concerning upward trend statewide in the number of COVID-19 hospitalizations – that number is now the highest it's been since June and slowly getting closer to 1,000 people. With that indicator in mind, Cuomo gave New York City and other local governments in hot spots an ultimatum: ramp up enforcement or lose funding. He did not offer specifics about how much money he had in mind but suggested it would be a significant sum. De Blasio brushed off the threat as "bluster," saying he was committed to preventing a second wave of the coronavirus. The pair also disagreed once again on the status of yeshivas, which were supposed to be closed in hot spot areas, that were being used as day care centers. While Cuomo said the city should be shutting them down, de Blasio said the actual written guidance on the matter was unclear and asked for clarity from the state outside of Cuomo's spoken statements. In the meantime, the yeshiva day cares remain open.
Heshy Tischler arrested
After several days of raucous, and at times violent, protests by Orthodox Jewish protesters in Borough Park, Brooklyn, over new coronavirus-related restrictions, one of the instigators of the protests was arrested and charged with inciting a riot and unlawful imprisonment in relation to an assault on a journalist during one of the protests. Police arrested Harold "Heshy" Tischler – a local radio show host, City Council candidate and right-wing provocateur – a day earlier than he originally planned. Prior to his arrest, Tischler had announced that he would turn himself over to the police on Oct. 12, but officers instead detained him the prior evening, despite the apparent deal he claimed to have made. At his arraignment, Tischler pleaded not guilty to both charges against him and was released, after which he addressed his supporters, saying that they would continue their fight and "knock that Cuomo out."
NYC mayoral hopefuls square off
Seven declared and undeclared Democratic candidates for New York City mayor participated in the first forum of the 2021 election season, with the primary to take place in June. The candidates took to the virtual stage for the forum hosted by the Jim Owles Liberal Democratic Club, a citywide progressive LGBTQ political club. The participants were Brooklyn Borough President Eric Adams, New York City Comptroller Scott Stringer, former de Blasio counsel Maya Wiley, former nonprofit CEO Dianne Morales, former Obama and Bloomberg aide Shaun Donovan, former city Sanitation Commissioner Kathryn Garcia and City Council Member Carlos Menchaca. All candidates agreed on some topics – they all tried to distance themselves from de Blasio and vowed that they would replace NYPD Commissioner Dermot Shea. However, the forum also illustrated policy differences between the moderate and progressive Democrats in the race, particularly when it came to land use and details of police reform. Candidates, for example, were split on the scrapped deal to build an Amazon headquarters in Queens.
New York City Case Studies
Powered By
NEXT STORY: Which super PACs are spending on state Senate races?