New York City
Gowanus rezoning proposal revived with City Hall support
Hopes for affordable housing to lead the way out of coronavirus recession.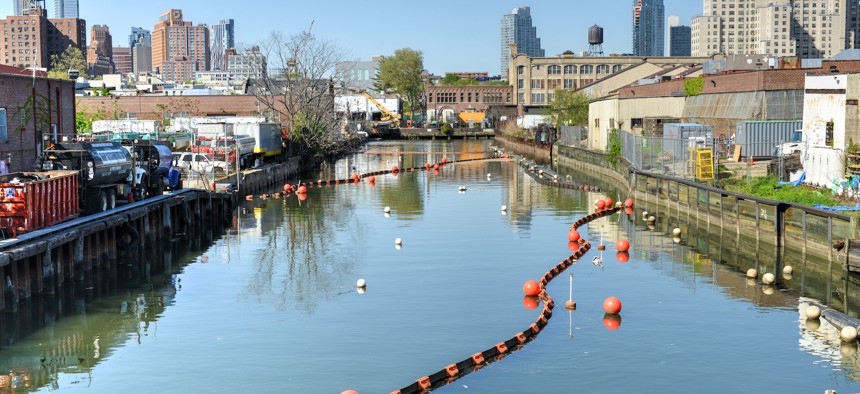 As Industry City is buried in the graveyard of scuttled New York City land use proposals, there are signs of life for another ambitious Brooklyn rezoning plan just blocks away in Gowanus. 
Vicki Been, New York City's deputy mayor for housing and economic development, said during a City & State event this week that she will actively support the Gowanus neighborhood rezoning project, in collaboration with local City Council Members Stephen Levin and Brad Lander. "I'm delighted to confirm today, with the support of Council Members Lander and Levin, that we plan to restart community engagement in the coming weeks and certify the Gowanus neighborhood rezoning by January of 2021," Been said. 
A former industrial waterway, the Gowanus canal is polluted and susceptible to flooding. The proposed zoning in the Brooklyn neighborhood would come with new infrastructures to alleviate that risk. Plus, the redevelopment plan includes 8,000 new housing units, 3,000 of which will be affordable, along with improvement to parks and NYCHA housing.
During the City & State event, City Council Member Robert Cornegy touched upon the failure of Industry City and what to learn from it. "We've had some non successful endeavors if you just look at what happened just recently at Industry City," said Cornegy, who chairs the housing committee. "There was an opportunity there, potentially, if everybody would sit at the table, to come up with a comprehensive plan in a time that calls for that. So, I'm hoping that moving forward, we can begin to look at this." 
Cornegy had called on his colleagues to approve the Industry City rezoning project by overruling Council Member Carlos Menchaca, the local representative who refused to support the project and ultimately blocked it. On Sept. 22, Industry City's developers pulled out, with Andrew Kimball, CEO of the Brooklyn Navy Yard Development Corporation, saying that "leadership needed to approve this development failed to emerge."
Menchaca and others were opposed to the Industry City rezoning because they believed it would result in more gentrification, a rising issue in New York City's boroughs. Yet Industry City was projected to bring upwards of 200,000 jobs to Brooklyn in a time of economic recession. 
Currently, the city is facing an unemployment rate of 16%, and affordable housing – a component of rezoning projects across the city – is a vital step in remedying the city's economic devastation, according to Been. "It's so critical to keep hammering away at our affordable housing production," Been said. "It has brought us back from other recessions, as I said, and it can bring us back here. So as part of the city's long-term economic recovery plan, affordable housing is, once again, positioned as a stabilizing force for economic recovery and job creation as it provides badly needed affordable homes for our vulnerable residents." 
Rezoning can spur economic recovery if regulations allow for more flexibility in building housing stock, argued Zachary Bernstein, partner at Fried Frank Harris Shriver & Jacobson, a law firm specializing in real estate. "This administration, going into the next, should be looking at ways to make that more flexible," Bernstein said. "We need to support the lowest income levels and that's more than just NYCHA."
The Gowanus rezoning has been under discussion at least since the city showcased a zoning proposal in January 2019. Similar to Industry City dissenters, however, some local residents have raised concerns over gentrification. Although Lander supports the Gowanus project, he stated that the needs of current residents living in poorly maintained buildings and with inadequate infrastructure must be met. "That is the last significant sticking point," Lander said in an article published by The Real Deal earlier this week. "It would be morally unacceptable to build this new neighborhood right around the housing developments … but leave almost all the low-income housing in unacceptable, dilapidated condition." 
In a statement, Levin and Lander welcomed Been's plans while adding that they are focused on gentrification. The Gowanus rezoning, they said, should "build a more racially and economically integrated community by creating significant affordable housing." Additionally, the council members said they would make address the needs of residents prior to any rezoning. "We still have significant work to do to meet the clear demands that neighbors have articulated through meetings and the Gowanus Neighborhood Coalition for Justice's organizing," they said. "Top on that list, and essential to any plan in Gowanus, must be significant investment in capital repairs for NYCHA's Gowanus Houses and Wyckoff Gardens. We simply cannot build a shining new mix of market-rate and affordable housing, while leaving the overwhelming majority of low-income residents and people of color who live in the area today in dilapidated and deteriorating buildings next door." In February, residents of Gowanus and nearby neighborhoods demanded that crumbling public housing be repaired prior to rezoning. 
Ensuring that rezonings truly benefit low-income New Yorkers is a concern that's not limited to this corner of Brooklyn. Not referring to Gowanus specifically, Rafael Cestero, president and CEO of the Community Preservation Corporation, said during during City & State's panel discussion that low-income individuals must be supported, especially during the aftermath of COVID-19, along with a focus on job creation. "There are still hundreds of thousands of New Yorkers who make limited wages who need support for housing and we need to find new ways to support them beyond what we have done so far in the city," said Cestero, who served as commission of New York City Housing Preservation and Development from 2009 to 2011
New York City Mayor Bill de Blasio has made affordable housing a fundamental goal of his administration, committing to having 300,000 homes built or preserved by 2026. Recent budget cuts have made that future look grim, but Been said that projects are still ongoing despite the cuts. HPD had 40% of its funds originally pegged for fiscal years 2020-21 pushed back to later years. Although some are worried at the prospects of funding plans like Gowanus and a proposed Climate Center on Governors Island, Been noted that affordable housing investments for fiscal year 2021 are three times more than the amount invested in affordable housing in the Bloomberg's administration's next to last year in office. 
"The city has budgeted more than $2.5 billion dollars for affordable housing over this year and next," Been said. "And, $950 million of that is budgeted for fiscal year 2021, the year that we're in right now. $950 million is no small change. Indeed, it's more than the city has spent for affordable housing in all but two years since at least 2002. The exceptions are our most recent years – fiscal years 2018 and 2019."
Powered By
NEXT STORY: Brooklyn absentee ballot mixup could lead to voter disenfranchisement