New York City
New coronavirus crackdowns and protests in response
Rounding up the week's political news.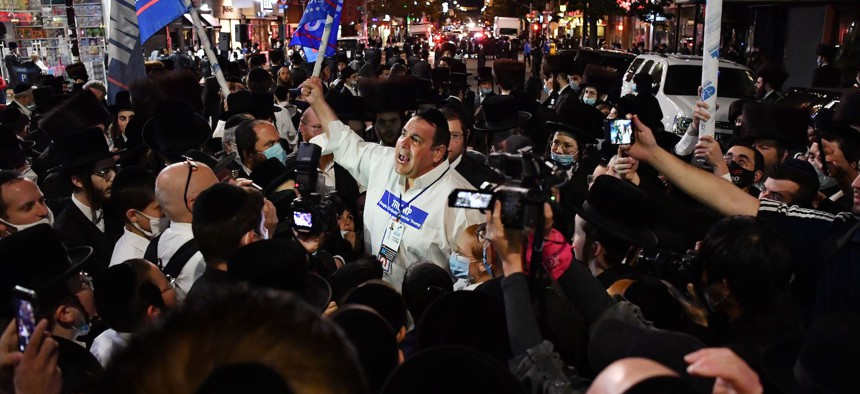 A lot happens in New York politics. The governor and and the mayor of New York City constantly feud (during a pandemic to boot) despite being members of the same party, lawmakers get charged with various forms of corruption and trying to figure out who's actually in charge in various cities is a recurring problem. There has been a state Senate coup and a governor who resigned in shame amid a prostitution scandal. But at least no one has tried to kidnap the governor like a group of right-wing domestic terrorists attempted in Michigan. At least, as far as we know. Let's just hope that no one gets any ideas here in New York because that's the last thing we need in 2020. Keep reading for the rest of this week's news.
New coronavirus restrictions 
Hundreds of schools in New York City have shuttered for at least the next two weeks as new restrictions were imposed on areas experiencing spikes in coronavirus cases. Mayor Bill de Blasio announced his plan for 20 ZIP codes in Brooklyn and Queens with high rates of COVID-19 infections that would have shut down schools and nonessential businesses in nine ZIP codes and banned indoor and outdoor dining in those areas. However, the decision needed state approval. Cuomo signed off on the plan to close schools in the impacted ZIP codes but did not approve closing nonessential businesses, saying that he would instead release his own plan that did not strictly rely on ZIP codes. Cuomo then released maps with zones around cluster sites where he would enact new restrictions. In addition to Brooklyn and Queens, several neighborhoods in New York City's northern suburbs were also included. In the most restrictive zones, religious gatherings were limited to 10 people, all schools and nonessential businesses were closed and restaurants can only provide takeout. Cuomo's new plan meant that more schools in the city would go fully remote, with 169 city-run school sites and about 200 private schools closing their doors.
Orthodox Jewish protests
Cuomo's announcement of new coronavirus restrictions led to protests by ultra-Orthodox Jews in Borough Park, Brooklyn. Many, but not all, of the recent coronavirus spikes have been in parts of the city and its suburbs with large Orthodox communities. Some said that Cuomo and de Blasio were unfairly targeting religious Jews, especially with the aggressive restrictions on religious gatherings. Cuomo reportedly told Orthodox Jewish leaders that he would allow houses of worship to remain open at half capacity on a private call before announcing the 10-person limit. For multiple nights, hundreds of Orthodox Jewish demonstrators took to the streets to protest the new restrictions, burning trash and face masks in defiance of public health mandates. The protests also turned violent as some protesters allegedly beat a dissenter unconscious and others assaulted a journalist. Protesters were led and egged on by local personality and City Council candidate Heshy Tischler. In one video, Tischler referred to protesters as his "soldiers" and that they were at "war." Despite the raucous and at times violent nature of the protests, police made no arrests the first two nights of the demonstrations, a sharp contrast to the aggressive crackdown of Black Lives Matter protests.
Andy King expelled from City Council
For the first time in recent history, the New York City Council voted to expel one of its members. Members ejected City Council Member Andy King after an ethics committee report found he harassed staff, accepted a $2,000 kickback from an aide and ignored past punishments for other ethics violations. Council members convicted of a crime get automatically expelled, like former City Council Member Ruben Wills in 2017, but for at least the past 50 years, the body has never voted to remove one of its members. The move is part of a pattern of stricter enforcement and harsher punishments that the council has been doling out. Immediately after his expulsion, King filed a lawsuit saying he had been discriminated against based on his race. Mayor Bill de Blasio announced a special election to replace King on Dec. 22.
Albany icon Joseph Bruno dies
Former state Senate Majority Leader Joseph Bruno died of cancer at 91. Bruno leaves behind a complicated history. Well liked in Albany and politically powerful, he led the state Senate for 14 years and earned a reputation as a champion for upstate New York who was unafraid to butt heads with Democrats. He left the position, and his seat, abruptly in 2008 amid an FBI investigation into his private and political dealings. Several months later, federal prosecutors indicted him on charges related to self-enrichment through his public office. Bruno was eventually acquitted of all charges after two separate trials.