New York City
Who is Heshy Tischler?
What you need to know about the organizer behind Wednesday night's protests in Borough Park.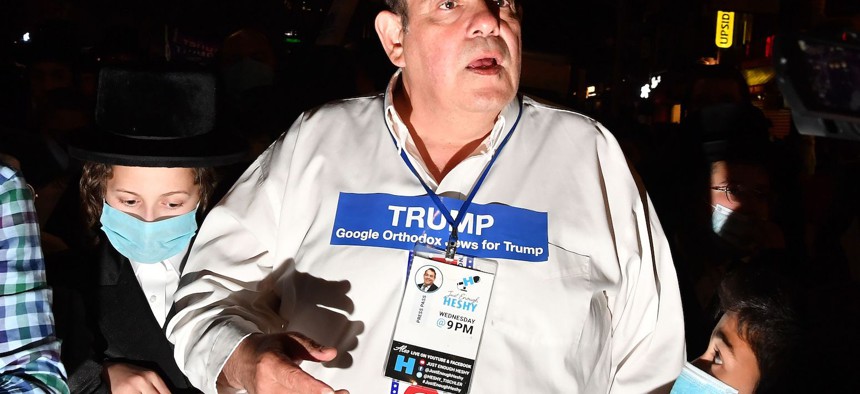 On Wednesday evening, a violent protest broke out in Borough Park over newly imposed COVID-19 safety guidelines, especially those restricting the size of religious gatherings. 
Hundreds of ultra-Orthodox Jews took to the streets, sans masks, to rally against new state mandated restrictions being placed on their neighborhoods pertaining to schools, businesses and religious gatherings due to a localized uptick in coronavirus cases. Over the course of the evening, two people were attacked by the unruly mob, yet New York City Police Department officers did little to contain the chaos.
One of the most prominent figures of the evening was protest organizer Harold "Heshy" Tischler, who called for the demonstration, hurled insults and racist slurs at New York City Mayor Bill de Blasio and First Lady Chirlane McCray and incited rioters to beat up a journalist. As Gothamist reported, "At Tischler's urging, the group hissed and spit at Kornbluh, labeling him a Nazi and a 'moser' — a term for a Jewish person who informs on their own community. As NYPD officers attempted to extract Kornbluh from the ugly scene, the group pinned their target against a wall, lunging and kicking at him." Jacob Kornbluh, the reporter for Jewish Insider who was attacked, said he will seek to press charges against Tischler and anyone who hit him. 
Unlike many of Tischler's neighbors in the area, he is not Hasidic, and he is clean-shaven. However, this is not Tischler's first time in the limelight as a leader of lawbreaking protests by Orthodox Jews. 
Two weeks ago, Tischler turned up mask-less at a press conference at Gravesend Park in Brooklyn, where several health officials including Health + Hospitals President Mitchell Katz were present to raise concerns over the recent spike in coronavirus infections. Tishler heckled the officials, interrupting them during the briefing, calling them "liars" and insisting that COVID-19 is not a real threat. "Your numbers today are lies. Go ahead, continue to lie, you piece of garbage," Tischler said. "You do not belong here. Why are you making a press conference here? Why isn't it at City Hall?"
He also told Katz, who is also Jewish and grew up in the same part of Brooklyn, to "get the hell out of my community, you filthy animal."
In June, Tischler joined local elected officials to illegally open up playgrounds in various Brooklyn neighborhoods with large ultra-Orthodox communities that had been closed to reduce the spread of the coronavirus. "The only way you're getting these chains back Mr. Mayor, is if you're coming to get me," Tischler said after opening up Dome Park in Borough Park with Assemblyman Simcha Eichenstein and City Council Member Kalman Yeger.
Tischler is an expediter, who obtains official permits for construction companies. He also has his own weekly radio show, "The Just Enough HESHY Show," that is broadcast on YouTube and Facebook, which is how he has grown to prominence in the ultra-Orthodox community.
The activist ran on the School Choice party line for the District 44 seat on the City Council, which encompasses Brooklyn's Bensonhurst, Borough Park, Midwood and Ocean Parkway neighborhoods, against Council Member Kalman Yeger in 2017, but he only received about 4% of the vote. He's currently running for Council again, this time in the 48th District, which includes Midwood and Sheepshead Bay in Brooklyn.
Tischler is a big supporter of President Donald Trump, who has served as inspiration for his recent protest of new restrictions and lack of faith in the advice and expertise in the city's public health officials. The recent restrictions have also left some Orthodox Jews feeling singled out by the city and state, which has helped Tischler grow to prominence as he speaks out against the harsher guidelines. 
Tischler reportedly thanked the NYPD for allowing his followers to cause mayhem in the street without consequence for the second night in a row when he said Wednesday, "I want to thank the police officers who helped us so much tonight. Blue Lives Matter."
"When your leadership doesn't step forward it leaves a vacuum for the fringe people to step up. That's where this Heschy Tischler comes in," Blima Marcus, an ultra-Orthodox nurse practitioner in Borough Park, told Gothamist.