New York City
City schools shut down and the MTA proposes a doomsday budget
Rounding up the week's political news.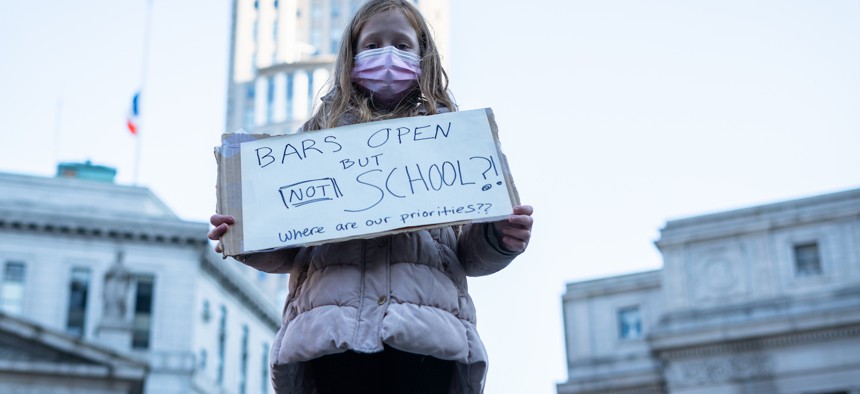 Rockefeller Center unveiled its Christmas tree last week and it was… lackluster. Observers noted that the tree seemed less full than it normally is, a little run-down and scraggly. A good tree for 2020, some think. But in an unexpected twist, workers found a tiny owl in the giant tree, and the bird – dubbed Rockefeller – has captivated the city and even made national news. Apparently, the owl got caught in the tree after it was packed and made the 200-mile trip downstate from Oneonta to the Big Apple. For once, a surprise this year was heartwarming and adorable. For news more in keeping with 2020, read on.
NYC schools close through Thanksgiving
After days of uncertainty as parents and teachers alike waited to learn whether schools would remain open on a day-to-day basis, New York City Mayor Bill de Blasio announced that the city hit a 3% threshold of new COVID-19 cases, which means schools will go entirely remote immediately. This is a major setback for the city and de Blasio, who scored a victory when he got kids back in the classroom at the beginning of the year, the first major city in the nation to do so. Schools will remain closed until at least Thanksgiving. The announcement came after de Blasio delayed his daily press conference by many hours with no notice, and a combative briefing from Gov. Andrew Cuomo, who seemed unaware that de Blasio was about to close schools. The decision was met with immediate backlash from parents who want classrooms to remain open, arguing that there is no evidence that the coronavirus is spreading in schools. The Daily News reported that de Blasio and his own health experts disagreed about whether the 3% positive threshold was the right metric to use. Now parents and teachers must scramble to return to an entirely remote system. However, schools Chancellor Richard Carranza said he doesn't expect schools to remain closed for an extended period of time and suggested that the metrics for closing schools in the future may change. Meanwhile, Cuomo warned of a post-Thanksgiving surge in COVID-19 cases and warned that the entirety of New York City may soon be placed in an "orange zone" under his microcluster strategy, which would require all schools to close along with high-risk nonessential businesses like gyms. COVID-19 numbers also continue to increase statewide, as the number of hospitalizations went above 2,000 people for the first time since May.
Red mirage continues to dissipate in New York
Counties around the state are making progress counting absentee ballots, and as they do, Republicans' early election night leads in a number of contentious races evaporated as more and more Democrats declared victory. And with each new declaration, the state Senate Democrats get closer to a coveted supermajority. Combined with the Assembly supermajority, the legislative Democrats would have the ability to override vetoes from Cuomo. On Long Island, state Sens. James Gaughran and Kevin Thomas declared victory as absentee ballot counts gave them insurmountable leads, earning them second terms after they wrested control away from Republicans in 2018. In New York City, state Sen. Andrew Gounardes announced that he, too, had been elected to return to Albany in a closely watched battle in one the few traditionally Republican strongholds in the city. While holding on to several battleground districts, including the reelection of state Sens. Pete Harckham and Jen Metzger in the Hudson Valley, Democrats have also flipped several open seats, as in the race to replace former Republican state Sen. Robert Antonacci in Central New York. In congressional races, Rep. Tom Suozzi also won reelection after a slight election night deficit against a first-time Republican candidate. The race between Democratic Rep. Anthony Brindisi and Republican former Rep. Claudia Tenney remains one of the few undecided races in the nation, as Tenney's lead continues to shrink.
MTA presents a doomsday budget
Metropolitan Transportation Authority officials presented a dire budget that includes significant layoffs and cuts to services in the wake of coronavirus-related financial stress. The proposal would slash service by between 40% and 50% across subways, buses and commuter rail, and over 9,000 employees would get laid off, with New York City bus and subway workers bearing the brunt. MTA officials said that the cuts wouldn't go forward until May 2021, but without federal aid, the agency would still be in the red even with those cuts. They've been asking for $12 billion, and transit leaders remain hopeful that President-elect Joe Biden will be able to get a relief package passed once he takes office. Meanwhile, both U.S. Sens. Charles Schumer and Kirsten Gillibrand are urging Republicans to agree to a bill before the end of the year, warning of the impending transit disaster.
Powered By
NEXT STORY: Open Assembly chairs could enhance diversity