Coronavirus
For the coronavirus, it's 10 p.m. somewhere
Some holes in the new restrictions.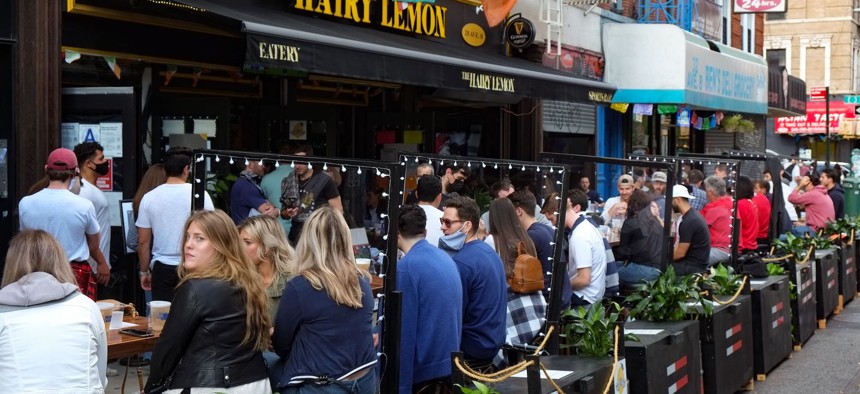 New York City schools are closing again. But wait, you point out, aren't gyms somehow still open? Sure, Gov. Andrew Cuomo released restrictions on bars, restaurants that serve alcohol, gyms, and private gatherings of more than 10 people, but we couldn't help but notice that there are a few glaringly obvious ways to get around them – not least of all for the virus.
8 p.m. is the new midnight
Will cutting bar service off at 10 p.m. stop bad alcohol-fueled decisions? Let's see. It's dark outside by 5, we're into the ninth month of a deadly pandemic ... Exactly how early is too early to be shitfaced?
Nine's company, too
We're now learning that coronavirus only strikes between 10:01 at night and 4:59 in the morning, but did you also know that it's physically impossible to spread it if you're only hanging out indoors with nine other people? The virus hates being among the first 10 people to show up to an event, it's so passé.
No pumping iron past 10
Is COVID-19 a dangerous virus that spreads rampantly in indoor spaces with poor ventilation? Or is it actually that obnoxious dude who shows up past 10 p.m. at your local gym and asks, "Can you even lift, bro?" Thank goodness for the new curfew, so we can all stop feeling self-conscious. 
The bridge and tunnel crowd
Cuomo said the new measures are meant to bring us in line with states like Connecticut. But have you ever been on that last Metro-North to New Haven? To truly protect New York, we need to prevent people from Connecticut and New Jersey from partying here ever again. This has nothing to do with COVID-19, it's just about maintaining the vibes.
The Joe Borelli rebellion
If Staten Island Council Member Joe Borelli can announce a multi-generational indoor Thanksgiving with 10-plus people, with his address on public record, and the only consequence is Twitter-shaming? That doesn't bode well for compliance.