Is anybody else running for New York City mayor?
Max Rose, Christine Quinn and John Liu could be late entrants to the 2021 race.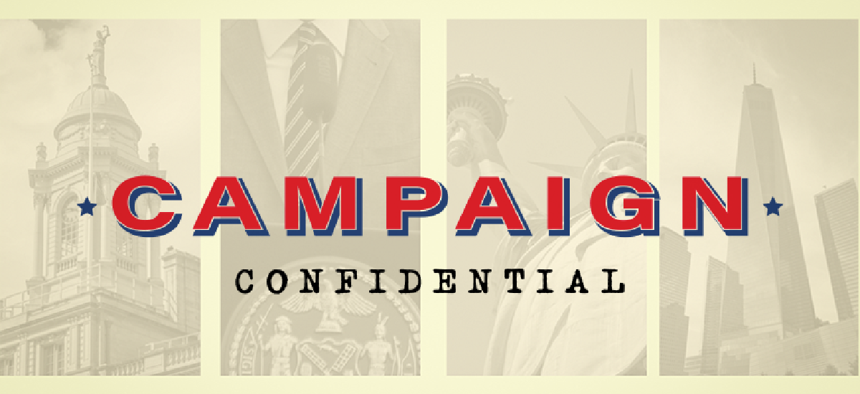 Welcome to City & State's Campaign Confidential newsletter, where Senior Reporter Jeff Coltin is covering the run-up to New York City's hugely consequential 2021 municipal elections for mayor, City Council and more.
Weekly, on Tuesdays. Sign up here.
Anybody else?
City & State polled 669 readers about who they thought would be the next mayor of New York City. The top answer, with 30% of the vote, was Scott Stringer. (Read more on the survey below.) Second place? A whopping 19% thought "another candidate" who wasn't named in the poll would win. We had all 10 major contenders in our poll, including Stringer, Eric Adams, Maya Wiley and more, and still, 1 in 5 of our politically engaged readers seem to be eyeing the horizon for a late entrant.
So who could it be? Christine Quinn has been talked about as a contender for years. Reached on Sunday, she said what she's always said – "I'm focused on Win and our work" as a homeless shelter provider. The Quinn party line was always that she was waiting till after the presidential race to decide, and sure enough, a union source said she was seriously considering a second run for mayor. Her name recognition is high, and an ally said she has been making calls and getting folks together. But Quinn probably wouldn't enter a race she couldn't win, and 2021 looks like a long shot compared to 2013.
Rep. Max Rose looks likely to lose his seat, but his election night speech sure sounded like a pivot away from Staten Island to the other four boroughs. A source close to Rose said people have been approaching him about running for mayor for months, looking for a blunt-talking moderate who isn't Eric Adams. Another source, outside the Rose camp, said "The Little Guy" was calling supporters on Monday and feeling out a run for City Hall. 
Could this just be wishful thinking by supporters? "I don't see on any planet where Max wants to run for mayor," a friend of his said, "but it's been a rumor for quite a while."
Another 2013 also-ran, John Liu, has people whispering too, since nobody expects the former city comptroller to stay put in the state Senate for long. He has been showing up everywhere around the city, but nobody's heard any specific plans, and the Ironman isn't talking.
There's always talk of Jumaane Williams for mayor too, but the only thing that would get his eyes off the state Capitol and back on City Hall would be de Blasio bowing out early, making the public advocate interim mayor, which seems highly unlikely, since de Blasio the Bernie surrogate isn't likely to be tapped to be Biden's HUD secretary.
A better fit for the Biden administration? Manhattan resident Andrew Yang, who hasn't made any noise about running for mayor since the initial hubbub in February, and he's now focusing on two U.S. Senate runoff elections in Georgia.
If any of these candidates were to actually jump in, they'd immediately be top-tier contenders. And the list of potential candidates is as long as your imagination. Few had heard that Carlos Menchaca was planning a mayoral run before he dove in last month. The clock has run out for most folks to enter the mayoral race, but if you've got a certain level of political celebrity – or a certain level of money – you've still got time. Michael Bloomberg joined the race three months before the 2001 primary and five months before the general.
By the numbers
288
The number of candidates who have filed to run for City Council in 2021 so far. With the council's 51 seats, that's an average of almost six candidates per race. It's likely a record – in 2001, about 210 candidates ran for City Council.
Roe v. Wade v. Vance v. Florence
Manhattan DA Cy Vance pledged last month not to enforce laws that would criminalize abortion if the Supreme Court rolls back Roe v. Wade protections. And DA candidate Diana Florence is calling bullshit. Her campaign released a statement saying Vance was "fear-stoking" and "posturing." New York's Reproductive Health Act codified Roe v. Wade protections in state law last year, and no matter what happens in Washington, abortion isn't going to be criminalized in New York. Unmentioned in Florence's letter was that one of her opponents, Lucy Lang, originated a similar abortion-rights pledge in an attempt to align herself with the national stars of the progressive prosecutor movement.
Yo-No
The Nov. 5 city Board of Elections meeting was a bloodbath, and six out of the nine candidates who petitioned for the Dec. 22 special election to replace expelled Council Member Andy King in the 12th District failed to make the ballot. In the latest embarrassment for King, that included his preferred candidate, Brian Melford, who was King's budget director and is an incredibly talented yo-yo champion. The three who made the ballot in the northeastern Bronx district were defense attorney Neville Mitchell, Pamela Johnson, executive director of a local community center, and Kevin Riley, a longtime aide to Assembly Speaker Carl Heastie. And good news for those who don't like long voting lines: There will be four early polling sites in the district.
Harlem Shake-Up
After Council Member Bill Perkins' well-publicized yet vague "health issues," it wouldn't surprise anyone if he didn't run for reelection in the 9th District. He hasn't filed, but he also hasn't said that he won't, and even those who have worked closely with him don't seem to know for sure whether he'll run again. Seven candidates have already filed to run for his Harlem seat, and Assembly Member Inez Dickens is expected to join them if Perkins bows out. But lobbyist and Manhattan Democratic Party boss Keith Wright is the real one to watch here. A source close to Wright says "it's very likely he runs," even if he'd have to give up his party leadership post.
South Asian Representation
Kamala Harris is going to be the next vice president, there's been a South Asian swing in the state Legislature and Rory Lancman's resignation from the 24th District in eastern Queens opens up an opportunity for the first South Asian City Council member. The Feb. 2 special election should be the city's first ranked-choice voting election – which in theory means multiple South Asian candidates don't have to worry about splitting the vote. According to the 2010 census, the district was 33% white and 29% Asian. Eight candidates have filed so far, including several South Asian candidates. Former 12-year Council Member Jim Gennaro, who is white, is also running and could be a top contender based on name recognition alone. One South Asian politico said they're not impressed by the field so far, but the 2017 results in the district should give the community some hope. Bangladeshi American Mohammad Rahman got a respectable 37% of the vote challenging Lancman for reelection despite not running much of a campaign.
Endorsement Watch
Manhattan DA candidate Tahanie Aboushi got the endorsement of eight NYCHA tenant association leaders. It's a good early get, since most of the endorsers live in Harlem and East Harlem, and one of her top competitors, Alvin Bragg, is hoping to forge a path to victory through Upper Manhattan.
Poll Sight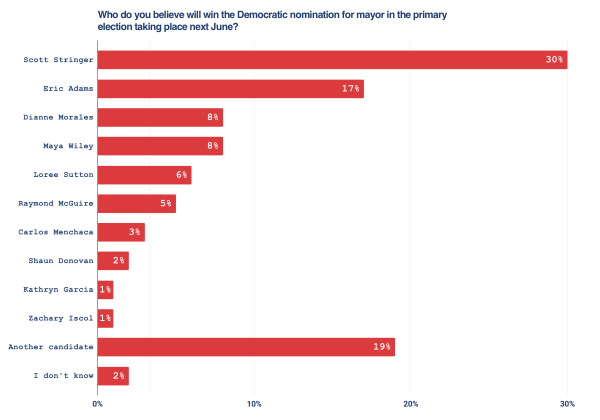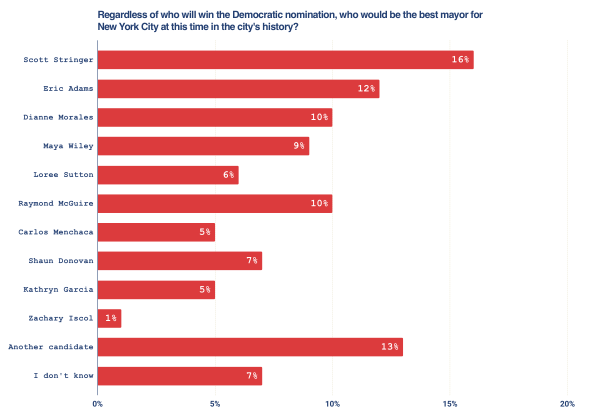 Who will be the next mayor? Who should be the next mayor? Many City & State readers, at this point, think the answer to both is Scott Stringer. That's according to City & State's first online poll with Honan Strategy Group – you can read more, and find out how much of an impact the DSA will have on the race, here.
Staffing Up
Peter Brown and BrownMillerGroup are doing general consulting on Kathryn Garcia's mayoral campaign … Sarah Steiner is Garcia's election lawyer … and New York City Department of Sanitation Deputy Chief of Staff Monika Hansen (Wysocki) is volunteering on her former boss's campaign … former Somos Community Care Vice President Yuridia Peña and her newly formed firm Alta Consulting will be working for Shaun Donovan's mayoral campaign … Susannah Pasquantonio, chief of staff to Assembly Member Jo Anne Simon, is also working on Simon's Brooklyn BP campaign … so is George Arzt, whose firm also does comms for the Brooklyn Dems.
Got tips? Email JColtin@CityandStateNY.com or dm me @JCColtin
District Data
City Council District 12, in the northeast Bronx, covering neighborhoods including Baychester, Co-op City and Wakefield
Current council member: Nobody, because Andy King was expelled from the council in October
2010 census demographics: 67% Black, 25% Hispanic, 4% white, 1.5% Asian
Housing: 62.6% renter-occupied, 37.4% owner-occupied
2013 primary election results: King: 57.4%, Pamela Johnson: 32.6%, Lenford Edie: 5%, Adeyemi LaCrown Oloruntoba: 5%
2017 primary election results: King: 68.2%, Pamela Johnson: 32.1%, Karee-Lyn Gordon: 4.4%
Who's running: For the Dec. 22 special election, Pamela Johnson, Neville Mitchell and Kevin Riley are running. Johnson and Mitchell have run unsuccessfully before, and although Riley is a first-time candidate, he's the odds-on favorite. He's very close to Bronx power broker Carl Heastie, and already has 10 union endorsements, which will be huge in this low turnout winter special election in a labor-heavy area.
Twitter Posting
Agreed. I was never a fan. But regardless there's no way we are ready for RCV in 2021. Petitions start in February + we'll have a half dozen specials before that.

— Justin Brannan (@JustinBrannan) November 7, 2020