Coronavirus
Meet NYC's first elected COVID-19 "long-hauler"
New York City Council Member Costa Constantinides is still experiencing COVID-19 after eight months.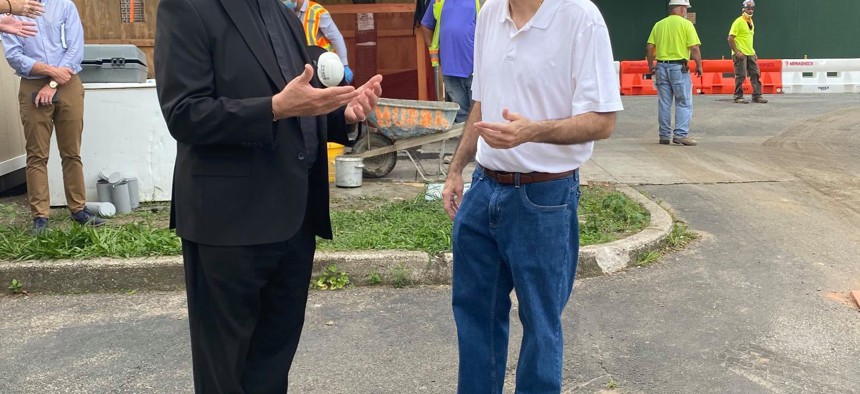 More than a few New York political figures have caught the coronavirus over the last eight months. Some had relatively mild cases, like state Sen. Julia Salazar and Pat Foye of the Metropolitan Transportation Authority. Others got much sicker before they fully recovered, like New York City Council Member Mark Levine and state Sen. James Skoufis. For City Council Member Costa Constantinides, COVID-19 has become an eight-month ordeal with no end in sight.
The Queens lawmaker appears to be the first elected official in the five boroughs to join the ranks of so-called COVID-19 "long-haulers" – those who exhibit symptoms months after they first got infected. This phenomenon highlights how the coronavirus will continue to be felt long after the pandemic officially ends.
There are thousands of long-haulers across the state. Many, like Mara Gay of The New York Times, have experienced symptoms like shortness of breath that could require extensive medical care for months. Others say they feel joint pain, body aches and debilitating fatigue that comes and goes. Support groups continue to pop up in response to the growing numbers of those recovering. Medical centers like the Center for Post-COVID Care at Mt. Sinai are just getting started in their efforts to understand how to treat COVID-19 as a long-term ailment, but the limited scientific understanding of COVID-19 means that some doctors still dismiss the continuing symptoms of long-haulers like Constantinides, a four-term member of the City Council. 
City & State caught up with Constantinides on the eight-month anniversary of his COVID-19 diagnosis to hear about the mental fog that can affect coronavirus victims, what it means for city policymaking moving forward, and why his illness meant he could only eat chicken and rice for weeks. The interview has been edited for length and clarity.
 
How are you feeling?
There are bad days and there are really good days. Every month has gotten progressively better. I was diagnosed with COVID on April 1. On April 5, I went back to the hospital, where they found pneumonia. A week later, the diarrhea started and I couldn't get it to stop. The only food I could eat was white rice and grilled chicken. So imagine eating only that for two months! I lost 30 pounds. I haven't had pizza in eight months, man.
The chest pain started in May, so I went back to the emergency room four or five times. That's why I missed the budget vote in June. I was feeling like I was having a heart attack and I couldn't breathe. Then the brain fog started. July was just like one big blur. There were days like I was in the room but not there. That's like a really big post-COVID symptom. 
Late August started the tingling, which I still have. When it rains, I feel like I'm in a massage chair.
Your wife also got sick. How do your two cases compare?
My wife was in the hospital for 12 days. She's got health issues – they were really serious prior to COVID, but she kind of shook COVID off.
So while you were healthier pre-infection, she is not experiencing long-term symptoms like yours?
There's no rhyme or reason to long-hauling. Most long-haulers had very mild cases, mild in that they were not hospitalized or intubated. They're often younger and healthier. I had pneumonia so it wasn't a walk in the park, but I was in better shape. I just kept waiting for it to be over and it never was. 
Some long-haulers say they are often dismissed by their doctors – what was your experience?
I was told by one doctor that I should just go eat pizza and go on vacation and relax – that it was all in my head. That was really hard – I knew it wasn't in my head but I knew something was wrong. I was like, "Doc, I'm stressing out." Another doctor told me to exercise by biking half an hour a day.
What can the city and state governments do to support long-haulers moving forward?
We're in the middle of a second wave, right? We gotta get a hold of the numbers now. That's number one. We're going to need to support post-COVID research. We're going to have to start building these resources because there's going to be mental health issues and physical health issues around long-hauling for years to come.
Correction: This article has been updated to clarify the COVID-19 case of Mara Gay of The New York Times.