DSA
What is the DSA?
How the organization became a major political force.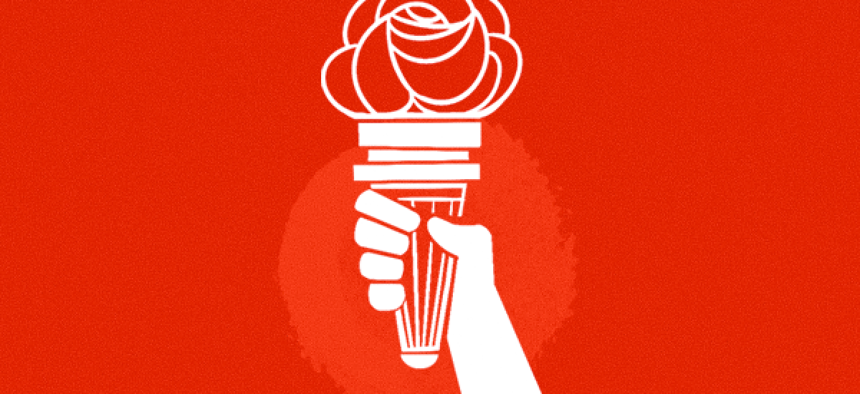 Excelsior is a weekly City & State newsletter that gets sent out every Wednesday at noon. If you like what you see, you can sign up to have Excelsior sent directly to you by clicking here!
Socialists are sweeping elections
If you've been following any of New York's recent elections, you're probably already vaguely familiar with the Democratic Socialists of America, or "the DSA" as the organization is often known. 
The group has caused a seismic shift in the state's politics, upending traditional wisdom about who can win elections, and sending some of the most powerful players in New York running scared for the first time, taking challenges from young, political novices more seriously. Members of the DSA, such as Rep. Alexandria Ocasio-Cortez, who ousted one of the most powerful Democrats in America, and state Sen. Julia Salazar, who ousted a member of the state Senate Democratic leadership, were officially reelected during the general election this year.
Three new DSA-backed candidates won races against longtime Assembly incumbents, including Zohran Mamdani, Marcela Mitaynes and Phara Souffrant Forrest. DSA-backed Jamaal Bowman and Jabari Brisport won open seats in Congress and the state Senate, respectively. And DSA members who did not receive endorsements from the organization – we'll get into that further on in this issue – were also victorious: Both Emily Gallagher and Jessica González-Rojas were elected to the Assembly. 
New York's Legislature is now one of the most progressive in the country. Some say that this newest slate of socialist victories is an indication of the state's politics as a whole shifting further left. The New York City Council will have some 35 vacant seats to fill next year, and so far the DSA has endorsed six candidates. If all of those candidates won, that would mean a significant bloc of all 51 council members would be socialists.
However, not everyone is happy about the influx of socialist lawmakers. Following Nicole Malliotakis' congressional win, booting Democratic Rep. Max Rose from his post, the Republican said she plans to form her own anti-socialist "squad" in response to the rise of progressives like AOC. "She obviously is pushing a socialist agenda. I'm someone who takes that very seriously ... There's certainly a stark contrast," Malliotakis told Politico. "And the people of Staten Island and Brooklyn, I believe, voted for me in part because they did want someone who was going to push back on the far left agenda taking over New York City."
It may not surprise you to learn that a Trump-loving Republican isn't a fan of socialists. However, many establishment Democrats are also unhappy with the recent rise in socialist candidates. New York state Democratic Party Chair Jay Jacobs recently blamed socialists for apparent Republican victories in swing districts this year due to the way they talk about polarizing issues, like defunding the police.
Socialist stars! 
DSA members from New York
Prioritizing people's needs
What does the DSA do?
The DSA, contrary to what you might think, is not a political party but an organization run by volunteers who work to push both electoral and policy campaigns forward.
The DSA's primary aim, throughout its existence, has been to eradicate capitalism and replace the U.S.'s current economic structure with one that is more worker- or state-centric. Some of the issues that the state's DSA members have been particularly focused on in recent years have been housing and workers' rights, as well as universal health care. These needs have become much more significant amid the coronavirus crisis, as individuals across the state have lost their jobs and are unable to pay their rent.
But what is it that has made DSA candidates so unbeatable all of a sudden? Well, the recent DSA victories this year have been attributed in part to the candidates' organizing skills. The campaigns of nearly every DSA member that ran in 2020 focused on educating prospective constituents about socialist values and giving out food and personal protective equipment to those in need. Basically, they listened to what their communities needed and helped them address those pain points through community organizing.
New York has the largest local DSA chapter in the country, and about half of its members in the state reside in Brooklyn. There are currently over 85,000 DSA members in the country and 5,800 of those members reside in New York City. Members of the organization are often self-identified socialists, though the candidates it endorses typically run on the Democratic line.
The 100-year rise
DSA's sprint to power
Though the state has historically had a socialist presence, the DSA has never been as powerful as the state's political parties. The extent of its current power is still being tested, though it's become unquestionably more significant over time.
It's more complicated than you'd think
How does the DSA decide who to back?
After Ocasio-Cortez's historic win in 2018 helped raise the political organization's profile, more and more of its members have begun challenging incumbents across the city and state. However, not all DSA members who decide to run for elected office are guaranteed an endorsement from the organization – in fact, how the DSA decides who to nominate is a fairly complex process.
For example, any New York City members interested in an endorsement must be screened by their local DSA chapter's Electoral Working Group, which reviews and votes on whether or not to endorse them. They'll need to receive 50% of the group's vote for an endorsement, as well as a 60% endorsement vote from their local chapter's members before a citywide committee votes to give them an endorsement. 
The organization is also hoping that any future candidates it chooses to endorse prioritize its most pressing concerns and proudly embrace being a socialist.As the DSA becomes more confident and democratic socialism becomes more mainstream, it's the organization's hope that candidates who openly embrace the DSA are more likely to win elections – as opposed to the past, when even mentioning socialism at all was considered a political taboo. "We're looking for committed socialists who are looking to run publicly and proudly as Democratic Socialists," NYC DSA Co-Chair Sumathy Kumar told Politico. "We're looking for people who are going to prioritize defunding the police and distributing that money to things like education, health care and housing – things that will actually help our communities."
Powered By
NEXT STORY: Black women who reshaped NY politics