What we know about a second New York City shutdown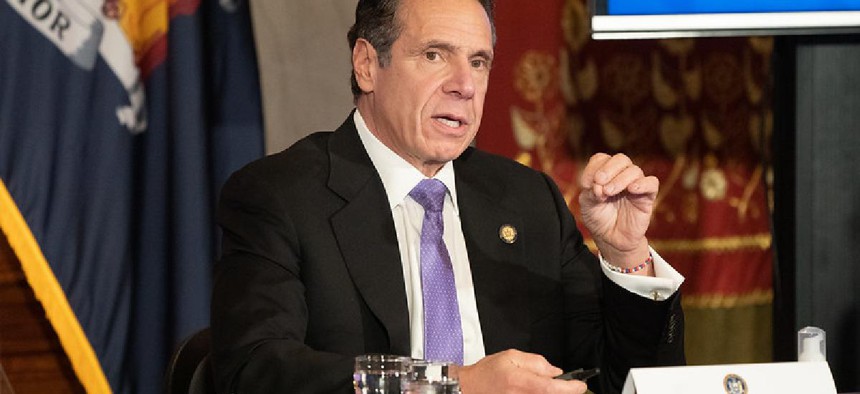 When the coronavirus pandemic arrived in New York this spring, Gov. Andrew Cuomo and New York City Mayor Bill de Blasio tussled over the implementation of lockdown orders in the five boroughs. When de Blasio first proposed a shelter-in-place order, Cuomo dismissed it, ultimately instituting a similar order five days later. Experts such as Tom Frieden, former head of the Centers for Disease Control and Prevention, have blamed that delay in part for the staggering caseload and deaths New York saw in the spring. "Earlier action would likely have prevented the worst of this epidemic peak," Frieden told City & State in April.
Now, as the resurgence of COVID-19 continues statewide, the city and state appear to be at that confusing crossroads again. While de Blasio and Cuomo have both warned of an impending shutdown akin to the New York on PAUSE order imposed in the spring, there's a lack of clarity about when that will happen. Earlier this week, de Blasio suggested that a New York City shutdown could come after the Christmas holiday. "My nomination would be right after Christmas," he said at a Tuesday press conference. In a reminder that the governor actually holds all the power in this situation, de Blasio added that he would be open to an earlier shutdown, if the state chose to do so. 
Cuomo doesn't seem ready for a shut down. "We slow the spread, we won't have to shut down anything," Cuomo said at a press conference on Thursday, speaking generally about the potential to avoid regional shutdowns across the state. "We take the vaccine and we turn the page in life and we get ready for 2021." 
While New York City's cases and hospitalizations are rising, the region is not alone in experiencing an alarming COVID-19 resurgence. Leaders in Western New York, which for weeks has had some of the highest case numbers in the state, warned earlier this month that unless hospitalizations slow, the region could see a shutdown of nonessential businesses. As of Tuesday, Western New York had a rolling positive COVID-19 rate of 6.70%. The Mohawk Valley and Central New York are also problem spots, with positive case rates of 8.11% and 6.96%, respectively. As of Tuesday, the positive test rate in New York City was 4.14%.
If you're confused on what lies ahead, you're not alone. While decisions could change quickly, here's the latest on what we know about plans for another shutdown, the arguments for and against, and what it would mean. 
What have Cuomo and de Blasio said about a second shutdown in New York City?
A second round of orders that shutter non-essential businesses in New York City seems somewhat likely, given both the mayor and the governor have warned that another shutdown like the New York on PAUSE order first implemented in mid March, could be coming soon. That order would come from the state, not individual regions, which in the case of New York City, means it's ultimately Cuomo's, and not de Blasio's, call.
Why would there be a second shutdown?
To prevent hospitals from being overburdened, as they were in the spring. On Monday, Cuomo said the rising numbers of COVID-19 hospitalizations could soon hit a threshold that would trigger a shutdown in New York City. "If we do not change the trajectory, we could very well be headed to shutdown," he said.
Statewide hospitalizations surpassed 6,000 this week for the first time since May. "The positivity level is too high. Hospitalizations are increasing," de Blasio said Wednesday. "Our hospitals are doing a lot better, meaning they're better able to handle coronavirus than they were, obviously, in the spring, but the hospitalizations keep increasing. And I'm worried about that.
If COVID-19 hospitalizations are rising, why wait to implement another shutdown?
You can't argue with the data: Hospitalizations in New York state are up 62% over the last 14 days, The New York Times reports. In New York City alone, the rolling rate of hospitalizations is at 3.06 per 100,000 residents – the highest it's been since de Blasio started reporting the metric earlier this month, NBC New York reported.
So why wait for a shutdown? First, the state set a new metric for a full shutdown – beyond the limited bans on indoor dining and other geographic "hotspot" restrictions New York has implemented over the past few months – and the city hasn't quite hit that threshold yet. For New York to order a region to go into full shutdown – closing all non-essential businesses and limiting most types of gatherings – the state would need to determine that the region's hospital's capacity will reach 90% within three weeks.
Some have questioned why New York doesn't enter a shutdown now, if it's presumed we'll hit in in the coming weeks. If the state could have saved lives in March by shutting down before New Yorkers were arriving at emergency rooms in droves, isn't it repeating the same mistake now? Why does de Blasio nominate "right after Christmas," instead of tomorrow?
Like most pandemic restrictions these days, leaders are concerned about balancing efforts to stop the spread of COVID-19 with the devastating financial costs for businesses if another wide-scale shutdown happens. "We're between a rock and a hard place, because a shutdown would bring relief from some of the health consequences of COVID-19, preventing hospitalizations and deaths from growing exponentially. But it would bring economic burden," said Anna Bershteyn, an assistant professor of population health at New York University's Grossman School of Medicine. "It really is a difficult decision on the part of our leaders to try to balance the economic harm versus the health harm."
Unlike last spring, when small businesses were able to benefit from some federal aid while weathering shutdown orders, federal lawmakers have failed to come to the rescue this time. Reluctance to implement pandemic restrictions this fall and winter comes in large part from the lack of a safety net for businesses – for example, New York City restaurants that had to cease indoor service this week.
Approaching the height of the holiday season, the risk of financial loss if a shutdown of non-essential stores and restaurants were to happen is especially high. "This is prime time for them and even more so in light of COVID-19 and the previous shutdown," Randy Peers, president of the Brooklyn Chamber of Commerce, told Gothamist, in reference to Brooklyn stores urging against another shutdown in late November. 
Even so, from a public health perspective, Bershteyn said the "unequivocal" best move for New York is an earlier shutdown. And a longer-delayed shutdown, allowing the virus to become more widespread, could necessitate a longer closure of stores before reopening "From the standpoint of health, it would be better to shut down sooner," she said. "That would mean fewer hospitalizations, fewer deaths, and we could shut down and then reopen after a period of three, four weeks." 
Neither de Blasio nor Cuomo responded to a request for comment for this story. 
What might this second shutdown look like?
While it's still not clear when the shutdown is coming, we do know it may look a little bit different than the New York on PAUSE order implemented in the spring."Right now, we're seeing extraordinary success in keeping our schools safe," de Blasio said on Tuesday. "I want to keep them open." 
Given the excruciating decisions in New York City this year over when and how to reopen schools – and then close them before reopening some of them again – it shouldn't be surprising that the status of schools will be a huge debate in the event of a second shutdown. Already, the city's teachers union has pushed back on keeping schools open in that scenario. "If the coronavirus infection rate rises to the point that a citywide 'shelter in place' is necessary, keeping school buildings open would be irresponsible," United Federation of Teachers President Michael Mulgrew said in a statement to Chalkbeat New York.