New York City
An attempted coup and further vaccine rollout confusion
Rounding up the week's political news.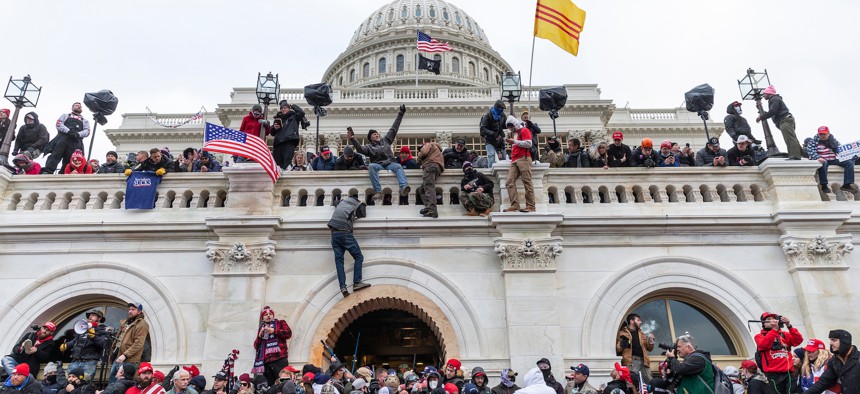 What a way to kick off a new year. Max Rose announced he would not run for mayor of New York City, but considering that happened on Sunday, that's already ancient history. It really has been A Week™. So let's just get into it.
Trump mob storms U.S. Capitol
As members of Congress convened on Jan. 6 to certify the election of President-elect Joe Biden, a band of Trump supporters broke into the U.S. Capitol and forced senators and members of Congress to evacuate and hide, delaying the final vote for hours. It left at least five people dead, including a U.S. Capitol Police officer. Thousands of Trump supporters, including at least some displaying Nazi symbolism, Confederate flags and other white supremicist iconography, came to Washington to protest the certification of the election based on false claims of voter fraud perpetuated by Trump and other elected officials. The president has incorrectly insisted that he won the election and that Biden was propelled to victory by illegal votes. After a tweet instructing supporters to attend a rally on Jan. 6 that many right-wing extremists saw as "marching orders," Trump further riled them up in a speech that directly preceded the violence. Many noted the stark disparities between how the right-wing extremists were treated by police compared to Black Lives Matter protesters. After rioters (some of them carrying firearms) violently pushed through barriers and broke into government buildings, Capitol Police allowed many of them to simply walk out after the insurrection. Peaceful Black Lives Matter protesters in public streets, on the other hand, have been met by a militarized police presence shooting them with rubber bullets and tear gas, arresting demonstrators en masse after exhibiting the very police brutality that the people were protesting. Others wondered how the right-wing extremists were able to break into the Capitol so easily and questioned the apparent lack of preparedness by law enforcement. Trump issued two initial responses to the violence that were riddled with lies and equivocations that not only failed to call out the extremists for their criminal acts but deeply sympathized with them, saying "we love you" to the insurrectionists. Twitter and Facebook later removed both messages for violating their rules and temporarily banned Trump's accounts. The attempted coup drew widespread condemnation of the president by those who observed that his rhetoric led to the violence at the Capitol. Several top administration officials and staffers have since resigned. And Democratic lawmakers are calling for Trump's immediate removal from office. Both House Speaker Nancy Pelosi and U.S. Senate Minority Leader Charles Schumer called on Vice President Mike Pence to invoke the 25th Amendment to remove Trump from office immediately. Democratic House members have also drawn up new articles of impeachment, which Pelosi said could be voted on in the coming days.
Biden certified, despite GOP objectors
After the Capitol was secured, members of Congress returned to finish certifying Biden as the next president. Several Republican lawmakers who had previously planned to object to electors in battleground states that Trump lost reversed course in light of the violence. In the end, lawmakers only voted on objections to Arizona's electors – which was objected to prior to the insurrection – and Pennsylvania's electors. A large number of Republicans still voted against certification, including the majority of the House GOP conference. Among them were New York Reps. Elise Stefanik, Lee Zeldin, Nicole Malliotakis and Chris Jacobs. Despite the chaos just wrought by the dangerous and false narrative Trump has been pushing about the integrity of the election, all four stuck with their objections, defending the decision by continuing to parrot debunked claims of voter fraud and the need to restore faith in the electoral process. They were condemned by many of their Democratic colleagues in the House as well as in editorials in local papers. Only Republican Rep. John Katko, who did not object to any states, has publicly condemned Trump for inciting violence. He even suggested that he is open to the idea of impeachment. Shortly after certification in the wee hours of the morning, Trump released a statement reasserting the false claims that the election was stolen from him but confirmed there would be an orderly transfer of power. Trump many hours later released another video in which he finally condemned those who participated in the Capitol attack and admitted that a new administration would be in power on Jan. 20. He stopped short of admitting he lost and did not congratulate Biden, who he did not mention by name.
NY's first case of UK COVID-19 variant
With everything else that's happening, there's still a deadly pandemic running rampant in the country and in New York. To make matters worse, the state discovered the first case of the new, more transmissible coronavirus variant wreaking havoc in the U.K., which recently entered its third national shutdown. Health officials discovered the variant in upstate Saratoga Springs in a man who had not recently traveled from the U.K., although Gov. Andrew Cuomo later suggested that contact tracing revealed a potential U.K. connection. Cuomo, as well as public health officials, warned that the variant is probably much more widespread than we know, but the extent remains unknown due to a lack of testing to identify mutating strains.
Vaccine rollout confusion continues
The state's COVID-19 vaccine rollout continues to be painstakingly slow, with Cuomo announcing plans for unions to administer the shot to their members and New York City Mayor Bill de Blasio opening new pop-up vaccination sites. The governor also announced that next phase of the rollout begins Monday, which opens the shot up to transit workers, teachers, police, firefighters and people over 75. Cuomo focused his criticism on shortcomings by hospitals and local leaders to get vaccines in people's arms. He said that if hospitals don't pick up the pace, they will have to send back their vaccine supply. The governor is focusing much of his attention on New York City and its public hospital system. De Blasio and members of his administration, meanwhile, laid the blame on Cuomo, asserting that the strict guidelines about who can get vaccinated in the first phase is preventing them from moving more quickly with unused doses. Confusion ensued after de Blasio said that the state would allow certain members of the NYPD to get vaccinated, only to have Cuomo contradict that statement. Eventually, he relented and allowed localities to begin vaccinating a larger pool of people. County leaders are also criticizing the state, saying that their long-standing mass vaccination plans are being ignored to the detriment of their citizens. After weeks of criticism, the Cuomo administration told county officials that they will play a larger role in the vaccine rollout moving forward.
Schumer finally gets to lead the Senate
As Democrats in Georgia eked out wins in the two U.S. Senate runoff elections this week, securing Democratic control of the chamber, New York Democrats got a win of their own. U.S. Sen. Charles Schumer is poised to finally lead the chamber as Senate majority leader. His promotion will likely mean benefits for the state of New York, as majority leaders typically kick favors to their home states, such as funding for projects. Schumer's first act as presumptive majority leader? Joining calls to invoke the 25th Amendment and remove Trump from office.