Coronavirus
Biden's inauguration and Cuomo's budget proposal
Rounding up the week's political news.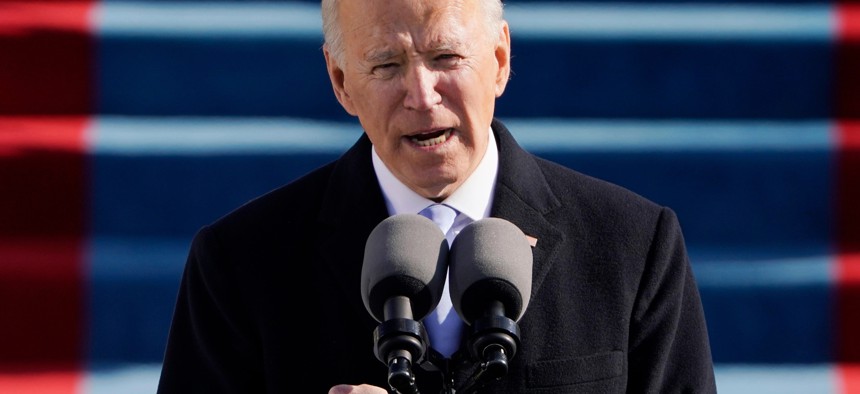 President Joe Biden's inauguration and subsequent celebration may have featured major celebrities, but we all know who the real star of the show was: U.S. Sen. Bernie Sanders. The meme-able senator from Vermont attended the inauguration bundled up in a parka, wearing mittens handmade for him by a supporter and bearing a large envelope. An image of him sitting on a folding chair and looking rather grumpy (although he was probably just cold) quickly overtook the internet. New Yorkers wasted no time photoshopping the Brooklyn native all over the city. The subway? He was there wearing his mittens. Chess in Washington Square Park? He's got his game face on. Zabar's? Where else should he be waiting for his bagel and lox? But for the rest of the week's non-meme related news, I am once again asking for you to keep reading.
Biden makes it official
After months of former President Donald Trump questioning the results of the 2020 election, President Joe Biden was sworn into office along with Vice President Kamala Harris. He immediately signed a number of executive orders that undid several Trump actions, including rescinding the travel ban on majority Muslim countries and rejoining the Paris Agreement. On the same day, U.S. Sen. Charles Schumer officially became the new majority leader, taking over from Sen. Mitch McConnell after three new Democratic senators were sworn in. Schumer now leads a Senate split 50-50, where Harris will act as the tie-breaking vote.
Cuomo offers dueling budget proposals
A day before the inauguration, Gov. Andrew Cuomo laid out his executive budget proposal – or rather, he offered two alternatives depending on the amount of federal aid the state receives from Congress. Cuomo is pressuring the Biden administration and Congress to deliver $15 billion to New York to close its budget gap. He even vaguely threatened a lawsuit over inadequate aid, which officials later said referred to ongoing litigation over the federal cap on state and local tax deductions. With that money, Cuomo said he could not only avoid budget cuts, but use it to invest in a variety of policy proposals, including providing low-cost broadband to undercovered areas of the state. But Cuomo also proposed an alternative if the state only receives $6 billion, which he considered to be a worst-case scenario. Under that plan, the state would slash $2 billion in education funding, $600 million from Medicaid and $900 million in other across-the-board cuts. Cuomo proposed a temporary tax hike on the state's wealthiest residents, although only if New York doesn't get that $15 billion. Although it seemed like a shift for the governor who resisted state lawmakers' and legislative leaders' calls to tax the rich, the proposed surcharge would only last a few years and even be reimbursable.
New York is running out of vaccines
Although the Biden administration is giving New York officials hope with regard to a better coordinated federal response to the coronavirus pandemic, current vaccine supply issues are causing the state major headaches. New York City Mayor Bill de Blasio warned that the city would run out of vaccines before a new shipment arrives and canceled over 20,000 appointments due to the growing scarcity. Erie County officials also canceled thousands of appointments. At least part of the problem can be traced back to the state receiving tens of thousands fewer doses than it expected from the federal government in the past week, which meant it could distribute fewer doses than expected around the state. Cuomo wrote a letter to vaccine producer Pfizer asking to buy doses directly from the company, but the Biden administration does not support the idea. Cuomo warned that the state is also about to run out of vaccines and said that vaccination efforts will need to be handled on a "week-to-week" basis due to the supply problems.
Hunts Point works strike
Workers at the Hunts Point Produce Market in the Bronx – which handles the majority of New York City's produce – have been on strike since Jan. 17 after contract negotiations fell apart. The workers, who are members of Teamsters Local 202, are asking for a $1 raise and improved health benefits, which the market owners have not agreed to. The owners said the fiscal impact of the pandemic made the demands impossible to meet. But the striking workers argued that they deserve a wage increase after risking their health to keep New York City fed. The strike has attracted a number of different lawmakers who joined strikers in solidarity, including Rep. Alexandria Ocasio-Cortez and New York City Public Advocate Jumaane Williams.