New York City
De Blasio's final State of the City, by the numbers
The mayor's 28-minute video reflected his lame duck status.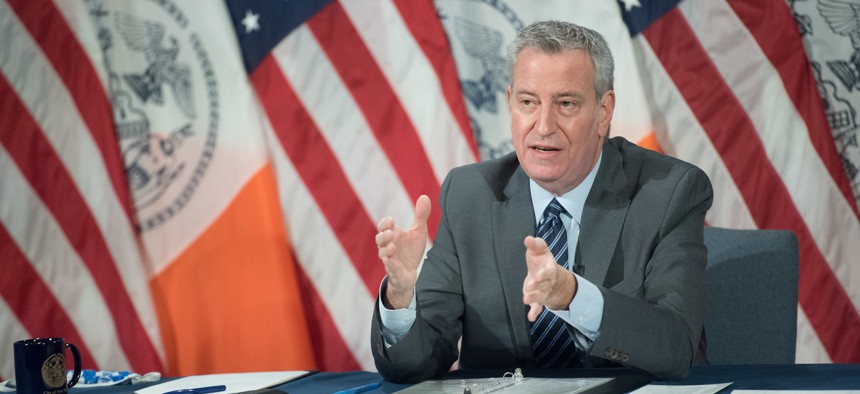 Setting the tone for his final year in office, New York City Mayor Bill de Blasio released a brief State of the City address Thursday evening, promising that the city "will come back strong and come back better" from the coronavirus pandemic. He presented a few new ideas, including a 10,000-person strong City Cleanup Corps to tend to community gardens and clean up graffiti, but the speech was devoid of the usual pomp and circumstance that has accompanied the mayor's speech in previous years. Instead of a glamorous backdrop or theatrical flourishes, New Yorkers got a 28-minute video of de Blasio voice overs, while photos and videos from the past year flashed on screen. Here are some of the defining numbers of "A Recovery for All of Us."
1 year ago – A point before the coronavirus pandemic when "we were at the strongest point we had ever experienced in our history," de Blasio said early on in the video. "And then COVID hit." Much of the speech was about how the city can get back to that point, from setting a goal of getting 5 million New Yorkers vaccinated in the month of June to establishing a program to "provide low-interest loans of up to $100,000 to over 2,000 small businesses in the communities hit hardest by COVID-19."
$5.25 billion – The budget gap facing the city, which went largely unmentioned in the address. But as he has done seemingly every year, de Blasio called on Albany to raise taxes on the wealthy, noting that New York state's 120 billionaires increased their wealth by $77 billion during the pandemic. "We must tax the wealth and we must redistrict the wealth of the city to those who do the work," he said.
8 feet – The width of a new, two-way bike lane to be built on the Brooklyn Bridge roadway, leaving the often-congested upper path to just pedestrians. De Blasio also announced a similar bike-only lane on the Queensboro Bridge, and promised to begin construction on five new "Bike Boulevards" designed with cyclists' interests over drivers'.
1,868 people – The number of shooting victims in New York City in 2020 – more than double the 923 from the year before. De Blasio vowed to create a new taskforce to end gun violence and to "reenergize the ceasefire initiative, which has done so much good."
28 years – Since September 1992, when NYPD officers rioted in opposition to then-Mayor David Dinkins' plan to create a civilian-led agency to review police misconduct. Now, de Blasio has dubbed his proposal to strengthen and expand the Civilian Complaint Review Board "the David Dinkins Plan." New York City Comptroller Scott Stringer, a leading candidate to succeed de Blasio, quickly released a statement saying de Blasio's plan ensures the board "will remain toothless."
$50 billion – The amount de Blasio said the city pension funds would invest "in renewable energy" over the next 15 years. Earlier this week, de Blasio announced the city had taken a step towards divesting $4 billion from fossil fuel companies – a win for climate activists that de Blasio had already been claiming. 

8 Hours, 22 minutes – The amount of time between when de Blasio announced that his State of the City Address was coming, at 10:43 a.m. at his daily morning press conference, and when it was released online, at 7:05 p.m. Quite the change from an event that has previously had a multi-week buildup and mailed invitations. Sure, the pandemic precludes the usual major, indoor event, but Gov. Andrew Cuomo's multi-day State of the State showed that these events can still carry weight if the executive wants them to. Instead, de Blasio's event reflected a lame duck mayor who has fully lost the support of the city's political class.
Powered By
NEXT STORY: Will Trump ever leave Staten Island?