Donald Trump
NY's congressional delegation enraged after chaos at the Capitol
Representatives have been moved to a secure location as rioters create havoc in D.C.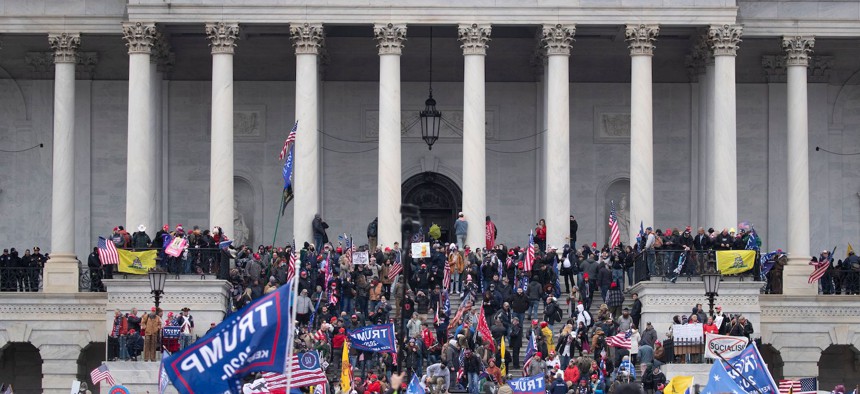 President Donald Trump's supporters have stormed the U.S. Capitol, stoked by his calls to illegitimately turn over the presidential election results. Tensions escalated as rioters poured into the Capitol building, with police officers drawing guns inside and instructing lawmakers to put on gas masks as they dispersed tear gas in the rotunda. A woman is now in critical condition after being shot on the Capitol grounds, CNN has reported. Senate Minority Leader Chuck Schumer along with House Speaker Nancy Pelosi have called for Trump to demand "all protestors leave the U.S. Capitol and Capitol Grounds immediately." 
Much of New York's delegation have confirmed their safety. According to Raymond Rodgriguez, a staffer for Rep. Ritchie Torres, "Staff is in the cafeteria and members are in a secure location." Democratic representatives pinned blame on the president and Republicans for fueling the chaos, through sporadic social media updates, as members have been in lockdown and escorted off the premises. Freshman Rep. Jamaal Bowman referred to the unrest as "fascism, fueled by white supremacy," and Rep. Brian Higgins said it was "domestic terrorism." Another newly elected lawmaker, Rep. Mondaire Jones, tweeted: "I could not have imagined a darker day for democracy." He and Rep. Nydia Velazquez each later said that they would co-sponsor a resolution with Missouri Rep. Cori Bush that would call for the expulsion of Republicans in Congress who supported overturning the presidential election. The state's more progressive lawmakers – Bowman, Jones and Rep. Alexandria Ocasio-Cortez have also come out in favor of impeaching the president.
Rep. Carolyn Maloney announced that she and her staff are safe and are sheltering in place. "This is something that I read about and watch in foreign countries, but not in the great democratic election-respecting United States of America," she said in a video posted to Twitter this afternoon.
After being in the House chamber to certify the results of a fair and free election, I am now sheltering in place.

The President and every single Republican who incited and encouraged this behavior must denounce it immediately.

— Rep. Nydia Velazquez (@NydiaVelazquez) January 6, 2021
This is thuggery at its best...

And the flames are being stoked by the person currently in our #WhiteHouse.

Donald Trump is responsible for this. #TrumpThugs

— Adriano Espaillat (@RepEspaillat) January 6, 2021
I am safe. We are sheltering in place. Make no mistake: President Trump and his enablers are directly responsible for this violence.

— Rep. Nadler (@RepJerryNadler) January 6, 2021
The media often portrays activists on the left as violent agitators. When was the last time a cabal of left-wing activists stormed into the Capitol in a violent attempt to disrupt a presidential vote count in real time. Enough with the moral equivalence. https://t.co/HjsZ5BQelz

— Ritchie Torres (@RitchieTorres) January 6, 2021
After 5 hours I've been rescued from my hiding place. Now i can show you my DIY barricade and gas masks. Protestors were right outside the door chanting 'USA USA' it was scary but i am ok! Thanks all for your prayers. pic.twitter.com/OX3rfM35zH

— Grace Meng (@Grace4NY) January 6, 2021
Three Republican members of Congress – Reps. Elise Stefanik, Nicole Malliotakis and Chris Jacobs – have also denounced the violence. However, each also sided with Trump in objecting to the Electoral College certification vote that was taken up by Congress today, which inspired the unrest in the first place.
I fully condemn the dangerous violence and destruction of the Capitol grounds.

These actions are unAmerican.

Thank you to the men and women in blue - the heroic @CapitolPolice - who are protecting the American people and the People's House.

— Elise Stefanik (@EliseStefanik) January 6, 2021
My staff & I are safe inside the Capitol complex thanks to the hardworking Capitol Police officers on duty today. I encourage those who are violently protesting to stand down immediately and abide by the law. This is not who we are.

— Rep. Nicole Malliotakis (@RepMalliotakis) January 6, 2021
Read my full statement: pic.twitter.com/sEb5QHu7Me

— Rep. Chris Jacobs (@RepJacobs) January 6, 2021
Rep. Andrew Garbarino, a newly elected member who declined to say whether he'd object in today's vote two days ago, told a Newsday reporter: "They assaulted police officers. I was a pro law-and-order candidate. I can't support this. This is insane, these actions." He also said the president should have been more aggressive in telling his supporters that Congress could not overturn the election. Republican Rep. John Katko urged his colleagues to drop their opposition to the certification of votes as Congress plans to reconvene tonight. Lee Zeldin, who committed to objecting to the election's certification earlier today before the demonstrations escalated, has not commented on social media since the unrest began.
President Donald Trump reiterated his false accusation that the election had been stolen in a video responding to the riots after 4 p.m., while calling for protesters to "go home." "We love you. You're very special. You've seen what happens. You see the way others are treated that are so bad and so evil. I know how you feel. But go home, and go home in peace."
State and local elected officials in New York have been swift to condemn the violence. Calling it a "failed coup attempt" in a statement Wednesday evening, Gov. Andrew Cuomo said: "This is the final chapter of an incompetent, cruel, and divisive administration that has trampled on the Constitution." New York Attorney General Letitia James called the takeover a "coup attempt" initiated by Trump, adding that "if blood is shed, it will be on his hands." New York City Mayor Bill de Blasio also attributed the unrest to the president, writing on Twitter: "People ignored the signs in the 1930s and paid an awful price. This is what fascism looks like." State Sen. Jessica Ramos compared the scene to a "classic Latin American coup," and Assembly Member Yuh-Line Niou expressed shock that the chaos erupted soon after she ended a phone call with Rep. Nydia Velázquez. 
Donald Trump began his presidency talking about 'American carnage,' and now that is how he is ending his time in office. People are storming the U.S. Capitol because the President has told them he has been wronged, despite there being no evidence to support that claim. (1/2)

— Sen. Stewart-Cousins (@AndreaSCousins) January 6, 2021
Several Democratic politicians including New York City Council Member Mark Levine and state Sens. Michael Gianaris and Brad Hoylman pinned blame on Republicans for encouraging the unrest. Hoylman directly targeted his criticism at Malliotakis in response to her denouncing the violence, saying "You fomented this."
President-elect Joe Biden condemned the attacks as well, saying: "At this hour, our democracy's under unprecedented assault, unlike anything we've seen in modern times."