New York State
Sepúlveda accused of strangling his wife
The Bronx Senator turned himself in to the police Tuesday.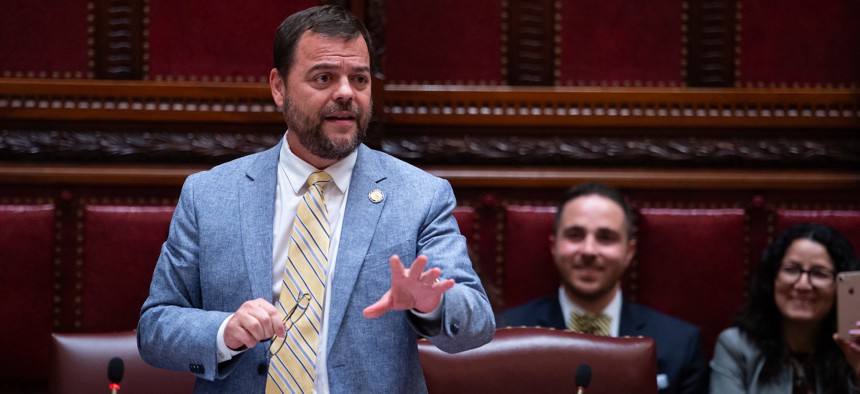 State Sen. Luis Sepúlveda, a Democrat from the Bronx, turned himself into the New York City Police Department Tuesday morning after being charged with strangling his wife. 
That was first reported by News 12 reporter Jessica Cunnington.
Sepúlveda's lawyer, Marvin Ray Raskin, said in an emailed statement the "true history of the relationship" needs to be understood and that the facts that present themselves will clear his name."
"Mr. Sepúlveda has been the victim of recurring physical violence by his estranged spouse for approximately nine years, a situation he has endured because of the young child they share together," Raskin said. "This false accusation is a calculated attempt by a disgruntled party to leverage a divorce settlement from a case she filed in Florida this past November."
Still, state Senate Majority Leader Andrea Stewart-Cousins took swift action. "We learned of this disturbing incident this morning," she said in an emailed statement. "I am immediately removing Senator Sepúlveda as chair of his committee and from all his committee assignments. I take these allegations extremely seriously and will be monitoring this situation closely."
Sepúlveda has just been reappointed as chair of the Crime Victims, Crime and Correction Committee. He was first elected to the Senate in 2018 to represent part of the South Bronx and East Bronx. He'd previously served in the Assembly since 2013. 
Sepúlveda is also a candidate for Bronx borough president, and he has been planning to run in the June 2021 Democratic primary. An opponent in the race, Assembly Member Nathalia Fernandez, called on him to resign from the Senate and drop out of the race for borough president. In an emailed statement, state Senate Minority Leader Rob Ortt also called for Sepúlveda's resignation "if these allegations are true."
In 2010, Senators voted to expel former state Sen. Hiram Monserrate following his conviction on misdemeanor assault charges.
Details about the recent complaint filed against Sepúlveda were not immediately available. In 2015, Sepúlveda's estranged wife sought an order of protection against him after a heated argument. Sepúlveda confirmed the facts, but his wife told the Daily News that he had never been abusive to her in any way. 
Last year, Sepúlveda's brother, who is serving a life sentence in prison on drug charge convictions, sent all of his fellow Senators a "rambling 13-page letter" accusing him of crimes ranging from drug smuggling to child molestation. Sepúlveda completely denied any of the allegations and called the letter an extortion attempt. There have been no reports of any investigation arising from the letter.
Powered By
NEXT STORY: 2021 State of the State: Episode Two