New York State
State of the State, coda
The governor ends his four-part 2021 address by highlighting old ideas for a new New York.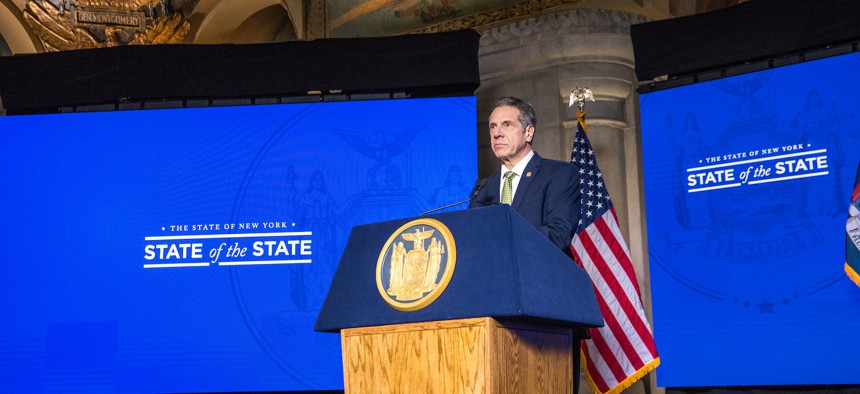 Gov. Andrew Cuomo began his first term in office by moving the annual State of the State address out of the Assembly chambers to underscore how change was coming to Albany. He broke again with tradition last year by decoupling the speech from his budget address as he got ready to emphasize his proposals for handling the state's fiscal challenges with health care funding. Gubernatorial showmanship reached a whole new level during the ongoing epidemiological struggle against COVID-19. "We are at war," Cuomo said Thursday as he delivered his fourth State of the State of the week from the War Room in the state Capitol. "We are committed to victory."
What was once a mundane policy speech has become a virtual miniseries this year. The three-term governor has cast everyday New Yorkers as the heroes and President Donald Trump as the villain – with each episode highlighting different themes on getting the Empire State through a public health crisis of epic scale. This latest spinoff of his Emmy Award-winning pandemic briefings last year, however, lacked the volume of new policy proposals that defined past State of the State addresses. 
His political priorities this year were mostly leftovers from the past. The headline items from Episode One included longstanding efforts to legalize recreational marijuana, expand voting rights and allow mobile sports betting in the state. Episode Two focused on a collection of ideas to revive the arts through traveling comedy shows and expanded rapid testing. Political observers noted how old energy projects got repackaged as part of purportedly fresh efforts to combat climate change during Episode Three. The final installment of the four-part series similarly featured the governor's struggle to say something new.
He repeated demands for the federal government to repeal the limit on state and local tax deductions as part of a wider program of reparations for unfriendly federal policies during the Trump administration. Then he made a new call for infrastructure projects while reciting a litany of ongoing projects, including efforts to renovate JFK airport and Penn Station in New York City. A fresh pledge to extend the Second Avenue subway line to 125th Street ranked among the biggest news the governor made Thursday. 
The governor faced the unprecedented challenge of preparing a State of the State address after a year that included more than 100 straight days of press conferences where he spoke in significant detail about the ongoing recovery from the pandemic. His ambitions were also limited by a multibillion-dollar state budget deficit and ongoing uncertainty about how much new federal aid a Democratic White House and Congress can deliver to the state. But at least he found a way to end his four-part opus with a new twist on an old favorite. "We are just too damn New York tough," he said. 
Powered By
NEXT STORY: Katko breaks with NY GOP to support impeachment