New York City
Trump impeached again and vaccine sign-up problems
Rounding up the week's political news.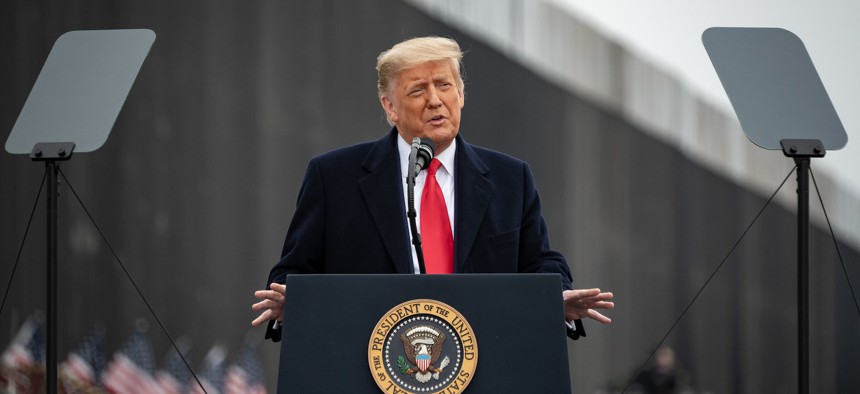 In some ways, we're going through a period of excess: two impeachments, fourdays of State of the State addresses and roughly a thousand New York City mayoral candidates. But in most respects, it's a time of austerity, as was clear when New York City Mayor Bill de Blasio unveiled his bleak budget proposal this week. He avoided massive layoffs of city employees, but property tax revenues are expected to plunge $2.5 billion next year. In addition to budget cuts, de Blasio made cuts to ties with the Trump Organization in the last move of a messy divorce with the reality TV star from Queens. 
Impeachment Round 2
President Donald Trump was impeached by the House for a second time just days before he leaves office, making him the first president to be impeached twice. The vote came a week after violent Trump supporters stormed the U.S. Capitol falsely alleging that the election had been stolen from Trump. Members of Congress approved a single article of impeachment, accusing the president of inciting an insurrection. Every Democrat voted in favor of impeachment, and they were joined by 10 Republicans, including Rep. John Katko, who was the only Republican member of New York's House delegation to vote in favor of impeachment. The Senate is currently in recess and not set to return until Jan. 19, right before President-elect Joe Biden will be sworn in, which means the Senate trial likely won't take place until after Trump is already out of office. However, U.S. Senate Minority Leader Charles Schumer is pushing for an emergency session that he said could be called if both he and Majority Leader Mitch McConnell agree to it.
De Blasio unveils bleak budget proposal
With the city facing a historic funding crisis, outgoing New York City Mayor Bill de Blasio released a plan for a pared-down $92 billion proposed budget. Property tax values are expected to fall by $2.5 billion, the Mayor's Office said, though those losses were partially offset by an increase in income tax revenue. De Blasio urged the state not to make more painful cuts.
Specifics aren't clear yet, but much of the savings will come from reducing the municipal workforce by an additional 5,000 through attrition – at a time when unemployment in the city still tops 10%. The one light at the end of the tunnel: Schumer assured de Blasio that under a Biden administration, pandemic costs would be fully covered by the feds. 
Confusion and frustration over vaccine signups
Gov. Andrew Cuomo just opened up access to the COVID-19 vaccine to several new groups of people, including teachers, people over 75, front-line municipal workers and other essential workers. Shortly after that, Cuomo again expanded the pool of eligible people due to new guidance from the Centers for Disease Control and Prevention, announcing that people over 65 and certain immunocompromised people could get the vaccine as well. New York City began opening 24/7 mass vaccination sites and Cuomo opened several large state-run hubs as well. But the online systems for scheduling appointments were confusing, glitchy and cumbersome. Many people spent hours attempting to secure an appointment online without success, and there were also problems between the city and state scheduling systems. And at the end of the week, a sign-up link for state vaccination sites that had not yet opened was released in error, which meant that anyone who thought they managed to schedule a vaccine through that link had their appointment canceled. On top of that, the state's slow pace of receiving vaccines – just 300,000 a week – appears to be taking a toll now that the pool of eligible people has been greatly expanded, with appointments booked up for months, according to the state. Mount Sinai Hospital in Manhattan even had to cancel some appointments due to a shortage of vaccines.
Yang running for NYC mayor
Entrepreneur and former Democratic presidential candidate Andrew Yang announced he's running for mayor of New York City. His campaign launch came after recent bad press about his poor voting record in municipal elections, the amount of time he spent at his New Paltz home during the pandemic and comments that critics said showed he was out of touch with average New Yorkers. Among an eclectic list of policy proposals that included TikTok hype houses and regaining local control of the subways was one inspired by, but falling far short of, his signature policy: universal basic income. The New York City version would give $2,000 to $5,000 a year to the poorest 500,000 New Yorkers, which would cost the city $1 billion a year. Yang expected that philanthropic grants would cover the costs for at least part of the program.
Letitia James sues the NYPD
In an unprecedented move, state Attorney General Letitia James filed a lawsuit against the New York City Police Department and Mayor Bill de Blasio over allegations of excessive force used during last year's Black Lives Matter protests. Multiple reports, including one from the city Department of Investigation, criticized officers' use of force during those protests and concluded that in several instances, it was improper and excessive. James is the first state attorney general to sue the NYPD. She's asking the court to appoint a federal monitor to oversee the department in addition to the federal monitor that's already in place to ensure the department stops its illegal use of stop-and-frisk tactics.
Powered By
NEXT STORY: Wait, why is indoor dining reopening again?