Andrew Cuomo
An apparent nursing home coverup and arenas open up
Rounding up the week's political news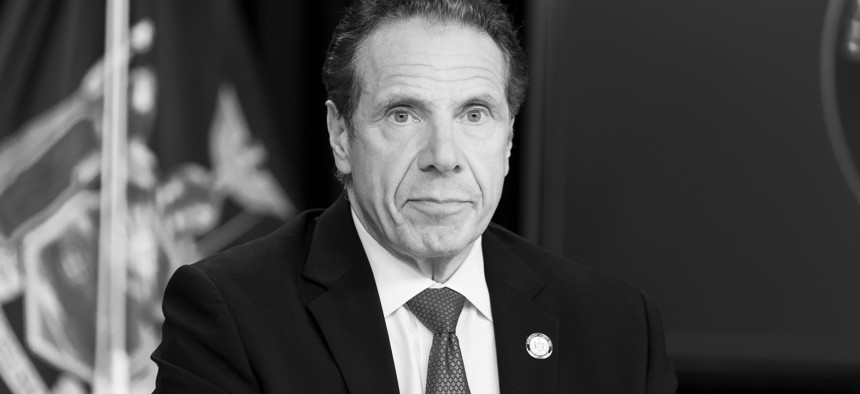 For anyone in New York City jonesing to eat inside a restaurant again, they've finally got the chance. Indoor dining in the Big Apple officially reopened to hungry patrons on Friday at 25% capacity. Just in time for lovebirds to cozy up to each other – and remain at least 6 feet away from everyone else – at a romantic bistro on Valentine's Day. And as an extra added bonus, bars and restaurants can remain open a whole extra hour until 11 p.m. So happy pandemic Valentine's Day to everyone who wants to risk it? Well, everyone except Cuomo. Keep reading to find out why the guv's probably not feeling the love right now.
Cuomo admin's nursing home deaths coverup
A week full of updates about the true toll that COVID-19 has had on nursing home residents was capped with a shocking admission from Gov. Andrew Cuomo's top aide: the administration intentionally stonewalled state lawmakers over the true tally of nursing home deaths from the pandemic. First reported by the New York Post, Secretary to the Governor Melissa DeRosa privately apologized to Democratic legislators for withholding those numbers, saying the state was afraid that they would "be used against us" in a federal probe. The reporting came out after state legislative leaders released a letter from the Cuomo administration that finally provided nursing home information that lawmakers had sought for months. It revealed that a total of 15,049 nursing home and other adult-care facility residents had died of confirmed or suspected cases of COVID-19. The number followed data released by the Empire Center for Public Policy, which came from a lawsuit against the state, that included slightly under 15,000 total nursing home and other adult-care facility deaths. Both numbers are a significant increase from the less than 9,000 nursing home residents the state reported had died before releasing information on those who died after being transferred to a hospital. The letter from the administration also revealed that the state had quietly opened coronavirus-only nursing homes to accept residents from hospitals who had tested positive for the virus. The same evening of the Post's reporting on DeRosa's comments, The Associated Press reported that more than 9,000 COVID-19 patients had been transferred from hospitals to nursing homes, significantly higher than what the state had previously reported. Especially with the new nursing home revelations, calls to rescind Cuomo's emergency executive powers are growing. Republican lawmakers have led the charge for some time, but many Democrats are now lending their voice as well. Fourteen Democratic state senators released a statement calling for the repeal of Cuomo's unilateral powers. Both the Democratic conferences in the state Senate and the Assembly have reportedly discussed the prospect, and are leaning toward a repeal.
More vaccines coming to New York
As many New Yorkers still struggle to sign up for COVID-19 vaccines, Cuomo announced some changes that should help alleviate some of the stress. In addition to another slight uptick in vaccines coming from the federal government, Cuomo announced two new mass vaccination sites set up in partnership with the Biden administration, with more on the way. And these sites will get their own dedicated supply of vaccines, independent of the state's allocation. In New York City, many pharmacies will be allowed to begin vaccinating seniors over 65, which is part of a federal program that sends vaccines directly to participating pharmacies, also independent of the state's allocation. Cuomo also announced that any unused second doses – for example, in cases where someone doesn't show up for their appointment – can be shifted to be used as first doses. That follows up on the previous week's announcement that unused doses originally allocated to hospitals to inoculate their staffers would be reallocated to counties to help immunize people with preexisting conditions. At the same time, Cuomo also said large arenas and stadiums can reopen on Feb. 23, with testing requirements for attendees and limited capacity. The wisdom of the move has been questioned by public health experts.
Tenney going back to Congress
It took many months in court, but the state has finally certified Rep.-elect Claudia Tenney as the winner in the 22nd Congressional District. By a margin of 109 votes, she bested former Rep. Anthony Brindisi to recapture the seat he won from her in 2018. The certification comes after months of legal uncertainty and revelations of mismanagement from county election officials in the district. The judge in the case issued a scathing rebuke of those officials at the close of the trial, inviting other authorities to investigate the many missteps, mishaps and breaking of election laws that the judge was unable to address. In particular, the Oneida County Board of Elections drew particular condemnation because the board failed to process 2,418 voter registration applications that had been submitted on time, meaning those people were prevented from voting despite doing everything right. There were several other ways that election officials failed in this race. Calls are growing for the Oneida County commissioners to resign, or for the governor to use his executive authority to fire them. Oneida County Executive Anthony Picente Jr. sent a letter to Cuomo asking him to fire the county's commissioners. Such a move would not be unprecedented, but it is rare for a governor to remove elected or appointed officials in this manner.
Powered By
NEXT STORY: State lawmakers discuss impeaching Gov. Andrew Cuomo