New York City
Controversial shelter provider's new president already out
The Bronx Parent Housing Network fired its CEO for allegedly sexually abusing and harassing shelter residents and employees. His replacement is no longer with the network.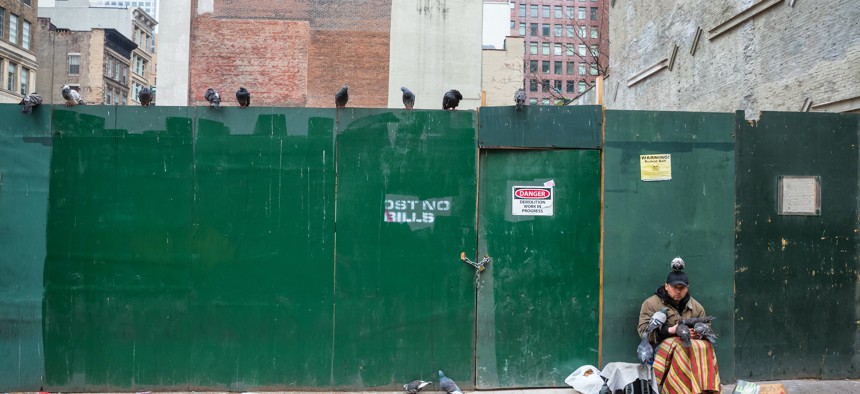 The Bronx Parent Housing Network, one of New York City's major providers of homeless shelters, came under fire after the New York Times found that its leader had allegedly sexually abused and harassed shelter residents and employees. Now, City & State has learned that his successor no longer works for the network.
The last president and CEO, Victor Rivera, was fired in response to the allegations and other accusations that he engaged in financial misconduct during his tenure, and the nonprofit has now had to retain an external, independent investigator at the city's direction. 
The shelter provider's board of directors unanimously appointed attorney Ululy Rafael Martinez as its new president, according to an announcement made in early February. But City & State has learned he is no longer involved with the organization.
"As we stated when we referred these matters for investigation and took our own disciplinary action, including to direct the organization's board to retain independent investigators: any new appointment of a senior leader at the organization must be approved by (the Department for Social Services)," Isaac McGinn, a spokesman with the city Department for Social Services, which oversees the Department of Homeless Services, said in a statement. "Therefore, (Bronx Parent Housing Network) staff did not and do not have the authority to fill this role unilaterally, so Mr. Martinez has not filled that role. Furthermore, Mr. Martinez no longer has a role at the organization."
Martinez told City & State in an email that his hiring had always meant to be temporary. "When the (Bronx Parent Housing Network, or BPHN) board of directors hired me as President, it was for the specific purpose of working with (the Department of Homeless, or DHS) and assisting with external investigations," he wrote. "Once I worked with DHS to facilitate an agreement between the board and DHS that designated an Interim CEO to oversee the operations of DHS, my work was done."
The city directed the nonprofit to appoint Daniel Tietz as its interim CEO. Tietz has previously been tasked with overseeing another embattled homeless shelter provider, recently serving as the court-appointed receiver for the nonprofit Childrens Community Services.
City records indicate that Martinez had been advising the Bronx Parent Housing Network on compliance and the corrective action plan the city placed on the nonprofit in 2018, which the Times found was still violated after its imposition. 
The corrective action plan prohibited the use of certain vendors and mandated that it strengthen its fiscal policies to deal with conflicts of interest. But Rivera's wife went on to become vice president of the security company the nonprofit used and the organization went on to award $184,000 in maintenance contracts to a friend of Rivera's, the Times reported. It also leased at least two shelter buildings from a company owned by a former business partner who worked with Rivera, who through his lawyer denied any relationship to the company, according to the Times.
Martinez had been marked as a subcontractor for the network under Checkbook NYC, but all of the subcontracts are either being reviewed or have been rejected. The Department for Social Services did not answer questions related to why they are being reviewed or have been rejected. 
Martinez told City & State he had been retained by the nonprofit's board of directors in 2018 to assist with issues raised in the corrective action plan, where he helped the board draft policies and procedures on conflict of interest, nepotism, whistleblower and executive compensation. "Policies and procedures are not sufficient by themselves to ensure a culture of compliance; and when it became clear through the NYT investigation that revealed the depth and scope of the crisis facing BPHN was far greater than any of the Board members or I had previously realized (as a result of Mr. Rivera's determined efforts to conceal his wrongdoings)."
Nine subcontracts, amounting to $1.4 million in total, are logged as starting as of June 1, 2018 and largely were related to providing "compliance services in accordance with (the corrective action plan) and other matters." These were all rejected. 
But eight other similar subcontracts – collectively amounting to the far reduced amount of $160,000 total – were also noted to have started on July 1, 2019. These are all currently under review, and also relate to executing a compliance plan for Bronx Parent Housing Network's board of directors.
Martinez has also previously served as the board chair of another shelter provider in New York City, the Neighborhood Association for Inter-Cultural Affairs also known as NAICA. That organization is currently in the middle of a legal battle with another homeless services nonprofit, Aguila. The latter has accused NAICA of committing fraud in an attempt to acquire Aguila without its board of directors' approval. In Aguila's lawsuit and a letter sent to the attorney general's office, the nonprofit said Martinez acted as an attorney for both parties during the initial negotiations. 
"This attempt at joint representation is an unwaivable conflict of interest, breach of the attorney Disciplinary Rules and ethical obligations," the letter reads, according to the Daily News. "He cannot impartially represent both sides of the transactions while serving as the board chair of one of the entities." NAICA has filed its own lawsuit against Aguila, arguing that the merger agreement was "validly approved and authorized" and accusing Aguila's leader of "gross negligence, mismanagement."
Martinez disputed the letter's claims. "Both organizations signed an engagement and joint representation consent letter that authorized me to represent both parties in the transaction," he said in an email. "Both parties were aware and agreed to have me represent them in the transaction and the steps I took were in line with my attorney disciplinary rules and ethical obligations." 
Currently a Democratic district leader in the Bronx, Martinez has worked as deputy chief of staff to former New York City Council Speaker Christine Quinn and as chief of staff for the Bronx Democratic County Committee.
Editor's note: This story was updated with the name of the latest CEO at the network, Daniel Tietz, an additional comment from Ululy Rafael Martinez.
Powered By
NEXT STORY: How Cuomo wants to safeguard your data