New York State
How Claudia Tenney won back her seat in Congress
Her open embrace of Trump was received more warmly in Central New York than it was in 2018.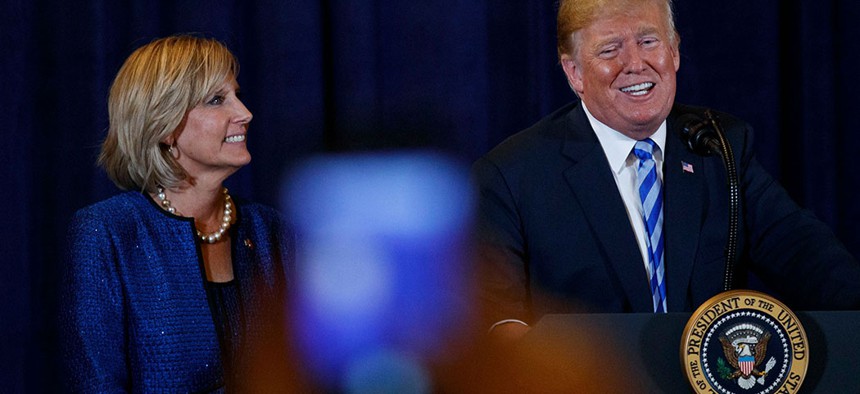 There are swing districts and then there are seesaw districts. New York's 22nd Congressional District is the latter. After a drawn-out legal challenge, Republican Claudia Tenney was certified as the winner on Monday, unseating moderate Democrat Anthony Brindisi – who just two years earlier defeated Tenney after her first term in Congress.
The outcome may induce whiplash for residents of the Central New York district – and for observers who waited more than three months for the last undecided House seat in the country to be called.But in a year full of upheaval and changes to how New Yorkers voted, it may not be that surprising the district switched hands again, especially since Tenney only won by 109 votes. "It has really kind of been a Ping-Pong match between Brindisi and Tenney," said Luke Perry, a political science professor at Utica College. "One bounce of the ball has determined who has been the victor."
The success seen by Tenney – a fervent supporter of former President Donald Trump with her own history of controversial rhetoric – might on the surface seem to suggest that the district is shifting further right, after electing a Democrat in 2018 amid waning support for Trump in the middle of his presidency. After all, fidelity to Trump in this past election cycle boosted several New York Republican candidates, including Reps. Nicole Malliotakis, Chris Jacobs and Elise Stefanik in beating their Democratic challengers. But rather than Tenney's success in 2020 being indicative of a larger trend or shifting political winds in the district, it's likely that her barely eked out win is attributable to a number of smaller factors, such as higher turnout in a presidential election year and changes to the campaigning process caused by the pandemic.
While Brindisi campaigned successfully in the 2018 midterm election – drawing not only on Tenney's unpopularity, but Trump's as well – in 2020 he lacked several of the factors that gave him an advantage the last time around. After two years in office, Brindisi now had to face questions on his voting record rather than promising to serve as a moderate. "If you're a Democrat who is trying to walk the line in a kind of socially conservative district, I think having to vote on impeachment, having to take positions on budgets – those are now (votes) that your opponent can push against," said Shana Kushner Gadarian, a political science professor at Syracuse University. "It's not just rhetoric to say that you vote with Nancy Pelosi. You're a Democrat in Congress, you have voted with the House speaker."
Brindisi also had to contend with the constraints of campaigning during the pandemic – a challenge for Democrats who typically build strong grassroots and door-to-door campaigns. "Grassroots liberal organizations were heavily mobilized and very instrumental in his success in 2018. Due to health concerns, their activity went mostly virtual, and it does not appear to have the same impact as it did in the midterm," Perry said, noting that Tenney's campaign was more willing to continue in-person campaigning throughout the pandemic. Brindisi conceded to Tenney on Monday, and a Brindisi spokesperson did not respond to a request for comment on what accounted for Tenney's victory. Representatives for Tenney did not respond to a request for comment.
The 22nd Congressional District – despite being home to disaffected Republicans who were willing to cross party lines in 2018 to vote for Brindisi – is still a conservative district where registered Republicans outnumber Democrats by roughly 30,000 people. For a Democrat to win in the district, the stars have to fall into some kind of rough alignment. "As the district is currently composed, for Democrats to be successful, they have to have an optimal candidate coupled with an optimal organizational effort to register and turn out voters," Perry said. "That's not just the formal campaign, that's also the grassroots liberal organizations that we saw intensify and grow in number and volume following President Trump's election."
The Rev. Jill Farnham-Us, a steering committee member of Indivisible Mohawk Valley – a progressive activism group that campaigned for Brindisi – said that door-to-door canvassing is important in a campaign, and phone-banking wasn't always a perfect replacement. "A lot of people didn't answer the phone who would have answered the door, if we'd knocked on their door," Farnham-Us said. Still, phone-banking had its own advantages, she said, allowing volunteers to reach a greater number of people in a shorter amount of time than they'd be able to if they were walking from door to door.
And while midterm elections tend to be a referendum on the incumbent president – turning out more voters of the opposite party and opening the possibility that members of the incumbent party will cross partisan lines – a presidential election year tends to inspire more party loyalty. "I think Trump-supporting Republicans, in particular, and then Republicans more broadly – just like Democrats – were a little more queued up in terms of partisanship and more inclined to vote the ticket than (to) cross over to the same degree as they did in '18 in this congressional district," Perry said.
With 109 votes separating Tenney and Brindisi, it's important not to ignore the role that county boards of elections played in the messy and delayed counting of ballots, Kushner Gadarian said. The pandemic made for a chaotic election in all parts of the state, with the proliferation of absentee voting and boards of elections underprepared for administering a large-scale mail-in voting operation. In the 22nd District especially, problems abounded, including in Oneida County where more than 2,400 online voter registration applications were not processed despite being returned on time. "I think that what's really different this time – as it is across the country – is the increased demand on the electoral systems that are not quite up to task, particularly in the registration of new voters and the counting of votes," Kushner Gadarian said.
While Brindisi was expected to appeal a state Supreme Court ruling late last week to certify Tenney as the winner, he conceded on Monday, mentioning his regret over some of these election administration issues. "My one disappointment is that the court did not see fit to grant us a recount," he said in a statement. "Sadly, we may never know how many legal voters were turned away at the polls or ballots not counted due to the ineptitude of the boards of election, especially in Oneida County."
Republican Assembly Member John Salka, who represents Central New York, said that while he is sure that Brindisi is disappointed, it might be nice to have some closure after the monthslong saga. "The amount of stress that both these candidates have been under for the last 94, 95 days was unbelievable," Salka said. "I think everybody is pretty much glad it's over."