Andrew Cuomo
How exactly will lawmakers legalize marijuana in New York?
Legislative leaders say it's only a matter of time.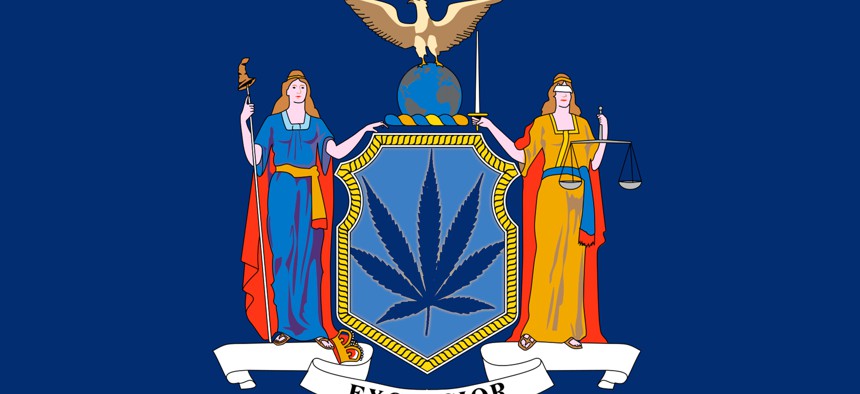 Editor's note: This article has been updated from the print version to reflect recent changes to Gov. Andrew Cuomo's marijuana legalization proposal.
The chances of legalizing recreational marijuana have never been better in New York. Democrats have supermajorities in the state Senate and Assembly. Gov. Andrew Cuomo says future revenues could help the state recover from the coronavirus pandemic. New Jersey voters approved a 2020 referendum legalizing adult-use cannabis, adding additional urgency to the cause, since millions of New Yorkers will soon have easy access to legal weed just across the Hudson River. "It's not a matter of if'' a deal gets done, state Senate Majority Leader Andrea Stewart-Cousins told reporters in January. "It's a matter of how and when." There is even a possibility that legal weed could be a done deal in the coming weeks.
Whether through the state budget process or as standalone legislation, pot legalization depends on Cuomo and Democratic state lawmakers resolving outstanding differences on issues including the structure of a future marijuana market, how the state would use the tax revenues it generates and whether selling selling more than 16 ounces outside the future legal market should be classified as a felony.
Leading lawmakers and other legalization supporters say that budget amendments announced by the governor on Feb. 16 represent a step in the right direction towards figuring out a deal, though they are still holding out for additional concessions. "(Legalization) is the right thing to do," state Sen. Liz Krueger of Manhattan, a liberal who has long led the charge on marijuana legalization, said at a recent virtual press conference. "Unfortunately, there are a number of people because of the pandemic, and its impact on our economy, who simply want to cast this as an issue that is about raising revenue. It is not in my mind; it never has been, and it never will be."
 "There are a number of people who simply want to cast this as an issue that is about raising revenue. It is not in my mind; it never has been, and it never will be." - State Sen. Liz Krueger
Her comments were a veiled reference to Cuomo, who has proposed for the third year in a row to legalize recreational marijuana through the state budget process. The Cannabis Regulation and Taxation Act included in his plans for the fiscal year beginning April 1 would establish a new Office of Cannabis Management to regulate recreational cannabis along with medical marijuana and hemp. "Not only will legalizing and regulating the adult-use cannabis market provide the opportunity to generate much-needed revenue, but it also allows us to directly support the individuals and communities that have been most harmed by decades of cannabis prohibition," Cuomo said in January. A provision in the proposal would devote $100 million in future tax revenues over four years to social equity efforts that aim to help the communities of color hit hardest by giving them assistance to enter the legal weed market. That level of funding depends on the state reaching projected revenues of $300 million per year.
The governor's proposal is facing criticism on a number of political fronts. Business groups, while welcoming Cuomo's recent concession on allowing delivery services,say not allowing on-site consumptionas well will limit future economic opportunities. "It moves us backwards on a lot of issues," Kaelan Castetter, vice chair of the Cannabis Growers and Processors Association, said in an interview about Cuomo's proposed regulatory framework. Advocacy groups like The Legal Aid Society and the Drug Policy Alliance say people of color would not be given enough preference for state licenses and other assistance under the gubernatorial approach. Left-leaning legislators like Krueger say the budget proposal would give too much power over future tax revenues to the governor – and not enough power to the equity programs those legislators say are key to winning their support.
The Marijuana Regulation and Taxation Act proposed by Krueger and Assembly Majority Leader Crystal Peoples-Stokes of Buffalo would permit on-site consumption and delivery services and does not make illicit sales of 16 or more ounces afelonyas Cuomo is still proposing. The bill's supporters are also eager to earmark half of future revenues for social equity programs. That could add up to tens of millions of dollars more per year, compared to the governor's proposal, for programs specifically tailored to helping people previously convicted of marijuana-related offenses and their communities. Peoples-Stokes said in an interview that a majority of members in the chamber are behind the legislation she has sponsored since 2013. "There's enough votes to pass it," she added. "(Speaker Carl Heastie) has not committed to doing that yet – but that doesn't mean that he won't."
The bill has historically been a tougher sell in the state Senate, where urban liberals traditionally have less sway, but the election of new progressive senators from places like the Catskills and Rochester could smooth its passage through the upper chamber just two years after moderate senators from the downstate suburbs sank a previous legalization effort. Some senators who previously opposed legalization now support the idea, while others are resigned to its seemingly imminent passage. "If done correctly, I think we're going to be OK," said state Sen. John Brooks of Long Island, a moderate Democrat who has concerns about how legal weed might lead to more DUIs and consumption by children. Yet, legislative leaders have yet to bring the bill to the floor as the state budget process continues.
"There are a number of things that need to be fixed, and if they're not fixed, then we'll be here next year trying to do the same thing." – Assembly Majority Leader Crystal Peoples-Stokes
Theoretically, Democrats could pass their own version of marijuana legalization in the next few weeks. But doing that risks antagonizing the governor at a time when they need his cooperation to strike deals on other important issues in the upcoming budget negotiations, like funding for public schools. If the state Senate and Assembly passed the bill proposed by Krueger and Peoples-Stokes, the governor would have the power to veto it and challenge legislative leaders to mobilize virtually their entire caucus against him to use their supermajorities to override it. That would probably lead to a lose-lose outcome, as Cuomo would enrage progressive Democrats if he vetoed legalization and the Legislature's moderates might shy away from overriding his veto.
By contrast, the budget process offers a few advantages for legalizing recreational marijuana sooner rather than later. The governor has packaged his proposal with less controversial ideas like child care tax credits and helping veterans get jobs. This gives skittish state lawmakers some political cover, according to Democratic political consultant Evan Stavisky. "In Albany, it's always easier to do something in the budget or the end of session," he told City & State. "That's when the deals get done." That is the approach that the Cuomo administration is taking with its current proposal, despite ongoing criticism from lawmakers and their threats to try legalizing recreational marijuana through standalone legislation. "This is an executive budget proposal and we look forward to negotiating and passing an agreed upon law as part of this year's budget," Cuomo spokesperson Rich Azzopardi said in an email. 
With six weeks to go until the April 1 state budget deadline, even the lawmakers pushing hardest to bring their own proposal to a vote accept that the governor has to be involved in the process. "There has to be some sort of a three-way agreement," Peoples-Stokes said. Yet, despite how the political winds appear to be blowing in favor of legalization, Democratic lawmakers say the governor needs to give some ground before efforts to legalize recreational marijuana can finally cross the finish line. "Clearly his tax proposals are all wrong," Peoples-Stokes said. "Clearly, his social equity proposals are all wrong. So there are a number of things that need to be fixed, and if they're not fixed, then we'll be here next year trying to do the same thing."
Powered By
NEXT STORY: Cuomo's approval treading water, for now