Andrew Cuomo
How will the Legislature revoke Cuomo's emergency powers?
There's no consensus yet on how to curb Cuomo's expanded powers, but those powers may not be gone for good.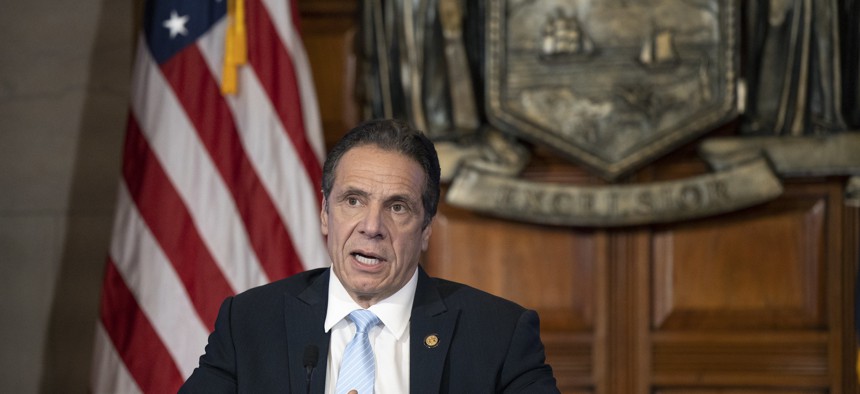 The ongoing conflict over the handling of COVID-19 in nursing homes by Gov. Andrew Cuomo's administration has produced various plotlines to follow, including a concerted effort in the state Legislature to strip the governor of the broad expanded emergency powers they granted him last spring. 
Those expansion of those powers – which allow Cuomo to not only suspend and modify existing laws during the pandemic but also issue new orders – was granted in part to allow for a quicker response to the rapidly evolving pandemic last year. But now that Cuomo is under intense scrutiny, those powers are in jeopardy. While there seems to be some degree of consensus among Democratic – and Republican – lawmakers in the Legislature that Cuomo's powers should be curbed, it's not yet clear how that will happen. As of now, Cuomo's emergency powers are set to expire on April 30.
One clear-cut option would be to rescind the expanded emergency powers completely. Sen. Alessandra Biaggi has introduced a bill that would do this, repealing the expanded emergency powers so that Cuomo would no longer be able to issue emergency directives. He would still, however, be able to temporarily suspend existing laws – something he was already able to do before the pandemic.
The Senate Majority Conference has proposed another option, which would create a 10-person bipartisan commission to subject Cuomo's emergency executive actions to review. Any emergency directives from the governor would have to first be approved by this commission within 72 hours. The commission would also be able to disapprove any suspensions or changes to laws. If the commission didn't act to disapprove a suspension or change to a law within 72 hours, the governor's action would automatically go into effect. Legislation for this proposal had yet to be filed as of Friday morning.
"We certainly see the need for a quick response but also want to move toward a system of increased oversight, and review," Senate Majority Leader Andrea Stewart-Cousins said in an emailed statement. "The public deserves to have checks and balances. Our proposal would create a system with increased input while at the same time ensuring New Yorkers continue to be protected."
A spokesperson for Biaggi said that discussions with the rest of the Majority Conference have to take place, but Biaggi still supports a full repeal of the expanded emergency powers. Representatives for Cuomo did not immediately respond to a request for comment about the various proposals to curb his emergency powers. 
 
It's possible, too, that between now and next week – when lawmakers aim to move on this front – another option will be proposed. Assembly Speaker Carl Heastie has yet to come down one way or the other on how to curb Cuomo's emergency powers.Some in his conference, including Assembly Member Robert Carroll, have dismissed the idea of a commission, favoring instead a full repeal of Cuomo's expanded emergency powers. A spokesperson for Heastie said that the Assembly will conference on Monday, at which point more details on the Legislature's path to curbing Cuomo's powers will hopefully emerge.
Powered By
NEXT STORY: Southeast Queens hosts second ranked-choice special election