New York State
New state lawmakers from Rochester spearhead policing reform
Elected officials take on mental health crisis response, police residency requirements and qualified immunity after Daniel Prude decision.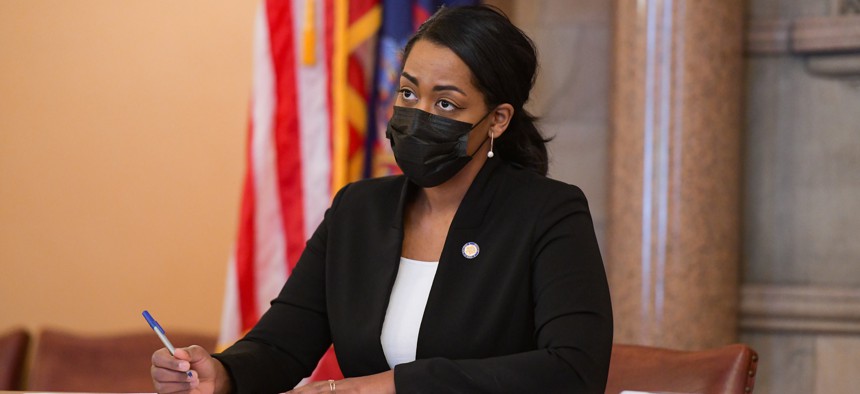 Rochester has faced nationwide scrutiny after the upstate city saw two high-profile incidents in the past year that horrified the nation and put a spotlight on its policing practices. And now the new progressive state lawmakers representing Rochester are spearheading an effort to reform policing in the state.
"So many criminal justice pieces of legislation – whether they're reforms or what have you – have come out of the downstate delegation members for years," said freshman state Sen. Jeremy Cooney, whose district includes part of Rochester. "Part of that is obviously reflected in the fact that most of upstate was represented by Senate Republicans for so many years. But that's changing."
Daniel Prude died last March after police officers placed a "spit hood" – a mesh hood used by officers to keep people from biting or spitting on them – on him and pressed his face into the pavement. Video of his death sparked major protests and renewed debate over how law enforcement treats people dealing with mental health crises. A grand jury recently declined to indict the officers involved. Rochester's police department also drew national attention when officers handcuffed and pepper sprayed a 9-year-old girl in January.
State legislators representing the city are now sponsoring several bills in part inspired by police reform advocates. Two bills would ban the use of "spit hoods" and spraying chemical irritants on minors in direct response to the incidents in Rochester. But the other pieces of legislation would make larger-scale changes.
Daniel's Law – which is sponsored by state Sen. Samra Brouk and Assembly Member Harry Bronson, who both represent part of Rochester – aims to move mental health response away from police departments. Named after Prude and developed with local police reform and mental health activists, the bill would establish response units made up of mental health professionals to respond to people facing mental health or substance abuse-related crises instead of armed officers. State Attorney General Letitia James recently came out in support of the bill in her response to the grand jury's decision not to bring charges against any police officers regarding Prude's death.
"We are moving from a law enforcement model to a crisis support model," Brouk said.
Brouk and Rochester Assembly Member Sarah Clark also also introduced a bill to address a major ask from Mayor Lovely Warren: allowing the city to require newly recruited police officers to live within city boundaries. Only 43 out of 701 of the city's officers live within the city limits, according to data from the Rochester Police Department, amounting to just 6% of its police force. "The disconnect between the police officers and the citizens I think is heightened by virtue of the fact that they come in each day from areas far beyond the city, and they're coming in like warriors to this forsaken land," Rochester City Council President Loretta Scott said. "And the attitude is different when they're living here as guardians."
Cooney told City & State he would be introducing a similar bill, except that it would open up the ability to impose residency requirements to other major cities of a certain size, including Buffalo, Rochester, Yonkers, Syracuse and Albany.
Cooney is also the only upstate lawmaker who has officially co-sponsored legislation that would end qualified immunity, a legal doctrine shielding public employees from being sued while doing their job, which has been used to protect police officers accused of using excessive force from civil lawsuits. But there seems to be interest from other Rochester legislators. Brouk told City & State her team was looking into the issue. Meanwhile, Clark said she was potentially interested in serving as an Assembly sponsor for one of the two bills aimed at ending qualified immunity proposed so far in the state Senate, but was in the process of trying to understand the difference between them.
Warren and Scott both expressed support for the legislation Rochester's state delegation has put forward, including efforts to end qualified immunity. 
But Warren has asked for the state Legislature to take on another proposal. "I hope that our legislators will go further and amend state law so we can fire police officers who commit heinous acts for cause, as well as, allow us to throw out the existing contract with our police union and start from scratch," Justin Roj, a spokesman for the mayor, said in a statement. "These additional reforms would truly allow us to create the change we seek not just in Rochester, but throughout our state."
Legislators seemed hesitant to touch the issue of police contracts, however. "Am I open to it? Yes," said Cooney, who previously served as Warren's chief of staff. "But I am also a proponent of organized labor. And so I want to make sure that we're not opening the door to then take away collective bargaining rights for other workers across New York."
Mikey Johnson, an organizer for Save Rochester, said he was broadly supportive of measures such as police residency requirements and Daniel's Law, many of which have been proposed by grassroots activists. But he expressed frustration at the way politicians put forward the proposals without supporting other issues affecting Black New Yorkers in Rochester. 
"Police reform is a very important issue impacting the Black and brown community. But we realize there are a plethora of other concerns that these politicians are ignoring simultaneously. So it seems like police reform has become a sort of red herring in addressing the systemic issues that continue to keep Black folks in poverty."
Powered By
NEXT STORY: Richard Carranza's biggest moments